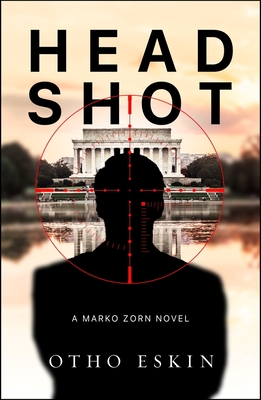 Head Shot (The Marko Zorn Series #2)
Hardcover

* Individual store prices may vary.
Description
The Most Elusive Assassin in the World Versus D.C. Homicide Detective Marko Zorn

Washington, D.C. homicide detective Marko Zorn is investigating the murder of an actress—an old love—when he is assigned to protect the visiting prime minister of Montenegro, the beautiful Nina Voychek.

Political enemies are planning her assassination—this, he knows—but now it's apparent that he, too, is a target. As he foils the initial attempts on his life, he pulls out all stops—deploying his sometimes nefarious resources—to hunt whoever is targeting him and prevent an international tragedy on American soil.

Decoded messages, Supermax prisoner interviews, mafia lawyers, and an ancient Black Mountain curse swirl among the icons of D.C. Marko and his young partner, Lucy, face down what may be multiple assassins with diverging agendas. Or are they facing one assassin—the deadliest and most elusive on the international stage?

Perfect for fans of David Baldacci and Daniel Silva

While the novels in the Marko Zorn Thriller Series stand on their own and can be read in any order, the publication sequence is:

The Reflecting Pool
Head Shot
Praise For Head Shot (The Marko Zorn Series #2)…
Praise for the Marko Zorn Series

"Rough and ragged as the world it so vividly creates, The Reflecting Pool crackles with twists and turns, making for a fun and heady combination of suspense and intrigue." —Steve Berry, New York Times best-selling author

"The Reflecting Pool is a mystery-thriller constructed along classic lines. In unorthodox homicide detective Marko Zorn, Otho Eskin has created the best crime hero this side of Michael Connelly's Harry Bosch and the result is a slam-dunk success. Woven from the fabric of masters like Ross McDonald and Robert Crais, this riveting page-turner is never afraid to cut its own cloth to terrific results." —Jon Land, USA Today best-selling author

"The Reflecting Pool by Otho Eskin is the best crime thriller I've read in years, and homicide Detective Marko Zorn is a character I'd like to have a beer with—so long as he's on my side. Bravo!" —John Gilstrap, New York Times best-selling author

"Readers will look forward to seeing more of Zorn, a distinctive lead with his dry humor, clipped dialogue, and rogue tendencies. Eskin is off to a good start." —Publishers Weekly

"The Reflecting Pool has the kind of unexpected plot twists and turns that keeps the reader's riveted attention from beginning to end." —Midwest Book Review

"Filled with witty personalities and shady power players, The Reflecting Pool is a fast-paced D.C. murder mystery where the stakes and suspense reach monumental heights." —The Foreign Service Journal
Oceanview Publishing, 9781608094622, 352pp.
Publication Date: December 7, 2021
About the Author
Otho Eskin is a lawyer and a former member of the United States Foreign Service. He is active in the Washington theater scene and a playwright whose work has appeared in New York, Washington, D.C., and Europe. Head Shot is his second novel, following The Reflecting Pool. He lives in Washington, D.C.