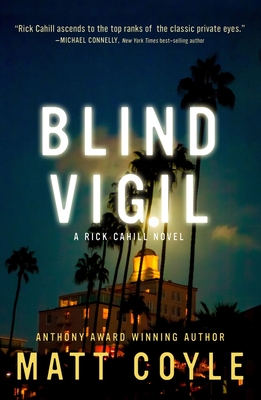 Blind Vigil (The Rick Cahill Series #7)
Paperback

* Individual store prices may vary.
Other Editions of This Title:
Hardcover (12/1/2020)
Description
San Diego Writer's Festival Mystery Writer of the Year for 2021

Winner of the Shamus Award and nominated for Macavity, Barry, and Lefty Awards

A friend arrested for murder. A vicious killer lurking in the shadows. A world of darkness.

Blinded by a gunshot wound to the face while working as a private investigator nine months ago, Rick Cahill is now sure of only one thing: he has to start a new life and leave his old one behind.

He's still trying to figure out what that life is when his onetime partner, Moira MacFarlane, asks for his help on a case she's taken for Rick's former best friend. The case is simple and Moira only needs Rick for one interview, but Rick is wary of waking sleeping demons.

Ultimately, he goes against his gut and takes the case which quickly turns deadly. Rick's old compulsion of finding the truth no matter the cost—the same compulsion that cost him his eyesight and almost his life—battles against his desire to escape his past.

The stakes are raised when Rick's friend is implicated in murder and needs his help. Can he help the friend he no longer trusts while questioning his own lessened capabilities? His life depends on the answer as a shadowy killer lurks in the darkness.

Perfect for fans of Michael Connelly and John Sandford

While all of the novels in the Rick Cahill PI Crime Series stand on their own and can be read in any order, the publication sequence is:

Yesterday's Echo
Night Tremors
Dark Fissures
Blood Truth
Wrong Light
Lost Tomorrows
Blind Vigil
Last Redemption
Doomed Legacy
Praise For Blind Vigil (The Rick Cahill Series #7)…
"A tense, fast-paced, hard-boiled mystery" —ABC News

"Rick—stubborn, loyal, and suspicious of authority—is an intriguing character" —San Francisco Chronicle

"[Blind Vigil is] told in a clear, unadorned style." —Yahoo Entertainment

"A tense, fast-paced, hard-boiled mystery" —L.A. Times

"[Blind Vigil is] emotionally wrenching and haunting . . . a visceral tour de force of the PI tradition." —T. Jefferson Parker, New York Times best-selling author

"Blind Vigil is a masterful blend of hard-boiled, noirish, slow-burning, yet fast-paced storytelling, proving—once again—that Matt Coyle has earned his place as one of the great authors of classic PI fiction." —Robin Burcell, New York Times best-selling author

Praise for the Rick Cahill PI Crime Series

"With Wrong Light, Matt Coyle is on top of his game and Rick Cahill ascends to the top ranks of the classic private eyes. Coyle knows the secret: digging into a crime means digging into the past. Sometimes it's messy, sometimes it's dangerous—always it's entertaining. You'll find all of that and more in this great read." —Michael Connelly, New York Times best-selling author

"Sharp, suspenseful, and poignant, Lost Tomorrows, hits like a breaking wave and pulls readers into its relentless undertow. Matt Coyle is at the top of his game." —Meg Gardiner, Edgar Award-winning author

"An equation involving everyone from the Russian mob to Irish Travelers to ex-cops, Coyle's Wrong Light is a fascinating, fast-paced, spidery-webbed novel." —Reed Farrel Coleman, New York Times best-selling author

"[Lost Tomorrows is] suspenseful, tightly written, full of curve balls and memorable characters and very, very smart. Welcome back, Rick. We're really glad to see you." —Joe Ide, Shamus Award-winning author

"Part pacy thriller and part fair-play puzzle, Wrong Light delivers…Coyle honors the gumshoe tradition but confounds expectations; he both celebrates and laments masculinity; and he writes with respect of the price his hero pays for the life he lives." —Catriona McPherson, Macavity, Agatha, and Mary Higgins Clark Award-winning author

"Readers will root for Rick Cahill, hard-boiled PI and one-man wrecking ball, as he searches for the truth about his police officer father in Blood Truth." —Hallie Ephron, New York Times best-selling author

"Matt Coyle knocks it out of the park with Last Redemption. Just when you think Coyle has reached the top of his game—he does one better." —Allison Brennan, New York Times best-selling author

"Raymond Chandler-reincarnate Matt Coyle has set the private eye bar at skyscraper height. Authors who strive to traverse Coyle's caliber need a hot air balloon." —Bookreporter

"[In Blind Vigil,] Rick Cahill is a moody PI, tough, hard-boiled, and unapologetic, in the tradition of Raymond Chandler's Philip Marlowe." —Midwest Book Review
Oceanview Publishing, 9781608094691, 320pp.
Publication Date: November 9, 2021
About the Author
Matt Coyle is the best-selling author of the Rick Cahill PI Crime Series. His novels have won the Anthony Award, the Shamus Award, the Lefty Award, the San Diego Book Award, among others, and have been nominated for numerous Anthony, Macavity, Shamus, and Lefty Awards. Blind Vigil is the seventh in this award-winning series. Matt is a graduate of UC Santa Barbara and lives in San Diego with his yellow Lab, Angus.