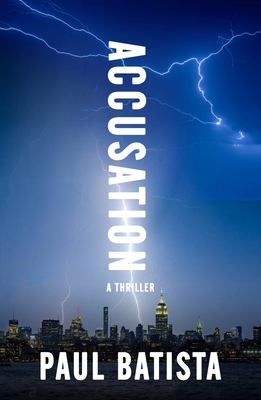 Accusation (A Raquel Rematti Legal Thriller #3)
Hardcover

* Individual store prices may vary.
Description
USA Today Best-Selling Author

An icon's life implodes—at two in the morning

World renowned, revered actor Aaron Julian is awakened at two a.m. by his agent who informs him that he has been accused of sexual harassment. Young actresses will break the story on prime-time TV that morning—with their lawyer, the attorney who led the charge in the priests' sexual abuse cases.

Aaron and his celebrity pop-singer wife, Veda, vehemently deny the charges, and hire powerful defense lawyer Raquel Rematti. But when the plaintiffs' lawyer is murdered in Central Park, the stakes skyrocket and the conspiracies spiral out of control.

Despite revelation after revelation, Aaron continues to proclaim his innocence. And in his defense, Rematti uses every tool in the legal system to produce courtroom drama that is unparalleled.

The outcome—impossible to predict—is guaranteed to stun and to linger with you for a long time.

Fans of John Grisham and Scott Turow will devour this cutting-edge thriller

While Accusation can be read as a standalone novel, here is the publication order of Paul Batista's legal thrillers:

Death's Witness
Extraordinary Rendition
The Borzoi Killings (Raquel Rematti #1)
Manhattan Lockdown
The Warriors (Raquel Rematti #2)
Accusation (Raquel Rematti #3)
Praise For Accusation (A Raquel Rematti Legal Thriller #3)…
Praise for Paul Batista

"[In Manhattan Lockdown] Batista knows his way around Manhattan and it shows in this battle of wills, where the tension and turmoil add up to high stakes suspense, the pages hot enough to singe your fingers." —Steve Berry, New York Times best-selling author

 

"There are too few legal thrillers with women courtroom warriors. This page-turning true-to-life superthriller [The Warriors] helps to remedy this bias. Batista's characters jump off the page. They are as real as they are fascinating. A great read." —Alan Dershowitz, New York Times best-selling author

 

"Paul Batista scores 100% with his new novel, The Warriors. Two strong women locked in battle in and out of a courtroom coupled with murder, money laundering, and constant mystery. His lawyer heroine is complex and compelling. We live and breathe her triumph and terror." —Rikki Klieman, CBS News Legal Analyst

 

"Manhattan Lockdown brings us into a battle for the streets of Manhattan as the city's most treasured icons are blown apart by terrorists. Arising from the chaos, Gina Carbone, New York City's police commissioner, explodes on the scene as the most chilling and memorable protagonist in modern thrillers." —Lis Wiehl, New York Times best-selling author

 

"Manhattan Lockdown is about as terrifyingly timely as it gets. Paul Batista's provocative tale of a game-changing terrorist attack in New York City is both a superb procedural thriller and stark morality tale. Riveting and relentless." —Jon Land, USA Today best-selling author

 

"Batista does it again when international intrigue collides with murder in Extraordinary Rendition. A high-priced Wall Street lawyer gets the shock of a lifetime . . . law school never prepared him for this! It's a fast ride—buckle up!" —Nancy Grace, New York Times best-selling author
Oceanview Publishing, 9781608094745, 224pp.
Publication Date: March 1, 2022
About the Author
Paul Batista, a USA Today best-selling author of legal thrillers, is also a criminal defense lawyer, a TV personality, and the author of Civil RICO Practice Manual, the leading book on the federal racketeering statute. Accusation is the sixth of his legal thrillers, following Death's Witness, Extraordinary Rendition, The Borzoi Killings, Manhattan Lockdown, and The Warriors. Batista lives in New York City, NY.