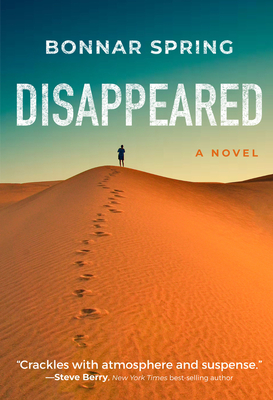 Disappeared
Hardcover

* Individual store prices may vary.
Description
These two sisters are about to be permanently "disappeared"

Julie Welch's sister, Fay Lariviere, disappears from their hotel in Morocco. Although she leaves a note that she'll be back in two days, Fay doesn't return.

Julie's anger shifts to worry—and to fear when she discovers a stalker. Then, an attack meant for Julie kills another woman. Searching Fay's luggage and quizzing the hotel staff, Julie discovers Fay's destination—a remote village in the Saharan desert. Convinced her sister is in danger and propelled by her own jeopardy, Julie rushes to warn Fay.

By the time she reaches the village, Julie finds that Fay has traveled deeper into the desert. With a villager as guide, Julie follows—only to be stranded in the Sahara when the guide abandons her. Julie is eventually reunited with Fay—in a prison cell—and learns the reasons for Fay's secrecy.

Although furious at Fay's deception and weak from her desert ordeal, Julie knows they must work together. The sisters, ensnared in a web of dangerous lies and about to be permanently "disappeared", pit their wits against soldiers and desert in a fight for their lives.

Perfect for fans of Tana French and Martin Cruz Smith
Praise For Disappeared…
"You can feel the desert sand on your skin and the tension in your spine. [Disappeared] crackles with atmosphere and suspense from the first page to the last. Described in two words? Authentic and thrilling." —Steve Berry, New York Times best-selling author

"Action-packed plot, compelling characters, and exotic locale—this page-turner has it all. Think of it as a getaway weekend without ever having to leave your sofa." —Lisa Gardner, New York Times best-selling author

"A rousing race against time . . . challenges [the sisters'] ingenuity and reinforces the bond between them. Those who like to see resourceful women prevail in dangerous situations will be rewarded." —Publishers Weekly

"Disappeared is a phenomenal mélange of thriller, mystery, suspense, family bonding and, yes, triumph of cunning. I can't wait for the film adaptation!" —Bookreporter

"Buckle up for adventure as Bonnar Spring's evocative prose whisks you away to Morocco in this terrific—and harrowing—tale of resourceful women running for their lives in a foreign country. Trust me when I say that Disappeared is one of the best books you'll read all year. Absolutely riveting!" —Alan Orloff, ITW Thriller and Derringer Award-winning author

"An American hero with a heart condition, the fascinating cities and deserts of Morocco, shadowy security forces, and a family needing rescue . . . what more could you want in this rousing adventure story? Spring has such a great sense of place and culture you feel like you're right there with her memorable characters." —Carl Vonderau, Lefty Award-winning author

Praise for Bonnar Spring

"Toward the Light is a high-stakes thriller set in the mean streets of Guatemala. Family secrets drive this impressive debut novel, a tale of revenge and redemption, to an exciting finish." —Hallie Ephron, New York Times best-selling author

"A riveting tale of international revenge! This gripping thriller—where everyone has ulterior motives and no one is who they seem—is cinematic and fast-paced, and its non-stop suspense will have you turning pages as fast as you can. A terrific debut from a super-talented author."—Hank Phillippi Ryan, USA Today best-selling author

"This is a big and broad tale of rare scope and ambition, populated with conflicted characters for whom nothing comes easy, which inches Toward the Light just close enough to the dark underbelly of human depravity. A sterling debut!" —Jon Land, USA Today best-selling author

"[Toward the Light offers] the kind of story that makes for blockbuster movies." —Midwest Book Review
Oceanview Publishing, 9781608094882, 336pp.
Publication Date: May 3, 2022
About the Author
Bonnar Spring writes eclectic and stylish mystery-suspense novels with an international flavor. A nomad at heart, she hitchhiked across Europe at sixteen and joined the Peace Corps after college. Bonnar taught ESL—English as a Second Language—at a community college for many years. She currently divides her time between tiny houses on a New Hampshire salt marsh and by the Sea of Abaco. Disappeared is her second novel, following Toward the Light.