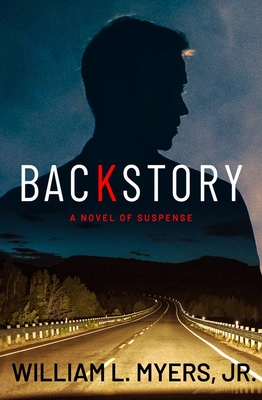 Backstory
Hardcover

* Individual store prices may vary.
Description
Hunting one killer—he finds another—in the mirror

In the aftermath of his wife's apparent suicide, Jackson Robert Hunter wakes up outside a bar with a badly battered head and no memory. Revelations convince Jackson that his wife's death wasn't a suicide, but a murder, and he sets out to find the killer.

While hunting the villain and struggling with his amnesia, Jackson discovers that his own backstory is a dark one, littered with broken hearts and dead bodies: a wife he betrayed; a lover he abandoned; a squad of crooked cops he double-crossed; and a city that lives in fear of his name.

Jackson's odyssey takes him from a small town in Kansas to Philadelphia, then back cross-country to Las Vegas. Along the way he encounters a sister he didn't know he had, a niece he failed to save, and a mentor ready to lead Jackson down the darkest of paths.

Finally, at the end of his journey, Jackson discovers that it's not another man he's been running to, or from, but his own damning deeds, and the paradoxical redemption they might bring.

A Unique Blend: Perfect for fans of The Bourne Identity as well as fans of Gone Girl
Praise For Backstory…
Praise for Backstory

"[In Backstory,] Myers has deftly composed a twisty puzzle of a thriller that will keep you intrigued until its revelatory conclusion." —Raymond Benson, New York Times best-selling author

"Imagine if Memento and A History of Violence had a baby and that baby was a genius. That's Backstory. Don't miss it!" —Lisa Regan, USA Today best-selling author

"[In Backstory,] Myers immediately creates sympathy for his amnesiac lead's situation, and the plot races at a breakneck pace toward the surprising conclusion. Cornell Woolrich fans will want to check out this contemporary noir." —Publishers Weekly

"This delightfully shuddery mix of detection and woo-woo gives way suddenly to more hard-boiled turf with Hunter exploring a world of crime and corruption. Readers who like the idea of mixing Woolrich with Chandler will be right at home." —Booklist

"Taut, tense, and thrilling, Backstory traces the fault line between an amnesiac's violent past and his dangerous present. When the two collide, it's with the force of an earthquake. William L. Myers, Jr., has written a twisted, suspenseful story that kept me on the edge of my seat until the very last page." —Hilary Davidson, best-selling author

"In Backstory, Myers delivers big time." —Alan Russell, best-selling author

"A slow burn thriller that's full of perfectly dark mood and unforgettable characters. Fans of Dennis Lehane and Lou Berney will love Backstory. You won't be able to put it down!" —Matthew Farrell, best-selling author

"With sharp prose, richly drawn characters, and a briskly paced, intricate plot, Myers' Backstory delivers a riveting tale of murder, missteps, and memory. A tense psychological thriller that won't let you go until the very last page. Backstory is a must read for fans of psychological suspense." —Roberta Gately, author of the Jessie Novak mystery thriller series

"Riveting from the opening scene, Backstory is a darkly layered thriller, where nothing, not even a wife's death, is as it seems. The answer to the mystery of what happened to her hovers just off the page, but just when you think you have it, a jaw-dropping twist will take your breath." —Barbara Taylor Sissel, best-selling author
Oceanview Publishing, 9781608094905, 320pp.
Publication Date: June 7, 2022
About the Author
William L. Myers, Jr. is a Philadelphia trial lawyer and the author of the best-selling thriller series—Philadelphia Legal. He has tried cases up and down the East Coast and has argued before the United States Supreme Court. He lives outside Philadelphia with his wife, Lisa. Backstory is his fifth novel and his first psychological thriller.