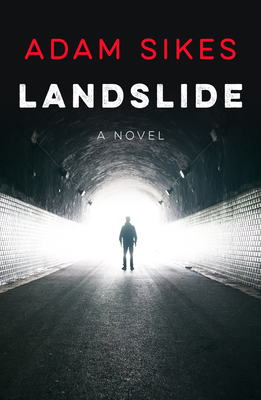 Landslide (A Mason Hackett Espionage Thriller #1)
Hardcover

* Individual store prices may vary.
Description
Mason Hackett is struggling with the sins of his past when he sees his best friend—a man long presumed dead—alive on the news. Driven by personal loyalty, tragic love, regret, and guilt, Mason steps into a tangled web of immoral governments and ruthless corporations as he rockets across Europe to uncover the truth.

Perfect for fans of Daniel Silva and Brad Thor
Praise For Landslide (A Mason Hackett Espionage Thriller #1)…
Praise for Adam Sikes

"Landslide is not only a gripping geo-political thriller, but a morally-complex tale. It grapples with fraught questions of both individual and national loyalty as well as killing and the grim realities of war. I read this book over the course of two-white knuckled days that I won't soon forget. Adam Sikes is a huge talent." —Elliot Ackerman, New York Times best-selling author

"A gem of a read with mach-speed mayhem, loaded with rich detail from a writer who knows what he's talking about." —Steve Berry, New York Times best-selling author

"With an irresistible hook that grabs you from the get-go, Landslide is an action-packed, nonstop espionage thrill ride that will keep you furiously turning the pages. Marine Corps veteran and former intelligence officer Adam Sikes delivers a fast-paced, gritty, supercharged read." —Andrew Kaplan, New York Times best-selling author

"Landslide is a seismic quake of an international, high-stakes thriller in the grand tradition of Daniel Silva, Brad Thor, and Brad Taylor. Adam Sikes has penned a seminal effort that's bracingly effective in its portrayal of current geopolitical dynamics through the eyes of former Marine, and current expatriate, Mason Hackett. A terrific tapestry of a tale with the kind of stitching that would make the likes of Alistair MacLean and Frederick Forsyth take notice." —Jon Land, USA Today best-selling author

*"[Open Skies is] a highly readable memoir for older teens researching the fight for women's rights around the world or looking for inspiration." —Booklist (Starred Review)
Oceanview Publishing, 9781608095049, 368pp.
Publication Date: September 20, 2022
About the Author
Adam Sikes is a novelist and freelance writer. He is a graduate of Georgetown University with a degree in International Politics and a Masters in History. He served in the U.S. Marine Corps with combat tours in Bosnia, Iraq, and elsewhere in the Middle East. Following the Marines, he joined the CIA and has conducted operations in Central Asia, East Africa, and Europe. Landslide is his first Mason Hackett espionage thriller. He lives in Southern California.