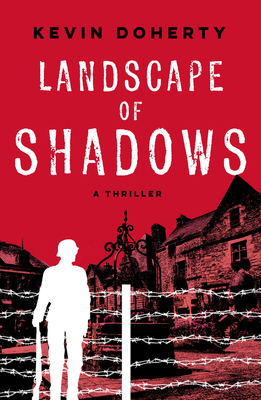 Landscape of Shadows
Hardcover

* Individual store prices may vary.
Description
The Choice: One Killer? Or Ten Innocents?

France, 1941. The small town of Dinon is under German occupation. Max Duval, its mayor, appears to have accepted the German presence and encourages his citizens to do the same. He owns the Hotel Picardie, whose most important resident is Major Egon Wolff— German commandant.

Then, a Resistance team kills two German troopers, and the uneasy calm of Dinon is shattered. One of the assassins, the headstrong and beautiful Sophie Carriere, takes refuge in the Hotel Picardie. Despite his disapproval of the assassinations, Max keeps her safe. Sophie accuses Max of conspiring the attacks, but Max is no collaborator— he has his own secret methods of resistance, which Sophie has now jeopardized.

Danger escalates when Sophie discovers the truth about Max' s resistance work, and she and Max are drawn to one another. Egon Wolff decrees that ten citizens will be executed unless the missing assassin is surrendered. Max faces a terrible choice: sacrifice Sophie and betray the cause of freedom for which they are both working— or let innocent citizens go to their deaths.

Perfect for fans of Leon Uris and Alan Furst
Praise For Landscape of Shadows…
Praise for Kevin Doherty

"[The Leonardo Gulag is] vivid, fresh, gripping, clever. This historical thriller set in a gulag in Stalin's Russia thoroughly propelled me. With appearances from Stalin himself and Soviet spy Anthony Blunt, it feels authentic on every page. I felt I was there." —David Morrell, New York Times best-selling author

"[The Leonardo Gulag is] an extraordinary novel with a fresh and unique premise—one that draws the reader into a world that's both clever and imaginative. Bravo. Bravo." —Steve Berry, New York Times best-selling author

"The Leonardo Gulag is a bold, bracing, and brilliant take on the human side and costs of [the Cold War]. Kevin Doherty's starkly original tale of prisoners forced to forge da Vinci masterpieces lives up to pop culture classics like Stalag 17 and The Great Escape, not to mention the best of Leon Uris and the Louis L'Amour classic Last of the Breed. This is a historical thriller of the highest order; smart, savvy, and sensational." —Jon Land, USA Today best-selling author

"This relentless tale of cruelty and survival provides a sobering look at Stalin's Russia. Fans of Kafkaesque historical fiction will be satisfied." —Publishers Weekly

"[The Leonardo Gulag is] a cracking read with authentic characters, excellent descriptive prose, and an absorbing storyline. It also provides a fascinating and dramatic insight into the era of Joseph Stalin's vile forced-labor camps." —J.P. Carter, author of At Your Door

"An inherently fascinating read, The Leonardo Gulag showcases author Kevin Doherty's genuine and impressive flair for originality and the kind of narrative storytelling style that completely engages the reader's total attention from beginning to end." —Midwest Book Review
Oceanview Publishing, 9781608095087, 320pp.
Publication Date: December 13, 2022
About the Author
Kevin Doherty has a professional background in advertising and marketing, having worked for a number of U.K. and international companies. He now writes full time and Landscape of Shadows is his fifth novel. He lives in Ascot, England.