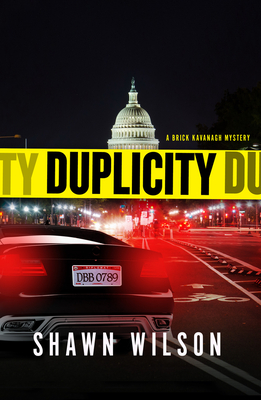 Duplicity (A Brick Kavanagh Mystery #2)
Hardcover

* Individual store prices may vary.
Description
Investigating a cold case may lead to a new career for retired homicide detective Brian (Brick) Kavanagh, who is starting fresh after a traumatic final case. But his work is derailed when his former partner is devastated by his family's disappearance. Friendship and loyalty will be tested as evidence is uncovered, making Brick question how well one can ever know another person.

Duplicity is perfect for fans of Michael Connelly and Robert Crais
Praise For Duplicity (A Brick Kavanagh Mystery #2)…
Praise for the Brick Kavanagh Mystery Series

"Could not put it down! A terrific plot, yes, and wonderful settings—but the star of Duplicity is the endearing Brick Kavanagh. He's the perfect and reassuring hero for our times—with honor and heart, with a gripping background and a complex personal life, but bottom line, he's a truly good guy. When Kavanagh is on the case, you're in for an engrossing and entertaining read." —Hank Phillippi Ryan, USA Today best-selling author

"Duplicity is a compelling read with depth and a protagonist you'll want to spend more time with. I'll be first in line to see what's next for Brick Kavanagh!" —David Putnam, best-selling author

"Duplicity is a delightful, twisty thriller featuring a hero it's impossible not to love. Brick Kavanagh is a white knight trying to rescue the missing wife and children of his ex-partner in the D.C. police force, and I raced through the pages 'til three a.m. rooting for him to succeed." —Matt Witten, author of The Necklace

"Wilson's Relentless lives up to its title and will keep you turning pages throughout the twisting mystery and final reveal. A gritty and engrossing tale that introduces Brick Kavanagh, a detective who's as smart as he is battle worn, and who takes his place among the best detectives in fiction." —Jamie Freveletti, best-selling author

"The action is top-notch . . . Wilson does a good job whipping up some mysterious murders." —Booklist

"A police procedural steeped in knowledge about the area's culture, Duplicity is a welcome addition to the growing Washington, D.C. fiction canon. The tension is accompanied with moments of heartbreak and relief, and skillfully plotted twists that will keep the most ardent mystery fans guessing. Crime fiction fans are going to want to read more stories about Brick Kavanagh." —E.A. Aymar, author of They're Gone

"[In Relentless,] Wilson has created a protagonist with the full complement of angst-inducing problems and an appealing white knight sense of decency." —Publishers Weekly

"In Relentless, fans of Michael Connelly's Harry Bosch will find a new hero in Brian Kavanagh, a detective with more brains than brawn who personifies the term "relentless." Throw in cherry blossom season in Washington, D.C. and you have the perfect mystery read." —Patricia Gussin, New York Times best-selling author

"Shawn Wilson takes readers on a roller coaster ride with twists and turns and a completely unexpected final destination in Relentless." —Matt Coyle, Anthony-award winning author

"Shawn Wilson's novel, [Relentless] brings a crafty, engaging new detective to the mean streets of Washington, D.C. A relentlessly entertaining debut!" —Daniel Stashower, Edgar Award-winning author

"Relentless has a gritty, timely plot, an intriguing protagonist who surprises, and an emotional depth that keeps you turning the pages as a different side of Washington, D.C. is revealed." —Sherry Harris, author of Let's Fake a Deal

"In Relentless, Shawn Wilson has introduced a memorable hero, a plethora of supporting characters, and a story full of twists and turns to keep any amateur detective or criminal enthusiast on his or her toes." —BookTrib
Oceanview Publishing, 9781608095100, 256pp.
Publication Date: October 18, 2022
About the Author
Shawn Wilson (a pen name) knows Washington, D.C., and knows law enforcement. She has worked in D.C. with the U.S. Marshals Service, the U.S. Attorney's Office, the Federal Bureau of Prisons, and the Administrative Office of the U.S. Courts. She now lives in Chicago. Duplicity is her second novel following Relentless, the first of the Brick Kavanagh Mystery series.