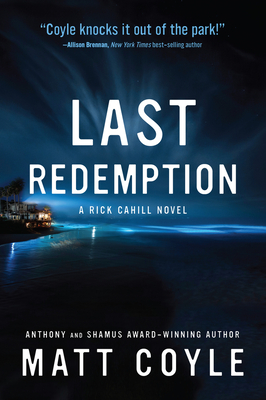 Last Redemption (The Rick Cahill Series #8)
Paperback

* Individual store prices may vary.
Other Editions of This Title:
Hardcover (11/30/2021)
Description
San Diego Writer's Festival Mystery Writer of the Year for 2021

Anthony, Shamus, and Lefty Award-winning Author

Will Rick Cahill survive an insidious disease long enough to see his first-born child—or will sadistic killers murder him first?

Rick Cahill is finally living a settled, happy life. His fiancée, Leah Landingham, is pregnant with their first child and he is doing PI work that pays well and keeps him out of danger. Then a doctor gives him the bad news about the headaches he's been suffering—CTE, the pro football disease that leads to senility and early death—a secret he keeps from Leah and his best friend Moira MacFarlane.

When Moira asks him to monitor her son, Luke—who's broken a restraining order to stay away from his girl-friend—a simple surveillance explodes into greed, deceit, and murder. Luke goes missing, and Rick's dogged determination compels him to follow clues that lead to the exploration of high finance and DNA cancer research.

Ultimately, Rick is forced to battle sadistic killers as he tries to find Luke and stay alive long enough to see the birth of his child.

Perfect for fans of Michael Connelly and John Sandford

While all of the novels in the Rick Cahill PI Crime Series stand on their own and can be read in any order, the publication sequence is:

Yesterday's Echo
Night Tremors
Dark Fissures
Blood Truth
Wrong Light
Lost Tomorrows
Blind Vigil
Last Redemption
Doomed Legacy
Praise For Last Redemption (The Rick Cahill Series #8)…
* "Rick Cahill's extreme physical and emotional vulnerability is on full display in Shamus Award-winner Coyle's superior eighth outing [Last Redemption] . . . Contemporary hard-boiled PI novels don't get any better than this." —Publishers Weekly (Starred Review)

"Matt Coyle knocks it out of the park with Last Redemption. Just when you think Coyle has reached the top of his game—he does one better." —Allison Brennan, New York Times best-selling author

"Matt Coyle is one of the finest PI authors in the business. Last Redemption proves it. Superb!" —Bruce Robert Coffin, award-winning author of the Detective Byron Mysteries

"Last Redemption deserves more stars than has the Hollywood Walk of Fame." —Bookreporter

"Last Redemption is a thrilling ride and lives up to the high bar that Matt Coyle has already set for himself." —Deadly Pleasures Mystery Magazine

Praise for the Rick Cahill Series

"[Blind Vigil is] emotionally wrenching and haunting . . . a visceral tour de force of the PI tradition." —T. Jefferson Parker, New York Times best-selling author

"With Wrong Light, Matt Coyle is on top of his game and Rick Cahill ascends to the top ranks of the classic private eyes. Coyle knows the secret: digging into a crime means digging into the past. Sometimes it's messy, sometimes it's dangerous—always it's entertaining. You'll find all of that and more in this great read." —Michael Connelly, New York Times best-selling author

"[Blind Vigil is] a tense, fast-paced, hard-boiled mystery told in a clear, unadorned style." —ABC News

"Sharp, suspenseful, and poignant, Lost Tomorrows hits like a breaking wave and pulls readers into its relentless undertow. Matt Coyle is at the top of his game." —Meg Gardiner, Edgar Award-winning author

"Blind Vigil is a masterful blend of hard-boiled, noirish, slow-burning, yet fast-paced storytelling, proving—once again—that Matt Coyle has earned his place as one of the great authors of classic PI fiction." —Robin Burcell, New York Times best-selling author

"An equation involving everyone from the Russian mob to Irish Travelers to ex-cops, Coyle's Wrong Light is a fascinating, fast-paced, spidery-webbed novel." —Reed Farrel Coleman, New York Times best-selling author

"Readers will root for Rick Cahill, hard-boiled PI and one-man wrecking ball, as he searches for the truth about his police officer father in Blood Truth." —Hallie Ephron, New York Times best-selling author
 
Oceanview Publishing, 9781608095193, 336pp.
Publication Date: November 8, 2022
About the Author
Matt Coyle is the best-selling author of the Rick Cahill PI Crime Series. His novels have won the Anthony Award, the Shamus Award, the Lefty Award, the San Diego Book Award, among others, and have been nominated for numerous Anthony, Macavity, Shamus, and Lefty Awards. Last Redemption is the eighth in this award-winning series. Matt is a graduate of UC Santa Barbara and lives in San Diego.