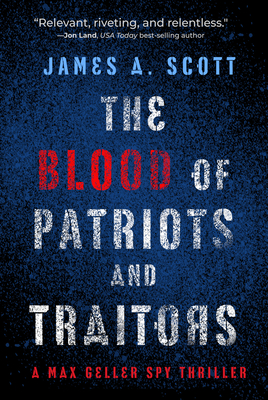 The Blood of Patriots and Traitors (A Max Geller Spy Thriller #2)
Hardcover

* Individual store prices may vary.
Description
A Russian Defector—A Worldwide Dragnet—A Looming Assassination—Max Geller is back in Moscow

Former CIA Russia expert Max Geller is recovering from an intense mission while lying low in Australia, enjoying his sudden wealth in the company of his new girlfriend. But his beachy bliss is short-lived when Max, while relaxing by the ocean, is ambushed by the CIA.

He soon learns that his girlfriend, Vanessa, is being used as blackmail by his former CIA boss, Rodney, to convince Max to go to Moscow. His mission? Smuggle out a defector with knowledge of a secret Kremlin war plan. Max is wanted by the Russians, so the defector could be bait to lure him into the hands of his old enemy, FSB Colonel Zabluda. But it's either Max or Vanessa who must go, so Max takes the bait and heads off.

When Max is spotted in Moscow, Zabluda launches a manhunt, pursuing him and the defector across country lines. Max and the defector race to evade countless attacks and attempts at capture as they escape to the United States.

Will they make it in time? And what happens when the defector reveals crucial information that indicates U.S. democracy could be in peril? Max must figure out a way to avoid capture and halt imminent attacks—before it's too late.

Perfect for fans of Daniel Silva and Nelson DeMille

While the novels in the Max Geller Spy Thriller Series stand on their own and can be read in any order, the publication sequence is:

The President's Dossier
The Blood of Patriots and Traitors
Praise For The Blood of Patriots and Traitors (A Max Geller Spy Thriller #2)…
"Plots within plans with plenty of treachery and betrayal—and, even better, it's all done with the confidence of a sure hand." —Steve Berry, New York Times best-selling author

"James Scott is a rising star in the world of espionage and international conflict thrillers, in part because he's walked those streets. His exciting new novel The Blood of Patriots and Traitors fictionalizes the most crucial battleground between America and the new Russia. If you care about Us vs. The New Them, this is the new novel you want." —James Grady, author of The Condor series

"The Blood of Patriots and Traitors is a spy novel extraordinaire. Retro enough to allow James Scott to lay claim to the mantel of John le Carré and contemporary enough to evoke apt comparisons with the likes of Mark Greaney and Brad Thor. Scott handles the heating up of the Cold War with a shrewd hand and a master's touch in a tale that's relevant, riveting, and relentless." —Jon Land, USA Today best-selling author

"Maxwell Geller has more lives than a cat. This spy v. spy thriller will leave you breathless as you chase Max across Russia and the world in a complex tale of government deception and double-crosses that would confound James Bond." —Sheila Lowe, author of Dead Letters

Praise for the Max Geller Spy Thriller Series

"[The President's Dossier] is a tense spy thriller . . . spycraft, betrayal, and mayhem keep the pages turning." —Publishers Weekly

"[In The President's Dossier,] Scott has concocted quite the interesting, not to mention timely, story. . . . For fans of headline-driven spy fare, this one is a solid winner." —Booklist

"The President's Dossier tells a game of power, authority, and stealth that will keep everyone on the edge of their seats." —Feathered Quill

"A well-plotted, action-packed, and fast-paced thriller with all the ingredients that make for an edge-of-the-seat reading experience. The President's Dossier is a fast read, as exciting as it can possibly get." —Readers' Favorite
Oceanview Publishing, 9781608095261, 320pp.
Publication Date: February 21, 2023
About the Author
James A. Scott is a former Army officer, a paratrooper, and combat veteran with Pentagon experience in oversight of Army intelligence operations. For twenty years, he lived in Europe and travelled to Russia, North Africa, and the Far East. His first novel, The Iran Contradictions, is an international historical thriller and was a finalist for the Foreword Book of the Year Award and USA Best Book Award. The Blood of Patriots and Traitors is the second novel in The Max Geller Spy Thriller Series and follows The President's Dossier—which was named the 2020 Best Thriller/Adventure Novel by American Book Fest.