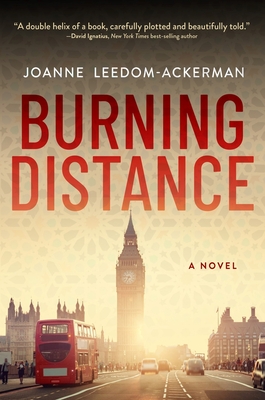 Burning Distance
Hardcover

* Individual store prices may vary.
Description
A modern-day Romeo and Juliet— set against the backdrop of deadly weapons smuggling.

When ten-year-old Elizabeth West' s father dies in a tragic plane crash over the Persian Gulf, her family uproots their life in Washington, D.C., and moves to London. Her mother marries a knighted British businessman who has two children, and Elizabeth (Lizzy) and her two sisters move in with their new family.

At age sixteen, while attending the American School of London, Lizzy meets and falls in love with Adil Hasan— but when Adil' s father, a noted arms middleman, is deported, Lizzy and Adil are separated.

Lizzy' s family has also become involved with French-German industrialist Gerald Rene Wagner. Little does she know that Adil' s family has ties to the man, as well. When a member of her family is murdered in Berlin under mysterious circumstances, questions surface about Wagner' s dealings, and Lizzy reexamines what really may have happened to her father. All the while, she endeavors to reunite with her lost love, Adil, and reclaim the connection that was ripped away.

Set in the years before and after the first Gulf War, Burning Distance is a journey through family secrets and competing loyalties, contemporary history, and the dark world of arms trafficking.

Jane Austen meets John le Carré in this cross-cultural love story and political thriller
Praise For Burning Distance…
Praise for Burning Distance

"Running the gamut of emotions from fear to love, this plot surges along as unpredictable as a riptide. Romance and thriller readers will both find plenty of mischief and mayhem." —Steve Berry, New York Times best-selling author of The Omega Factor

"I entered the world of Burning Distance and I didn't want to leave. The narrative voice unfolds the story both poetically and realistically." —Azar Nafisi, New York Times best-selling author

"Burning Distance opens with a mystery, glides into a love story, and unfolds into a political thriller . . . Readers will be up way past their bedtimes eagerly turning pages to discover what happens to Lizzy and Adil. A great read!" —Susan Isaacs, New York Times best-selling author

"Burning Distance is a mystery, a complicated, story-driven drama of lives lived amidst the high risk of life and death in international arms trading . . . This is a real page turner which also informs, excites, and moves us." —Susan Richards Shreve, author of More News Tomorrow

"I was immediately engrossed in the lives of Joanne Leedom-Ackerman's characters and their fascinating and compelling stories. Joanne has the ability to take the big issues of contemporary life and render them in the contexts of love, conscience, and the consequence of choice." —Eric Lax, author of Start to Finish

"Burning Distance is a double helix of a book, carefully plotted and beautifully told. It's a spy story interwoven with a love story, and the strands fit together in a way that moves the reader effortlessly from chapter to chapter . . . A subtle and satisfying novel." —David Ignatius, Washington Post columnist
Oceanview Publishing, 9781608095339, 400pp.
Publication Date: March 7, 2023
About the Author
Joanne Leedom-Ackerman is a novelist, short story writer, and journalist whose works of fiction include The Dark Path to the River and No Marble Angels. Her recent nonfiction book, PEN Journeys: Memoir of Literature on the Line, drew inspiration from her job as a vice president of the worldwide writers and human rights organization PEN International. She is also on the boards of the American Writers Museum, the International Center for Journalists, Words Without Borders, and Refugees International. She is a member of the Council on Foreign Relations and the Texas Institute of Letters. Burning Distance is her latest novel.