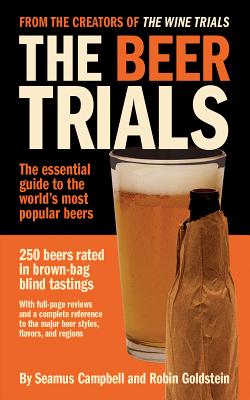 The Beer Trials (Paperback)
Fearless Critic Media, 9781608160099, 312pp.
Publication Date: April 7, 2010
* Individual store prices may vary.
Description
The essential guide to the world's most popular beers, The Beer Trialsfeatures brutally honest ratings, full-page reviews, and photos of the 250 most popular beers in the world, based only on brown-bag blind tasting. The Beer Trials also includes a complete reference to the major beer styles, flavors, and regions.
- The essential reference for anyone who enjoys drinking beer
- Blind tastings by a rigorous panel of beer experts and brewers led by Seamus Campbell, one of the world's 96 Certified Cicerones
- Rates the world's most popular beers, from craft brews to macro-lagers, from Tsingtao to Spaten, Deschutes to Tecate, Maudite to Sam Adams, Bud Light to Chimay
- From the creators of The Wine Trials, the world's bestselling guide to inexpensive wines, comes the first beer guide ever to be based on blind tastings.
About the Author
Seamus Campbell is one of just 96 beer experts to have passed the rigorous Certified Cicerone exam. He writes the beer blog "The Daily Wort" and is a contributor to the "Fearless Critic Portland Restaurant Guide." He lives in Portland, Oregon. Robin Goldstein is an author and a travel writer. He has written for more than 30 Fodor's travel guides and is a contributor to the "New York Times"' "Freakonomics" blog. He has a certificate in cooking from the French Culinary Institute in New York City and a Wine and Spirit Education Trust certificate for advanced wine and spirits study. He lives in Oakland, California.
or
Not Currently Available for Direct Purchase