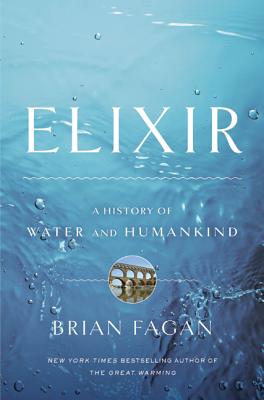 Elixir: A History of Water and Humankind (Hardcover)
A History of Water and Humankind
Bloomsbury Publishing PLC, 9781608190034, 384pp.
Publication Date: June 14, 2011
* Individual store prices may vary.
or
Not Currently Available for Direct Purchase
Description
Elixir spans five millennia, from ancient Mesopotamia to the parched present of the Sun Belt. As Brian Fagan shows, every human society has been shaped by its relationship toour most essential resource. Fagan's sweeping narrative moves across the world, from ancient Greece and Rome, whose mighty aqueducts still supply modern cities, to China, where emperors marshaled armies of laborers in a centuries-long struggle to tame powerful rivers. He sets out three ages of water: In the first age, lasting thousands of years, water was scarce or at best unpredictable-so precious that it became sacred in almost every culture.
By the time of the Industrial Revolution, human ingenuity had made water flow even in the most arid landscapes.This was the second age: water was no longer a mystical force to be worshipped and husbanded, but a commodity to be exploited. The American desert glittered with swimming pools- with little regard for sustainability. Today, we are entering a third age of water: As the earth's population approaches nine billion and ancient aquifers run dry, we will have to learn once again to show humility, even reverence, for this vital liquid. To solve the water crises of the future, we may need to adapt the water ethos of our ancestors.
About the Author
Brian Fagan was born in England and spent several years doing fieldwork in Africa. He is emeritus professor of anthropology at the University of California, Santa Barbara. He is the author of Cro-Magnon, the New York Times bestseller The Great Warming, and many other books, including Fish on Friday: Feasting, Fasting and the Discovery of the New World and several books on climate history, including The Little Ice Age and The Long Summer.
Praise For Elixir: A History of Water and Humankind…
Winner of the 2013 Felicia A. Holton Book Award, given annually to a writer who, through a major work of non-fiction, represents the importance and excitement of archaeology to the general public, granted by the Archaeological Institute of America
"As always with Mr. Fagan's work, the range is dazzling, the focus sharp and the pictures vivid...The author holds us with his glittering eye, as he conjures a vision of a world with water everywhere, nor any drop to drink."—Wall Street Journal  "Juxtaposes ancient and contemporary cultures' veneration of water with the current commodification of it …Fagan is a passionate and lively writer."—Los Angeles Times "… examines societies' relationships with water since ancient times, and describes how the advance of technology has led to unsustainable management and depletion of our most valuable resource."—Chronicle of Higher Education  "It is hard to imagine industrial societies regaining some sense of water as sacred. The best we might hope for in the near term is a new-found respect for water. Reading Fagan's book is an enjoyable way of gaining that respect, by taking a tour through the hard-won lessons of the past."—Nature Climate Change "Eye-opening….making sense of water and its place in the development of civilization....[Fagan] understands how the ancients struggled with changing climate and that what matters has always been the fluctuating availability of water, rather than shifting temperatures. That is an important lesson for us now."—Washington Post
"Supplying intriguing historical background, Fagan well informs those pondering freshwater's role in contemporary environmental problems."
—Booklist
"Important and, from a New York Times best-selling author, accessible to all."—Library Journal
"Fagan prompts an appreciation of water's centrality to civilization and of human ingenuity."—
Publishers Weekly
 "A rewarding survey of water's role in history and contemporary politics alike."—
Kirkus
 "Not just a fascinating book, but also an important one… [a] marvelous history… Don't take water or Elixir for granted. Give this important book a read—and then maybe send a copy to your local representative or senator."
—Mother Nature Network
 "At a time of increasing threats of regional 'water wars,'
Elixir
provides crucial temporal depth and worldwide scope to an emerging water scarcity crisis that we can no longer ignore. Fagan's detailed examination of past use and abuse of water—highlighted by personal experience—makes his book not only a major source on the subject but, as usual, enjoyable reading."
—R. Gwinn Vivian, curator emeritus of archaeology, Arizona State Museum, author of The Chaco Handbook
 "[Fagan] is a beguiling writer and his lessons from global experience are both refreshing and sobering."
—Daily Express (UK)
 "A comprehensive look at the history of water control… there are places on the earth today where our water control systems are breaking down, and most of us don't yet recognize how devastating the effects of that will be.
Elixir
helps that realization… This book is one of the best pop science books I've read in a long time…there is much to reread and contemplate."
—About.com
Advertisement