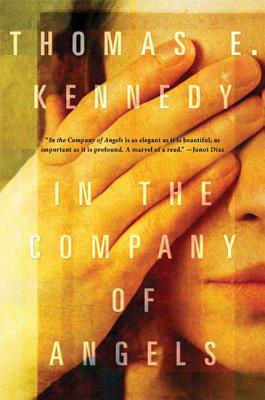 In the Company of Angels
A Novel (Copenhagen Quartet)
Hardcover

* Individual store prices may vary.
Other Editions of This Title:
Paperback (1/11/2011)
Description
In the Company of Angels is the powerful story of two damaged souls trying to find their way from darkness toward light.
Imprisoned and tortured for months by Pinochet's henchmen for teaching political poetry to his students, Bernardo Greene is visited by two angels, who promise him that he will survive to experience beauty and love once again. Months later, at the Torture Rehabilitation Center in Copenhagen, the Chilean exile befriends Michela Ibsen, herself a survivor of domestic abuse. In the long nights of summer, the two of them struggle to heal, to forgive those who have left them damaged, and to trust themselves to love.
Dense with wisdom and humanity, possessed of a timeless, fable-like quality, In the Company of Angels is a riveting read and a testament to the resilience and complexity of the human heart.
The novel marks the first large-scale US publication of a major American author, known internationally but only within literary circles in his homeland.
Praise For In the Company of Angels: A Novel (Copenhagen Quartet)…
"In the Company of Angels is powerful and of the moment … Kennedy writes clean, evocative prose, and an occasional note of humor leavens this dark novel. He is a writer to be reckoned with, and it's about time the reckoning got underway in the country of his birth." —Jonathan Yardley, The Washington Post
"[An] ensnaring and original novel…. Kennedy doesn't heap on the misery in order (or not only) to create a compelling psycho-melodrama. He is serious about wanting to get at -- dig down to -- what it is that makes people do unspeakable things…. caring about characters' fates makes a hands-down more engaging read than most of the desperately cool ego trips published these days. "In the Company of Angels" is simply an unforgettable novel. Its tongue is not tucked up safely in its cheek." —Kai Maristed, Los Angeles Times
"[A] wide-ranging and assured novel….The stories of torture that emerge…offer, in their horror and dignity, a quiet criticism of the characters with more prosaic problems." —The New Yorker
"In the Company of Angels is a novel about grown-ups, people battered and dinged by life, painfully aware of their own responsibility, whose understanding of their past never stops evolving. It's the dignity of their adulthood -- the elusive prize at stake in any midlife crisis -- that makes them so admirable and, above all, so moving." —Laura Miller, Salon.com
"Thomas E. Kennedy is nothing if not a risk-taker…and (In the Company of Angels) is a gripping read…Kennedy's book is a brave one." —Emily Carter, Star Tribune (Minneapolis)
"It probably doesn't reflect glowingly on American expat Kennedy's native country that this watershed novel is the first to be published in the U.S. after a decade of acclaim abroad. Why it's taken so long is anyone's guess, as there's plenty to admire in the serpentine unwinding of troubled protagonists adrift in contemporary Copenhagen." —Publishers Weekly (starred review)
"This is the first volume of the series to be published in the U.S. If its stellar quality is any indication, the entire quartet promises to be an exceptional reading experience … This novel offers much more than just a beautiful writing style. Each character's story is so undeniably interesting that the reader gains a sense of the wonder of disparate lives with unpredictable but intriguing connections." —Booklist (starred review)
"Kennedy writes with unusual insight and compassion, depicting the best and the worst of the human experience. His work may be new to U.S. readers, but it merits greater attention, and we should look forward to seeing the other three books in his quartet published here. A great choice for readers of literary fiction." —Library Journal
"Expatriate American author Kennedy finally gets the major U.S. release merited by his European reviews with this third volume of his Copenhagen Quartet … An artfully written story with a conscience." —Kirkus Reviews
"[This novel] lacks nothing … Kennedy is a master craftsman." —Books Ireland
"Tragic, wise, comic, profound … An epic of the human heart struggling for meaning and redemption." —Literary Review
"A glorious novel by a modern master." —Irish Edition
"Rich and intense… There are no literary pyrotechnics here, just good storytelling that we all have a right to demand from our authors. [It is] a performance you will seldom come across, and one that will stay with you for some time." —Michael Lee, The Barnstable Patriot
"Although it is a novel about loss, In the Company of Angels is also about the redemption of hope through love… (Kennedy's) many admirers will welcome this first mainstream U.S. novel publication. This is a matter for celebration and surely marks the beginning of another stage in his distinguished career." —Thomas McCarthy, New Letters: A Magazine of Writing & Art
"Redemptive and powerful storytelling… In the midst of a heartless world, this story has heart." —Dave Moyer, New York Journal of Books
"Thomas E. Kennedy is an astonishment, and In the Company of Angels is as elegant as it is beautiful, as important as it is profound. A marvel of a read." —Junot Díaz, author of The Brief Wondrous Life of Oscar Wao
"With generous and elegant prose, Kennedy takes us from the darkest, most violent regions of our collective behavior to our most exalted...A deeply stirring novel, suffused with intelligence, grace, and that rarest of qualities--wisdom." —Andre Dubus III, author of House of Sand and Fog
"A terrible, wonderful, horrible, truthful, heartbreaking, and heart-mending book. The word masterpiece should never be used lightly, but [In the Company of Angels] is exactly that, a masterpiece written by a master. How can anyone know so much about the human heart?" —Duff Brenna, author of The Book of Mamie, The Willow Man, Too Cool, The Altar of the Body, and The Holy Book of the Beard
"In the Company of Angels is both a riveting examination of the violence we've come to take for granted, and an unsentimental, morally complex love story. Thomas Kennedy tackles the darkest of subjects, but with searing precision and grace, and with such feeling for ordinary humanity, that this book is full of light. It's the sort of novel that reminds me why novels are important." —Rene Steinke, author of Holy Skirts
"Thomas E. Kennedy's In the Company of Angels is a beautiful love story, a testimony to the human spirit, an important message to our world of darkness that the spark of light cannot be extinguished.... The setting, the descriptions, the complex relationship between Michela and Voss, Michela's love for her parents, the professional dedication of Thorkild Kristensen... All of this, the many brilliantly interwoven plot lines, the composition of the chapters, contribute to making the book truly difficult to put down. And the writing is stunning." —Susan Tiberghiehn, Founder and Director, Geneva Writers Conference; Author of One Year to a Writing Life and Looking for Gold
Bloomsbury USA, 9781608190164, 288pp.
Publication Date: March 16, 2010
About the Author
Thomas E. Kennedy was born in New York City and has lived in Copenhagen for over two decades. He has written over twenty books, mostly published by small presses, including novels, short stories, and essays. He has won numerous awards, including the Eric Hoffer Award in 2007 for In the Company of Angels (Danish ed.), the Pushcart Prize and the O. Henry Prize for short stories, and the National Magazine Award in 2008. In the Company of Angels is one of four novels comprising the Copenhagen Quartet, which Duff Brenna called "a masterpiece." Kennedy wrote the Quartet in English and translated it himself for Danish publication. The Quartet was also published in a small Irish edition. Kennedy is a member of Fairleigh Dickinson University's Global Virtual Faculty.
www.thomasekennedy.com
Thomas E. Kennedy dedicates In the Company of Angels to "those who have endured what I can scarcely begin to imagine; and for those who will not be indifferent." Does Kennedy succeed in portraying the unimaginable in his novel? Which characters in the novel are heroic for their refusal to "be indifferent" to torture?
The novel opens with Nardo waking from "a dream in which the angels had forsaken him" as he huddles in his bedroom in Copenhagen (3). Why does Nardo believe so ardently in angels? Have the angels "kept their word" (3), as he believes? Or is Nardo still in darkness when the novel opens? What journeys to safety still lie ahead for Nardo when we first meet him?
Thorkild Kristensen, Nardo's psychiatrist, remarks, "The thought occurred to me that were I to look into Frog-eyes' face, so to speak, were I to come to know him, the knowledge would sear me like acid" (5). What dangers does Thorkild face in treating Nardo? What consequences does he suffer from his interaction with Nardo, and how must he counsel himself as well as Nardo?
Why is Thorkild the narrator, the first-person "I," of In the Company of Angels? How would the novel unfold differently if Nardo or Michela were "I" instead of Thorkild?
Discuss the origins of each main character's name: Nardo, Michela, Voss, and Thorkild. What bonds of inheritance, nationality, and class does each name contain?
What are Nardo's first impressions of Michela? How does Michela first see Nardo? What assumptions does each make about the other at first glance? What do their first impressions reveal about their future relationship?
Consider Voss and Michela's experience at Voss's work banquet, at which Michela dances with another man. How is this a turning point in their relationship? What discoveries does Voss make about sex, jealousy, and romance on that drunken night? How does that evening lead to the eventual end of Voss and Michela's yearlong affair?
On his deathbed, Mikhail, Michela's father, holds on to two items: a copy of Hamlet and a trapeze over his hospital bed. What is the significance of each item to him? How is he finally able to let go of these two objects and surrender to death?
Nardo gives Michela a piece of advice: "Do not be ashamed to say you do not know something. For a person to e-say 'I do not know' require wisdom" (189). How is this a valuable lesson for Michela? What does she discover she does know by admitting what she doesn't know? How are Michela and Nardo able to learn from each other?
How is domestic violence portrayed in the novel? What anxieties are reawakened when Michela sees Voss's violent side? What connection can be made between the two major types of violence in the novel, domestic violence and political torture?
In a breakthrough therapy session, Nardo remembers his lowest moment in prison. How did his torturers finally succeed in breaking Nardo? How is Thorkild able to bring Nardo into that dark place of memory, and how does he help bring Nardo out of it?
When Nardo first tells Michela about his past life in Chile, "He could tell it no other way than as the story of another man" (166). Why must Nardo distance himself from his own story at first? How is Michela eventually able to help Nardo find peace and connection in the present moment?
When Voss attempts to crash Mikhail's funeral, Nardo takes Voss aside to "tell him a story, a strange story about a prison, about a moment's escape into sunlight from a dark, filthy cell in the company of angels who promised him that one day he would be free" (270). How does Voss react to Nardo's story? What hope does Nardo wish to show Voss? Is Voss likely able to move beyond his cycle of hurting others and himself? Why or why not?
The novel is composed of fifty-three short chapters. How does the chapter division shape the experience of reading In the Company of Angels? Which chapter titles are especially evocative of moments and emotions in the novel?
Is it possible to imagine In the Company of Angels set in a city other than Copenhagen? What seems particularly Danish about this novel, and what elements could be universal enough to take place in a different city?
The novel closes with Lise, Michela's mother, singing "Grand . . . amour . . . " from her wheelchair. Why does Lise get the last word of the novel? What love is she recalling from the past, and what love does she witness on this day of her husband's funeral?
or
Not Currently Available for Direct Purchase