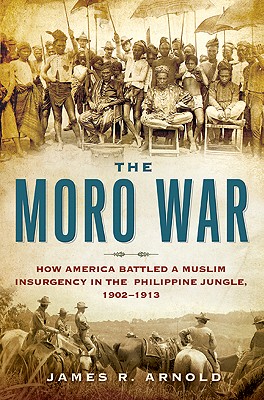 The Moro War: How America Battled a Muslim Insurgency in the Philippine Jungle, 1902-1913 (Hardcover)
How America Battled a Muslim Insurgency in the Philippine Jungle, 1902-1913
Bloomsbury Press, 9781608190249, 320pp.
Publication Date: August 2, 2011
* Individual store prices may vary.
or
Not Currently Available for Direct Purchase
Description
As the global war on terror enters its second decade, the United States military is engaged with militant Islamic insurgents on multiple fronts. But the post-9/11 war against terrorists is not the first time the United States has battled such ferocious foes. The forgotten Moro War, lasting from 1902 to 1913 in the islands of the southern Philippines, was the first confrontation between American soldiers and their allies and a determined Muslim insurgency.
The Moro War prefigured American wars in Iraq and Afghanistan more than superficially: It was a bitter, drawn-out conflict in which American policy and aims were fiercely contested between advocates of punitive military measures and proponents of conciliation.
As in today's Middle East, American soldiers battled guerrillas in a foreign environment where the enemy knew the terrain and enjoyed local support. The deadliest challenge was distinguishing civilians from suicidal attackers. Moroland became a crucible of leadership for the U.S. Army, bringing the force that had fought the Civil War and the Plains Indian Wars into the twentieth century. The officer corps of the Moro campaign matured into the American generals of World War I. Chief among them was the future general John Pershing-who learned lessons in the island jungles that would guide his leadership in France.
Rich with relevance to today's news from the Middle East, and a gripping piece of storytelling, The Moro War is a must-read to understand a formative conflict too long overlooked and to anticipate the future of U.S. involvement overseas.
About the Author
James R. Arnold is the author of more than twenty books, including "Jungle of Snakes: A Century of Counterinsurgency Warfare from the Philippines to Iraq"knl (named one of the Best Books of 2009 by the St.Louis Post-Dispatch). He lives on a farm near Lexington, Virginia.
Praise For The Moro War: How America Battled a Muslim Insurgency in the Philippine Jungle, 1902-1913…
Winner of the Trefry Award for distinguished writing, Army Historical Foundation
"Although
The Moro War
covers events a century ago, those seeking to wield influence in an Islamic land today would do well to study its lessons."
—Wall Street Journal
"Drawing upon contemporaneous official U.S. sources and on participants' letters and memoirs, [Arnold] skillfully weaves riveting and vigorous descriptions of the ferocious U.S.-Moro engagements"
—Journal of Military History
"The story of this relatively unknown epoch in American history has long echoes."
—Shelf Awareness
"[A] lucid political and military history … a fine history of an obscure colonial war in which both sides fought bravely, suffered cruelly, often behaved horribly and accomplished little."—
Military History
 "[An] excellent mixture of political and military history…Highlighting the missteps of the U.S. counterinsurgency in Moroland, Arnold offers sharp lessons for today along with an insightful, often gruesome, and timely portrait of an insurgency."
—Publishers Weekly
 "A lively, well-told chronicle of a conflict that commanders in more recent conflicts could well have [learned] from studying."
—Kirkus
"[A] concise and readable history...An excellent summary of a forgotten war that offers many parallels to the present."—Library Journal  "The Moro War is a superb depiction of a small war of the past that is decidedly relevant to the present. James R. Arnold is a brilliant story teller who captures the gritty reality of this forgotten war along with fascinating portraits of leaders like Leonard Wood and John J. Pershing. All of this is enhanced by vintage photographs throughout the book that illustrate Arnold's prose. Although there are few tactical lessons from this war that are applicable today, the operational lesson of putting the force out with the population to provide security was crucial to the Iraq "surge" and is at the heart of today's campaign in Afghanistan."—John T. Fishel, Emeritus Professor, National Defense University, co-author of Uncomfortable Wars Revisited
Advertisement