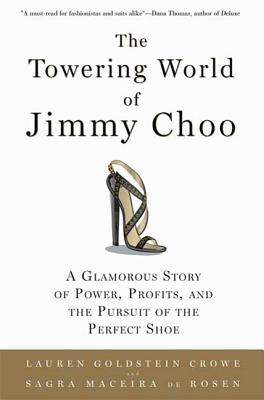 The Towering World of Jimmy Choo
A Glamorous Story of Power, Profits, and the Pursuit of the Perfect Shoe
Paperback

* Individual store prices may vary.
Description
The Towering World of Jimmy Choo is Sex and the City meets Barbarians at the Gate: the story of a London society girl named Tamara Mellon who launched one of the most talked about luxury brands in the world. More than simply a well-told tale of glamorous, troubled people, The Towering World of Jimmy Choo taps into America's seemingly insatiable appetite for luxury goods and examines an industry that has experienced explosive growth in just the past decade. Compelling to followers of both fashion and business, The Towering World of Jimmy Choo takes readers into a complex, rarified world as only seasoned financial journalist, Lauren Goldstein Crowe, and leading luxury goods equity analyst, Sagra Maceria de Rosen, can tell it. Millions of people now work in fashion, read the magazines and follow the key players--even if they can't afford the clothes. The story of how the Jimmy Choo brand got to where it is today is one of love, hate, sex, drugs, celebrity, power, money, intrigue and ambition. And every word of it is true.
Praise For The Towering World of Jimmy Choo: A Glamorous Story of Power, Profits, and the Pursuit of the Perfect Shoe…
"With The Towering World of Jimmy Choo, Ms. Crowe, a business journalist who has covered the fashion industry for Time magazine in London, and co-author Sagra Maceira de Rosen, a managing director for investment firm Reig Capital Group, do an efficient job of describing the company's dizzying rise from the days when it was a hole-in-the-wall operation custom-making shoes for an elite clientele that included Diana, Princess of Wales…the authors also present the colorful personalities and bitter squabbles -- some quite domestic -- that marked the rise of Jimmy Choo."—Wall Street Journal
"The finer points of Tamara's manipulations do not escape the authors of this book, Lauren Goldstein Crowe, a former fashion business journalist for Time, and Sagra Maceira de Rosen, an investor in the luxury sector."—Times (UK)
"Fun and powerful… like a great pair of heels!!!"—Diane von Furstenberg
"There is nothing sexier than a confident, intelligent woman. For the last decade, Lauren Goldstein Crowe and Sagra Maceira de Rosen have impressed the fashion and business worlds with their thoughtful critiques and analysis of the fashion industry. Together they make a formidable team."—Tom Ford, creative director of Tom Ford International
"Glamorous and intriguing…with all the juicy details that fashion insiders will relish." —Teri Agins, author of The End of Fashion and senior fashion writer at the Wall Street Journal
"Lauren Goldstein Crowe and Sagra Maceira de Rosen have taken a £500 stiletto and used it to burst the bubble of hot air and secrecy that surrounds the business of selling luxury goods." —Toby Young, author of How to Lose Friends and Alienate People
"A must read for anyone remotely involved in the fashion industry. A true page turner." —Rose Marie Bravo, former CEO of Burberry  
"Glamourama! From backroom machinations and takeover ploys to jet-set fetes and dramas in James Bond locales. A must read for fashionistas and suits alike."—Dana Thomas, author of Deluxe
 "A glamorous cocktail of high finance and family drama. A business book that reads like a novel." —Alex Bolen, CEO, Oscar de la Renta
"High drama. High stakes. High fashion. I just love this book." —Marisa Acocella Marchetto, author of Cancer Vixen and New Yorker cartoonist
Bloomsbury USA, 9781608190409, 240pp.
Publication Date: March 30, 2010
About the Author
Lauren Goldstein Crowe has written about the fashion industry for over a decade as a columnist at Conde Nast Portfolio.com and Time magazine in London. She is the author of Isabella Blow and The Towering World of Jimmy Choo, co-written with Sagra Maciera De Rosen.  Lauren is American and lives in London.
or
Not Currently Available for Direct Purchase