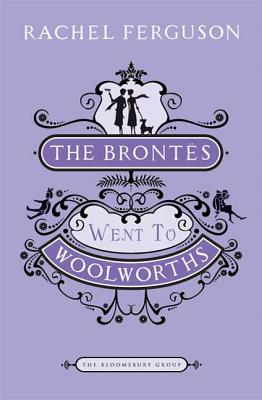 The Brontes Went to Woolworths (Paperback)
Bloomsbury Publishing PLC, 9781608190539, 188pp.
Publication Date: March 2, 2010
Description
'How I loathe that kind of novel which is about a lot of sisters'; so proclaims Deirdre at the beginning of "The Brontes Went to Woolworths," one of three sisters.
London, 1931. As growing up looms large in the lives of the Carne sisters, Deirdre, Katrine and young Sheil still share an insatiable appetite for the fantastic. Eldest sister Deirdre is a journalist, Katrine a fledgling actress and young Sheil is still with her governess; together they live a life unchecked by their mother in their bohemian town house. Irrepressibly imaginative, the sisters cannot resist making up stories as they have done since childhood; from their talking nursery toys, Ironface the Doll and Dion Saffyn the pierrot, to their fulsomely-imagined friendship with real high-court Judge Toddington who, since Mrs Carne did jury duty, they affectionately called Toddy.
However, when Deirdre meets Toddy's real-life wife at a charity bazaar, the sisters are forced to confront the subject of their imaginings. Will the sisters cast off the fantasies of childhood forever? Will Toddy and his wife, Lady Mildred, accept these charmingly eccentric girls? And when fancy and reality collide, who can tell whether Ironface can really talk, whether Judge Toddington truly wears lavender silk pyjamas or whether the Brontes did indeed go to Woolworths?
"The Brontes Went to Woolworths "is part of The Bloomsbury Group, a new library of books from the early twentieth-century chosen by readers for readers.
About the Author
Rachel Ferguson was born in 1983 in Hampton Wick. Rachel was educated privately, before being sent to finishing school in Italy. She flaunted her traditional upbringing to become a vigorous campaigner for women's rights and member of the WSPU.In 1911 Rachel Ferguson became a student at the Academy of Dramatic Art. She enjoyed a brief though varied career on the stage, cut short by the First World War. After service in the Women's Volunteer Reserve she began writing in earnest.Working as a journalist at the same time as writing fiction, Rachel Ferguson started out as 'Columbine', drama critic on the Sunday Chronicle. False Goddesses, her first novel, was published in 1923. A second novel The Brontes Went to Woolworths did not appear until 1931, but its wide acclaim confirmed Rachel Ferguson's position in the public eye. Over the next two decades she wrote extensively and published nine more novels. Rachel Ferguson lived in Kensington until her death in 1957.
Advertisement