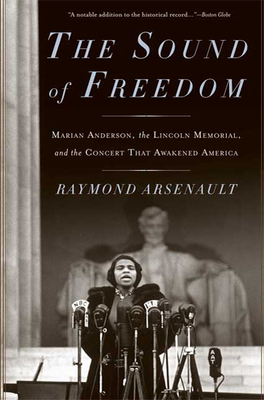 The Sound of Freedom (Paperback)
Marian Anderson, the Lincoln Memorial, and the Concert That Awakened America
Bloomsbury Publishing PLC, 9781608190560, 310pp.
Publication Date: January 19, 2010
Other Editions of This Title:
Hardcover (3/31/2009)
* Individual store prices may vary.
Description
"A notable addition to the historical record Arsenault's book is a timely reminder of the worm of history turning once more." "Boston Globe "
""
""On Easter Sunday 1939, celebrated vocalist Marian Anderson sang before a throng of seventy-five thousand at the Lincoln Memorial. Though she was at the peak of a dazzling career, Anderson had recently been barred from performing at the Daughters of the American Revolution's Constitution Hall because she was black. Eleanor Roosevelt resigned from the DAR over the incident, turning it into national news. The courageous Anderson made the most of a politically charged occasion, captivating the world with her talent and her dignity. This richly textured story from acclaimed historian Raymond Arsenault captures an early milestone in the struggle for civil rights, the quiet heroism of Anderson, and a moment that still inspires Americans of every race.
About the Author
Raymond Arsenault is the John Hope Franklin Professor of Southern History at the University of South Florida, St. Petersburg. His other books include Freedom Riders: 1961 and the Struggle for Racial Justice, named one of the Best Books of 2006 by the Washington Post and winner of the Owsley Prize for the best work of the year in southern history.
Praise For The Sound of Freedom: Marian Anderson, the Lincoln Memorial, and the Concert That Awakened America…
"Arsenault attempts to revive our interest in Anderson's feat by examining it in the context of a complex and often turbulent racial landscape. And he succeeds handily."—Washington Post
"[Y]ou won't find a richer examination of this event…The Sound of Freedom is a book to sing about."—Houston Style Magazine
"On the 70th anniversary of that groundbreaking concert, The Sound of Freedom reminds readers of a turning point in American life."—New York Times Book Review
"A notable addition to the historical record…Arsenault's book is a timely reminder of the worm of history turning once more. We have only just witnessed another triumphant procession on the Washington Mall, where another exemplary African-American, himself the product of another David and Delia, was sworn in as the 44th president of the United States - something Anderson would likely have been hard-pressed to imagine taking place."—Boston Globe
"A tightly focused look at the political and cultural events that led up to and came after her famous 1939 concert. It's a story that's well worth retelling."—New York Times
"Outstanding…provides critical perspective on [Anderson's] most significant achievement."—Book Page
"This vivid tribute to her work and times does [Anderson's] memory a great service."—Publishers Weekly
"Arsenault excels at contextualizing the concert, probing the ways in which Jim Crow laws and racial prejudices permeated all aspects of African-American life."—Kirkus Reviews
"In this moment of change and hope, Raymond Arsenault has gifted us with the perfect book for contemplation and activism.  Deeply researched, vividly written, sparkling and dramatic, The Sound of Freedom is more than a biography of Marian Anderson, her struggles and triumphs over time.  It is a call to reconsider the enduring legacies of our segregated heritage, our culture of disrespect.  From Marian Anderson's Lincoln Memorial concert that 'awakened' the country to the cruelties and deprivations of apartheid America, every stunning detail of this bold and heartening book calls upon us to continue the still incomplete fight for liberty and justice for all."—Blanche Wiesen Cook, author of Eleanor Roosevelt, vols I & II
or
Not Currently Available for Direct Purchase