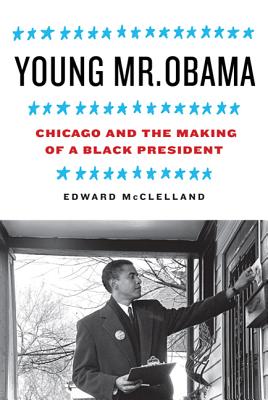 Young Mr. Obama: Chicago and the Making of a Black President (Hardcover)
Chicago and the Making of a Black President
Bloomsbury Publishing PLC, 9781608190607, 288pp.
Publication Date: October 12, 2010
* Individual store prices may vary.
or
Not Currently Available for Direct Purchase
Description
Barack Obama's inspirational politics and personal mythology have overshadowed his fascinating history. Young Mr. Obama gives us the missing chapter: the portrait of the politician as a young leader, often too ambitious for his own good, but still equipped with a rare ability to inspire change. The route to the White House began on the streets of Chicago's South Side.
Edward McClelland, a veteran Chicago journalist, tells the real story of the first black president's political education in the capital of the African American political community. Obama's touch wasn't always golden, and the unflappable and charismatic campaigner we know today nearly derailed his political career with a disastrous run for Congress in 2000.
Obama learned from his mistakes, and rebuilt his public persona. Young Mr. Obama is a masterpiece of political reporting, peeling away the audacity, the T-shirts, and the inspiring speeches to craft acompelling and surpassingly readable account of how local politics shaped a national leader.
About the Author
Edward McClelland is a veteran political journalist working out of Chicago. His previous books include The Third Coast: Sailors, Strippers, Fishermen, Folksingers, Long-Haired Ojibway Painters and God-Save-the-Queen Monarchists of the Great Lakes and Horseplayers: Life at the Track. He has written for the Chicago Reader, Boston Globe, Washington Post, Slate, Salon, Chicago magazine and many other publications.
Praise For Young Mr. Obama: Chicago and the Making of a Black President…
"With Young Mr. Obama, Edward McClelland finishes what The Bridge started, showing how Obama navigated Chicago political life, which can be as rough as a Blackhawks game … McClelland's book is long on reporting and narrative, and short on meditation and analysis – for which readers can be thankful…. For the many Americans who remain fascinated with the American president, Young Mr. Obama makes for insightful, enlightening reading, a worthy supplement to Remnick's book and a valuable contribution to the record on the 44th president."—Christian Science Monitor
"So the question was whether is this just another Obama book. The answer is no. The great strength of the book lies in it coverage of the early years…. delving into all this breaks new biographical ground and will function as a solid foundation for future books on the subject. The book is a must-read for all Obama political junkies who want to know more for it does significantly advance the historical record regarding his younger years."—New York Journal of Books
"McClelland does a great job illustrating how the gerrymandering of Chicago's First Congressional District and the emergence of early 20th century black leaders such as Oscar DePriest and William Dawson established strong foundations for black leadership to emerge in Chicago and across Illinois, well before it became accepted elsewhere."— GapersBlock.com
"McClelland explores how Chicago's long-established African American political power bases helped nurture Obama's career."—San Francisco Chronicle
"Where did Barack Obama come from?  No answer to that question can be complete without the stories that unfold in this book.  Many of them date from the time when Edward McClelland was just about the only reporter covering the young and unknown Obama.  Understanding how this extraordinary leader rose from Chicago politics to the pinnacle of world power is not possible without the insights in Young Mr.Obama."—Stephen Kinzer, author of Overthrow: America's Century of Regime Change from Hawaii to Iraq
"Edward McClelland's Young Mr. Obama argues convincingly that our first black president couldn't have come from any place other than Chicago. If you want to understand the 'Chicago-style' politics that shaped our president--the real thing, not the right-wing cartoon--you have to read Young Mr. Obama."—Joan Walsh, editor in chief of Salon.com
"[McClelland] makes a convincing case that President Obama's experiences in his adopted city shaped him profoundly and helped make him the seasoned and formidable politician he is today. An engaging overview of the president's early political education." —Kirkus Reviews
"As Barack Obama's presidency is beset by falling ratings, a weak economy, and an antideficit mood, McClelland's examination of Obama's ascendency should encourage supporters and instill caution in opponents." —Publishers Weekly
"Richly details Obama's background in Chicago and how it impressed those who would eventually help his presidential campaign like senior advisor David Axelrod." —Paul Bedard, U.S. News & World Report's Washington Whispers blog
"A fine survey of how local Chicago politics shaped Obama."—Midwest Book Review
"A great read."—AND Magazine
Advertisement