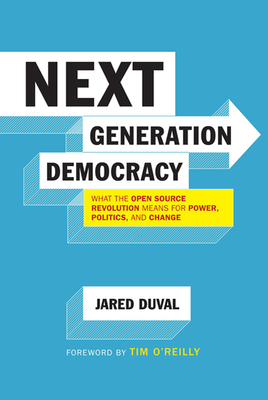 Next Generation Democracy: What the Open-Source Revolution Means for Power, Politics, and Change (Paperback)
What the Open-Source Revolution Means for Power, Politics, and Change
Bloomsbury USA, 9781608190669, 288pp.
Publication Date: November 9, 2010
* Individual store prices may vary.
or
Not Currently Available for Direct Purchase
Description
The challenges of the twenty-first century are of an unprecedented scale. Climate change, financial instability, the housing crisis, the need for health care all of these are political issues that could be managed with ease if they were occurring on a much smaller scale. But with a huge global population and inextricable connections between the issues, our old tools for change look increasingly blunt. Many of the large bodies we once appointed to manage our common problems including national governments have begun to fail at critical moments.
But there is good news: We can use our vast size and complexity to our advantage. Drawing on the lessons of open source technology, social change leader Jared Duval offers an inspiring call to action. "Next Generation Democracy" chronicles some of the watershed events, such as Hurricane Katrina, during which centralized leadership was not enough, and then tells the success stories of the leaders, both inside the government and out, who are finding effective, directly democratic ways to address our public challenges. Telling the stories of participatory organizations such as SeeClickFix and America Speaks, Duval describes a new approach to solving complex problems that draws on the contributions of vast and diverse communities of engaged citizens. An artful blend of personal writing, journalism, and political argument, "Next Generation Democracy" not only gives us a vision of a brighter future, it inspires us to be a part of it.
About the Author
Jared Duval is a Fellow at Demos, a New York based think tank where he is helping to build a first-of-its-kind fellowship program for young authors. He was the National Director of the Sierra Student Coalition, the national student chapter of the Sierra Club and the largest student environmental organization in America. A recipient of the David Brower Youth Award and the Morris K. Udall and Harry S. Truman scholarships, he graduated Summa Cum Laude from Wheaton College in Massachusetts in 2005. A Trustee of the Orton Family Foundation, Jared is a tenth-generation Vermonter. He currently lives in New Haven, Connecticut.
Praise For Next Generation Democracy: What the Open-Source Revolution Means for Power, Politics, and Change…
"Jared Duval has written an inspiring and necessary book, a message that real democracy, and real change, is more possible now than ever. An energetic leader and a fearless thinker, Duval shows us that we have the tools for change at our fingertips. Now it's time to stand up, stop complaining, and make the world we want."—Van Jones, author of The Green Collar Economy
"God knows previous generations have left those that are coming of age a world of trouble. Happily, they're figuring out a world of ways to set them right. Jared Duval's book offers a behind-the-scenes tour of the next wave of activism, organizing, inspiration, and change. It will give you cause to hope—and cause to go to work."—Bill McKibben, author of Eaarth and Deep Economy
"We're seeing a wave of greatly increased civic engagement as people find ways to improve governance via the Internet. Next Generation Democracy tells you what the deal is about the rising millennial generation and our new tools for real democracy."—Craig Newmark, founder of Craigslist
"Some writers are known for telling uplifting stories, others for making compelling arguments. Jared Duval is the rare author who does both. What's more, Duval, grounded by his own experience creating social change, is uniquely able to help us understand how to responsibly and effectively engage in the world." —Judith Freeman, Co-Founder and Executive Director, New Organizing Institute
"Next Generation Democracy is an insightful intellectual tour de force linking the emergence of the Millennial Generation and the power of open source systems to describe a hopeful future for American democracy. In the middle of a cacophony of confused and fearful voices, Jared Duval presents a lucid, calm argument." —Morley Winograd, Co-author of Millennial Makeover
"Jared Duval has proven himself one of the greatest leaders and thinkers of the Millennial Generation. Next Generation Democracy is a bold, visionary, and empowering exploration of the social and political progress we need in the 21st century. This is the kind of rethinking that happens once a generation – don't miss it." —Teryn Norris, Founding Director, Breakthrough Generation.
Advertisement