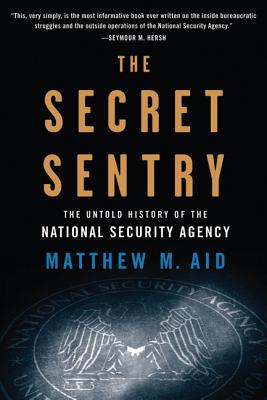 The Secret Sentry: The Untold History of the National Security Agency (Paperback)
The Untold History of the National Security Agency
Bloomsbury Publishing PLC, 9781608190966, 432pp.
Publication Date: June 8, 2010
* Individual store prices may vary.
or
Not Currently Available for Direct Purchase
Description
Peering from space via satellite, tapping phones and networks, monitoring cell phone frequencies around the globe, the NSA watches friends, enemies, and terror suspects alike. Some 60 percent of the president's daily intelligence briefing comes from this one agency. No one knows the NSA better than Matthew M. Aid, who has packed two decades of research in declassified archives into "The Secret Sentry," the most complete account ever written of this elusive organization.
From Eastern Europe to Korea to Iraq and Afghanistan, the NSA has played a key role in America's geopolitical successes, and some of its failures. Aid follows the NSA from its tense beginnings in the Cold War to its controversial role in the War on Terror. "The Secret Sentry "is nothing less than a shadow history of global affairs in the past half century. This meticulous and engrossing narrative gives an unrivaled look at the most powerful spy agency in the world.
About the Author
Matthew Aid is a leading intelligence historian and expert on the NSA, and a regular commentator on intelligence matters for the New York Times, the Financial Times, the National Journal, the Associated Press, CBS News, National Public Radio (NPR) and many others.
Advertisement