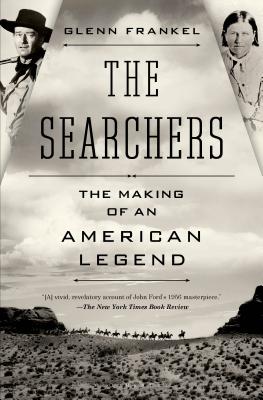 The Searchers (Hardcover)
The Making of an American Legend
Bloomsbury Publishing PLC, 9781608191055, 405pp.
Publication Date: February 19, 2013
* Individual store prices may vary.
Description
In 1836 in East Texas, nine-year-old Cynthia Ann Parker was kidnapped by Comanches. She was raised by the tribe and eventually became the wife of a warrior. Twenty-four years after her capture, she was reclaimed by the U.S. cavalry and Texas Rangers and restored to her white family, to die in misery and obscurity. Cynthia Ann's story has been told and re-told over generations to become a foundational American tale. The myth gave rise to operas and one-act plays, and in the 1950s to a novel by Alan LeMay, which would be adapted into one of Hollywood's most legendary films, The Searchers, "The Biggest, Roughest, Toughest... and Most Beautiful Picture Ever Made " directed by John Ford and starring John Wayne.
Glenn Frankel, beginning in Hollywood and then returning to the origins of the story, creates a rich and nuanced anatomy of a timeless film and a quintessentially American myth. The dominant story that has emerged departs dramatically from documented history: it is of the inevitable triumph of white civilization, underpinned by anxiety about the sullying of white women by "savages." What makes John Ford's film so powerful, and so important, Frankel argues, is that it both upholds that myth and undermines it, baring the ambiguities surrounding race, sexuality, and violence in the settling of the West and the making of America.
About the Author
Glenn Frankel worked for nearly thirty years for the Washington Post, as a reporter, a foreign correspondent, and editor of the Washington Post Magazine. As Jerusalem bureau chief, he won the 1989 Pulitzer Prize for "sensitive and balanced reporting from Israel and the Middle East." His first book, Beyond the Promised Land: Jews and Arabs on the Hard Road to a New Israel won the National Jewish Book Award. His second, Rivonia's Children: Three Families and the Cost of Conscience in White South Africa was a finalist for South Africa's prestigious Alan Paton Award. Frankel has been an Alicia Patterson Journalism Fellow and a Hearst Visiting Professional in the Department of Communication at Stanford. He is currently the Director of the School of Journalism at the University of Texas at Austin.
Praise For The Searchers: The Making of an American Legend…
"A gracefully presented narrative… A thoroughly researched, clearly written account of an obsessive search through the tangled borderland of fact and fiction, legend and myth." –Kirkus Reviews (starred review)

"Riveting depiction…Frankel's retelling is a gripping portrayal of a mesmerizing period of American history." –Publisher's Weekly (starred review)

"A must-read for film students, making-of fans, and students of American history." –Booklist

"An enjoyable book that will appeal to film historians/buffs as well as to those with an interest in Western history."—Library Journal
"Well researched… casts a haunting, harrowing spell." –Entertainment Weekly
"It was around this time that Leslie Fiedler published a slim volume making the case that Uncle Tom's Cabin, The Birth of a Nation, Gone With The Wind and Roots could be read as a single, multi-media 'inadvertent epic' – a story about slavery, race and family that America gave to itself. As framed and enriched by Frankel, The Searchers is another such epic; recounting the making of what he calls 'an American legend,' he has retold it well…a vivid, revelatory account of John Ford's 1956 masterpiece." –J. Hoberman, The New York Times Book Review
"A must-read for movie fans and anyone interested in mythmaking and the American West… Frankel's excellent research and analysis and his fine writing raise the bar for the 'making of' film book. His narrative details the life of a modern legend—in this case, a historical event that sparked a novel that led to a film, each step revealing a different aspect of how we tell our stories and why." –Douglass K. Daniel, Associated Press
"Impeccably researched…a fascinating journey from fiction to fact, from glorified legend to brutal event."--Washington Post
"Absorbing… a riveting account of the war for the American West… Frankel's superb book gives a fascinating historical and anecdotal account of how The Searchers became a John Ford movie."--Saint Louis Post-Dispatch
"After meticulous research, Frankel restores a sense of history and balance to Parker's story… It's a nuanced, ambiguous portrayal of heroes and hypocrites, compassionate and sadistic warriors." –USA Today
"Frankel's graceful ability to separate, and harmonize, legend and fact does honor to both." –Portland Oregonian
"In vivid prose, the director of the University of Texas at Austin School of Journalism explains why his favorite film is important and a masterpiece. And he does so in the clear, economical style of a writer who's lived a life of deadlines in news capitals around the world.…his passion is contagious." --Austin American Statesman
"Compelling" – The Star-Ledger
"Compelling… a story as deeply American as it is tragic." –The Daily Beast
"In peeling back the layers of story, myth, and legend that accrued to Parker's story and led to 'The Searchers,' Frankel makes a compelling case for why such a twisted masterpiece still matters." –The Boston Globe
"A superbly written, highly entertaining mixture of American history and popular culture that reveals anew one of our greatest films."—Shelf Awareness
"For movie and history buffs, a must." –MSN, "Pageturner"

"In brilliant pursuit of truth in the territory of American myth, Glenn Frankel has created his own masterpiece of nonfiction storytelling."—David Maraniss, author of When Pride Still Mattered and They Marched Into Sunlight

"Glenn Frankel's magisterial work of American history and cultural history is so adventurously researched and approached with such passionate engagement that it penetrates deeply into our national psyche. With empathy for both sides in a terrible conflict that tore our land apart and still haunts our conscience. Frankel's splendid book, written in prose so vivid that it thrusts us body and soul into the past of frontier Texas and 1950s Monument Valley, finds in this heartbreaking saga nothing less than the story of America." –Joseph McBride, author of Searching for John Ford
"Readers who were enthralled by S.C. Gwynne's Empire of the Summer Moon will be equally fascinated by Glenn Frankel's masterful book, which widens the story of Cynthia Ann Parker into the twentieth century and into the colliding currents of history and myth. Frankel is so good – as a historian, film critic, biographer, and riveting storyteller – that he creates in The Searchers a blazing synthesis of dramatic narrative and scholarly insight."—Stephen Harrigan, author of The Gates of the Alamo and Remember Ben Clayton