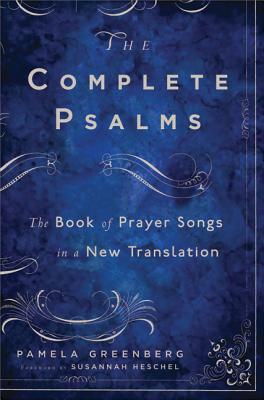 The Complete Psalms (Hardcover)
The Book of Prayer Songs in a New Translation
Bloomsbury Publishing PLC, 9781608191208, 323pp.
Publication Date: March 30, 2010
Other Editions of This Title:
MP3 CD (5/17/2016)
* Individual store prices may vary.
Description
In her new, complete translation of the Book of Psalms, Pamela Greenberg "favors beauty before theology," in the words of Mary Karr, writing in the "Washington Post "of the unpublished manuscript of this book, "breathing new life into the ancient texts." It is precisely the honesty of these prayer songs, overflowing into wild jubilance or deeply wrenching despair, that Greenberg has captured in her new translations, making them touch us so deeply. Traditional translations from those of the medieval Jewish commentator Rashi to early Christian commentators to the King James version have downplayed anger at God and reinterpreted the Psalms in ways that would be doctrinally more palatable, but which flatten the richness and subtlety of the Hebrew verse. Greenberg's translation aims to restore the poetry and vibrancy of the Psalms as a prayerful act, replicating their emotional passion while both wrestling with the text as living liturgy and remaining as true as possible to the originals. Her desire in this new translation is to rekindle the relevance of the Psalms, to bring to life what makes their words cry and breathe and shout a labor of yearning, necessity, and love.
About the Author
Pamela Greenberg is a poet and writer. She has an M.F.A from Syracuse University and a Masters in Jewish Studies from Hebrew College, where she received an award in Hebrew Literature. She spent a year in rabbinical school before deciding to dedicate herself more fully to writing. Pam has received several writing awards, including a University Fellows award at Syracuse and a residency at the Millay Colony for the Arts. An excerpt from her Psalms translation appeared in Book World section of the Washington Post. She lives in Cambridge, Massachusetts, with her husband and young son.
Praise For The Complete Psalms: The Book of Prayer Songs in a New Translation…
"Greenberg's psalms lure us into new depths of prayer with their muscular terror and fleshy joy." —Sojourners
"Greenberg's version speaks with a directness and simplicity that distinguishes it from the magniloquence of most other versions…. A clear and moving…translation of the Psalms for modern readers." — Library Journal
"[Greenberg's] authentic engagement with these poems of universal human experience comes through in her translation…[her] knowledge of the original language of the psalms and their stylistic characteristics keeps the book from becoming simply a meditation about, or reaction to, any existing version in English…. [Readers] should welcome this poetic translation as not only the work of a modern poet but also fresh commentary on one of the best-loved books of the Bible." — PublishersWeekly.com
"Pamela Greenberg's delicious new translation of the psalms … has lifted the old language from spider webs and mothballs, breathing new air into the songs."—Mary Karr

"I am no hide-bound traditionalist, but since I was raised on the psalms in God's own King James version, I doubted anyone could improve on them.  But Pamela Greenberg has done just that.  She has felt her way into the spiritual resonance of these timeless poem/prayers.  A remarkable achievement.  I am sure this translation, the best one I know of at the moment, will find its way into personal prayer and collective praise."—Harvey Cox, Professor of Divinity, Harvard University; author, The Future of Faith
"How could anyone improve on the translations I already know? At the first page I was gripped by the actual voice of these poems, and smiled and wept as if seeing a lost friend approach from a great distance—not lost, but alive and breathing, walking closer and closer, stepping into right now."—Marie Howe
"As Pamela Greenberg writes in her introduction to this extraordinary new translation of the psalms, these are poems written not to formulate religious doctrine, but to give voice to religious emotion—all emotion, from anguish to exaltation, loneliness to thanksgiving, yearning to rage … A great gift to her readers."—Susannah Heschel, from the Foreword
In her foreword to The Complete Psalms, Susannah Heschel writes, "The psalms appeal to all people, regardless of religious commitments, because they strive to give voice to the human soul." In what ways do the psalms transcend religious divisions? What are some of the universal qualities of the psalms?
In her introduction, Pamela Greenberg reveals that when she first approached the psalms, "I was new to religious life, having landed there through sheer desperation, and found within the psalms a model for talking to God." (xv) What "model" of spiritual communication can be found within the psalms? How is this model of communication similar to traditional prayer, and how is it different?
Greenberg writes, "One of the most significant difficulties I encountered in translating had to do with the use of gender in the psalms, both in reference to God and in reference to the anonymous representative of humanity." How effective is Greenberg's effort to make the psalms "speak equally to either gender?" (xxi) Do the psalms feel relevant to both genders today? Why or why not?
Many of the psalms are attributed to David, Asaf, or Solomon, yet according to biblical tradition they are all written by David. What difference does it make to think of them as written by one author or several?
Many of the psalms are attributed to David, Asaf, or Solomon, yet according to biblical tradition they are all written by David. What difference does it make to think of them as written by one author or several?
Greenberg leaves untranslated two words from Hebrew: "Selah" and "Halleluyah." What is the effect of reading these words in their original form within the psalms? What emphasis and emotions do these words convey? What English words might have a similar effect?
Enemies abound in the psalms, from Egyptians and Babylonians in hot pursuit to lions and snakes that lie in wait. What else might these enemies symbolize? Which dangers are external and which exist within the supplicant's own mind?
Several psalms open with a question, such as Psalms 2, 15, and 74. Consider the role of questioning within these and other psalms. Does each psalm answer the opening question by the end? Do the authors seek answers, or do they accept the unanswerable? Explain.
Compare Greenberg's translation of Psalm 23 to the King James Version in the Bible, which is often quoted and interpreted. How do the subtle differences in translation shift the tone and meaning of Psalm 23? In particular, consider how Greenberg clarifies and updates the King James line, "Yea, though I walk through the valley of the shadow of death, / I will fear no evil; for thou art with me."
Psalm 38 provides an example of God's anger and punishment. How does this representation of God resonate with Christian and Jewish practice today? Does this angry, vengeful God feel compatible with current theology? Why or why not? How else might we interpret this imagery of a violent God?
Many psalms are written in the first person "I." (See Psalms 30, 31, 55, and 130 for some examples.) What is the effect of this singular, personal narration? Does this "I" make the psalms feel intimate, universal, or lonely?
Discuss the imagery within Psalm 88. How does the figurative language serve to express despair, sorrow, and abandonment? What is the message of a psalm that lacks a hopeful tone? In what way is that an expression of faith?
Compare the shortest psalm, 117, to the longest psalm, 119. What is the effect of brevity and length within these psalms, and which do you find more powerful?
Consider the intergenerational messages of the psalms, "that which our ancestors were instructed / to convey to their offspring, / so that future generations would understand, / those still unborn." (166) What lessons and practices do the psalms convey to future generations? How do the psalms instruct us to impart these lessons to the next generations? What does continuity from one generation to the next represent?
Psalm 150, the final verse, ends with the lines, "Let everything that breathes praise God. / Shine forth your praises on God!" (319) What are some of the many ways to praise God according to this psalm? What new methods of praising God are evident in the psalms?
Greenberg provides a Selected Glossary at the end of the book, explaining some of the word choices within her translation. Which of these words seems to alter the tone of the psalms the most? For example, does translating "awe of God" as "wonder or reverence" instead of "fear" significantly affect how the psalms sound and feel? Explain.
or
Not Currently Available for Direct Purchase