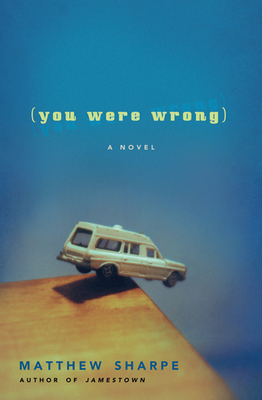 You Were Wrong (Paperback)
Bloomsbury Publishing PLC, 9781608191871, 181pp.
Publication Date: August 31, 2010
* Individual store prices may vary.
Description
It is 2008 in the suburban town of Seacrest, Long Island. Twenty-six-year-old high school math teacher Karl Floor has no parents, no friends, few prospects, is a dim bulb, and lives at home with Larchmont Jones, the aggressively loquacious widower of Karl's mother. One fine afternoon, Karl returns to his house after work to discover a beautiful stranger in the upstairs hallway. She is Sylvia Vetch, and claims to be robbing him. She also asks for his protection, but won't quite say from what or whom, and draws him into troubles she won't elucidate.
No Sherlock Holmes, Karl still slowly begins to see and engage the complex forces that have been shaping his life: his parentage and inheritance, morality and law, the racial and economic geography of present-day New York City and the world at large. Darkly funny and original,
You Were Wrong
is a surreal detective story told with heart, wit, and a singular voice.
About the Author
Matthew Sharpe is the author of the novels Jamestown, The Sleeping Father and Nothing Is Terrible, as well as the short-story collection Stories from the Tube. He teaches creative writing at Wesleyan University. His stories and essays have appeared in Harper's Magazine, Zoetrope, BOMB, McSweeney's, American Letters & Commentary, Southwest Review, and Teachers & Writers. He lives in New York City
Praise For You Were Wrong…
"Part warped fairy tale, part nerd noir, part hallucinogenic misfit fiction, part sly social critique, Sharpe's wicked story of class and race, love and hate, is venomously funny and whiplash smart."  —Booklist
"A pleasing odd and intelligent novel…What's most winning about YOU WERE WRONG is its acumen and the brio with which [Sharpe's] sentence-making bears it out.  The book is rich with devastatingly comic observations about people, places, and things.  YOU WERE WRONG might not save your life, but never mind; Matthew Sharpe is saving prose from the banal, one word at a time."  —New York Times Book Review
"A painfully funny book … You Were Wrong is even riskier than Sharpe's previous novel, Jamestown. There, the sides were clear and the joke easier to parse. Here, Sharpe refuses to let the reader catch him winking. It's a bold move, one that pays off in many places. The novel is about the failures of men, and it's dedicated to the year 2008, a time when the rot at the root of another male-dominated institution, our economy, was finally revealed. Sharpe's novel works like those warning signs we now wished we'd noted, telling us that something essential is broken."—Publishers Weekly
"This book is strange, original, and devastatingly clever."—Mary Gaitskill
"A sharply funny, almost old-fashioned social farce with the structure of a P.G. Wodehouse comedy of errors and the bitter wit of a John Kennedy Toole — this is a sweet, oddly romantic satire for the recovering cynics among us."—Lydia Millet, Pulitzer Prize Finalist for Love in Infant Monkeys
"I think what I like most about You Were Wrong is the incredible sentences Matthew Sharpe creates. Like the story, they weave and dip and avoid and confront and contain all the horrible beauty that life is. Following the roll and tumble of words, you're never quite sure where you'll end up, but don't worry—the chaos is well controlled. You're never once out of Sharpe's capable hands."—Sharon Preiss, founder and director of Mobile Libris
Consider the title of the novel. Who has been wrong about what? What "wrongs" are
corrected, and which misconceptions remain until the very end?
You Were Wrong opens with a short summary of Karl's life: "At twenty-six, Karl Floor had had a hard life: father dead, mother dead, stepdad sick and mean, siblings none, friends none, foes so offhanded in their molestations that they did not make a crisp enough focal point for his energies" (1). Does this snapshot biography sum up Karl, or is there more to his personality? Do these hardships justify his unhappiness? Why or why not?
Soon after Karl meets Sylvia Vetch in his home, "There was the unsettled question of whether her intentions toward Karl were mean or nice, whose answer would not influence his feelings, only their consequences" (26). When do Sylvia's intentions, "mean or nice," become clear? Does she have positive or negative intentions toward Karl?
Compare the three Long Island houses in
You Were Wrong: Karl and Jones's shared home, Sylvia's party shack, and Stony's estate. Why are houses so important to the characters who own them? How does each house reflect its owners?
What are Karl's first impressions of Stony, and how do his impressions change or remain the same over time? In which moments does Stony show some vulnerability?
Discuss the relationship between Karl and his stepfather, Larchmont Jones. What fundamental lies have shaped their relationship? Does Karl intend to kill Jones, or is he surprised by his own violent impulses toward his stepfather?
What is the role of race in
You Were Wrong? How does Karl react to the racial identitiesof other characters?
Although she died years ago, Karl's mother continues to have a significant impact upon her family. How does Karl express his mourning for his mother? How does her memory serve to keep Karl and his stepfather together, and how does her absence drive the two men apart?
Consider Karl's impressions of Brooklyn. How does he view the city as he drives in from Long Island? How do the scenes set in Brooklyn differ from the rest of the novel?
In the end, why does Sylvia marry Stony? Who benefits from this marriage, and who suffers the consequences? What role does Karl play in their relationship? Is he able to protect Sylvia, as promised? Why or why not?
Sylvia calls Karl "this innocent, adorable, melancholy weirdo who's just himself, who isn't machinating or striving, who wants nothing more than to carry on with his unambitious, unremarkable life" (164). Do you agree with Sylvia's view of Karl? Why or why not? Why does this aspect of Karl's personality appeal to Sylvia?
You Were Wrong contains several violent scenes, including Karl's after-school beating, Jones's near-death by pool cue, Stony's failed attempt to cut off Karl's finger, and Stony's stabbing. How is violence depicted in the novel? When do violence and dark humor intersect?
Arv, Paul, and Hal—Stony's sidekick, and the two high school students he hires to attack Karl—make an unusual backdrop of minor characters in
You Were Wrong. What motivates these three characters? How do they come to a peaceful resolution with Karl?
In a surreal moment of the novel, a nightingale swoops into Karl's bedroom and exchanges hearts with him. What does this black bird symbolize? What effect does this "black bird heart in his breast" (107) have upon Karl, as he faces the news of Stony and Sylvia's wedding?
After stabbing Stony, Sylvia tells Karl, "You're somebody's stepfather now" (180). How might stepfatherhood change Karl?
or
Not Currently Available for Direct Purchase