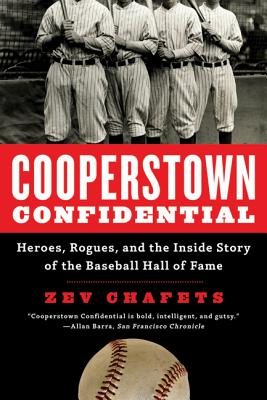 Cooperstown Confidential: Heroes, Rogues, and the Inside Story of the Baseball Hall of Fame (Paperback)
Heroes, Rogues, and the Inside Story of the Baseball Hall of Fame
Bloomsbury Publishing PLC, 9781608192106, 237pp.
Publication Date: June 2, 2010
Description
This penetrating, funny book reveals the inner workings of the Hall of Fame: the politics, the players, and the people who own and preserve it. From the history of the founding Clark family to a day on the town with the newly inducted Goose Gossage; from the battle over steroids to the economics of induction and secret campaigns by aspiring players, this is a highly irreverent and highly entertaining tour through the life of an American institution. For anyone who cares about baseball, this is essential reading.
About the Author
Zev Chafets is the author of ten books, including A Match Made in Heaven, Members of the Tribe, and The Devil's Night. He is a frequent contributor to the New York Times Magazine, among many other periodicals, a former columnist for the New York Daily News, and the founding editor of Jerusalem Report. He lives in Westchester, New York, with his wife and children.
Advertisement