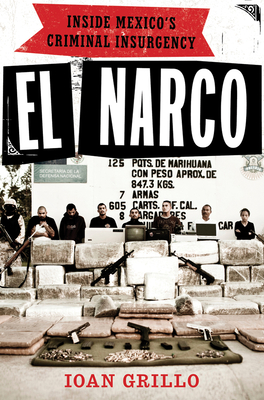 El Narco
Inside Mexico's Criminal Insurgency
Hardcover

* Individual store prices may vary.
Other Editions of This Title:
Paperback (11/13/2012)
Paperback, Spanish (8/30/2012)
Paperback (1/26/2017)
MP3 CD (7/26/2016)
Compact Disc (11/5/2019)
Paperback (9/1/2011)
Description
The world has watched stunned at the bloodshed in Mexico. Thirty thousand murdered since 2006; police chiefs shot within hours of taking office; mass graves comparable to those of civil wars; car bombs shattering storefronts; headless corpses heaped in town squares. And it is all because a few Americans are getting high. Or is it? The United States throws Black Hawk helicopters and drug agents at the problem. But in secret, Washington is confused and divided about what to do. Who are these mysterious figures tearing Mexico apart? they wonder. What is El Narco?
El Narco
draws the first definitive portrait of Mexico's drug cartels and how they have radically transformed in the last decade. El Narco is not a gang; it is a movement and an industry drawing in hundreds of thousands from bullet-ridden barrios to marijuana-growing mountains. And it has created paramilitary death squads with tens of thousands of men-at-arms from Guatemala to the Texas border. Journalist Ioan Grillo has spent a decade in Mexico reporting on the drug wars from the front lines. This piercing book joins testimonies from inside the cartels with firsthand dispatches and unsparing analysis. The devastation may be south of the Rio Grande,
El Narco
shows, but America is knee-deep in this conflict.
Praise For El Narco: Inside Mexico's Criminal Insurgency…
Finalist for a Los Angeles Times Book Award "Grillo's book is terrific—full of vivid front-line reporting; diverse interviews; a sense of history; a touch of social science; clarifying statistics; and realistic reviews of what might be done to improve things, none of it easy. It is essential reading."—Steve Coll, NewYorker.com  "Grillo takes advantage of his sources to provide insight on the drug war from nearly every angle, from the American government's longstanding attempts to stifle trafficking there to the national history that underpins much of the current narco culture… The book is a useful corrective to the common American idea that Mexico is just one big homogenous bloodbath south of Texas. … filled with the sort of unforgettable details to which only a reporter who has been on this beat for years would be privy."—Boston Globe  "Graphic and fast-paced history"—Mother Jones  "El Narco achieves something unattempted in the English-language reporting on the Mexican drug war: it lays out in clear terms the contours of a world that has existed for years and only grown more barbaric as it's graduated to "war" status. Since that world is right next door, it's high time that English-language readers are able to learn just what makes it tick."—Bookforum "The strength of El Narco lies in its shoe-leather reporting; Grillo interviews everyone from a former cartel assassin to DEA agents to grieving families, snitches, pot and poppy farmers, illegal immigrants and gangbangers. He's the sort of journalist who'll pop into a plastic surgery clinic or taqueria if it turns up on a list of cartel-linked businesses, just to see what he can see. Writers this knowledgeable about the subject and with no particular ax to grind are rare."—Salon "Ioan Grillo delivers the first authoritative and comprehensive examination of the unprecedented mafia violence that has taken so many lives, shaken the Mexican state and spooked the Americans…this is the book to read to understand the homicidal madness just across the river…The considerable strengths of El Narco are the depth of Grillo's reporting, the clarity of his writing and the fact that he is a thinking reporter who, while wandering through the bloody wilderness, is looking for a way out."—San Antonio Express"Essential reading … not a book for the faint-hearted. Grillo's spellbinding account of the violence fuelled by drug cartels which threatens to engulf Mexico brings you uncomfortably close to the bloody crimes in which its citizens are the victims."—Canberra Times (Australia)
"A very carefully researched book written in an engaging style"—
Rooftop Reviews
"
El Narco
is a book that has long needed writing. It is tough, straightforward … reportage"—
BlogCritics.org
"Excellent"
—Konstantin Kakaes, Zócalo Public Square
"Effectively [analyzes how] Mexico came to control drug trafficking, how it spreads, and what can be done about it…This excellent work packs the punch of Roberto Saviano's
Gomorrah
, an exploration of the Italian Mafia, which also displays the fruits of direct reporting bolstered by intensive interviewing."
–Booklist (starred review)
 "
El Narco
is riveting, authoritative reporting from the front lines of the Mexican drug wars. What's happening there has explosive potential consequences for every American, and Ioan Grillo's book shows you why."—
Dan Rather, Founder and Anchor, HDNet's Dan Rather Reports.
 "It is hard enough to report the facts of Mexico's crazy death spiral of drug violence. Ioan Grillo goes much, much deeper. He explains why El Narco threatens the soul of this beautiful country. He tells us how we got  here."
—William Booth, bureau chief for Mexico, Central America, and the Caribbean, Washington Post
 "Not since Elaine Shannon's
Desperados
has a book shown us the lawless horrors of the drug war with the kind of gripping human detail that confronts us in
El Narco
. Ioan Grillo explores that world as deeply as few journalists have dared, but he also examines it artfully and broadly: he puts the tragedy in a rich historical context that indicts not only Mexican and Latin American politicos but U.S. policymakers as well.—
Tim Padgett, Miami and Latin America Bureau Chief, Time
 "Mexico's drug trafficking mafias have become too large and dangerous for Americans to ignore. In limpid prose and penetrating analysis Ioan Grillo puts a human face on the violent tragedy caused by U.S. drug demand and Mexican cartel criminality. The author argues that a narco-insurgency threatens the very future of the Mexican state and society. I strongly recommend this timely and troubling book."
—Howard Campbell, Professor of Anthropology, University of Texas-El Paso, author of Drug War Zone: Frontline Dispatches from the Streets of El Paso and Juarez
 "The monster of violence rampaging in Mexico was a long time coming. Ioan Grillo traces the beast's footprints with meticulous research—including courageous reporting on some of the country's meanest streets—and engaging writing. Remarkable."
—Dudley Althaus, Mexico City Bureau Chief, Houston Chronicle
 "Ioan Grillo, the most intrepid and knowledgeable foreign journalist covering the drug war in Mexico today, provides us with more than just a glimpse into this sordid underworld and its history—he gives us access to the soul and mind of El Narco, as well as deftly explaining and providing new insight into this hemispheric war on drugs."—
Malcolm Beith, author of The Last Narco: Inside the Hunt for El Chapo, the World's Most Wanted Drug Lord
 "Ioan Grillo really gets Mexico's Drug War. His gripping and informative
El Narco
masterfully intersperses personal accounts from the front lines with fascinating and crucial historical details to help the reader understand why this violence is happening, and how it is impacting people on both sides of the border.
El Narco
is a must-read for anyone who wants the bottom line on the situation in Mexico."—
Sylvia Longmire, Consultant, Drug War analyst, and author of Cartel: The Coming Invasion of Mexico's Drug Wars.
 "Accomplished, chilling account of the murderous growth of Mexican drug cartels …Grillo has reported from the region since 2001; his experience is evident in his easy, wry familiarity with the political and social currents of Latin America … A valuable contribution to the literature of the Drug War."
—Kirkus
"A propulsive account of the blood-soaked machinery of 'El Narco' … Examining the trade's gunslinging culture, the motivations behind the continual ramping-up of violence, and some potential solutions to the problem, Grillo argues that America's hard-line rhetoric has failed—and that if a game-changing alternative is not implemented, the Mexican state could also fail. Given the savage chaos Grillo shows us in the country's streets and barrios, his arguments are as perceptive as his high-octane reportage."
—Publishers Weekly
Bloomsbury Press, 9781608192113, 336pp.
Publication Date: October 25, 2011
About the Author
A native of England, Ioan Grillo has covered Mexico since 2001 for top newspapers, magazines and TV stations in the US and UK. He reports for Time Magazine as well as producing presentations for stations including PBS, ABC and Channel 4 of the UK. He regularly appears on radio and TV, commenting on Mexican crime and other issues. He has witnessed police and military operations, mafia killings and major seizures; he's also discussed the drug war with two Mexican presidents, three attorney generals and the U.S. ambassador, among others.
or
Not Currently Available for Direct Purchase