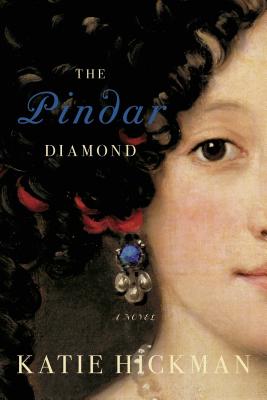 The Pindar Diamond (Paperback)
A Novel
Bloomsbury USA, 9781608192137, 288pp.
Publication Date: August 24, 2010
Other Editions of This Title:
Paperback (3/1/2011)
* Individual store prices may vary.
Description
In a small town on the Italian coast, a mysterious woman washes ashore. She is crippled, mute, and clutches a bundle to her chest-a baby the townspeople insist is a real-life mermaid. It can only bring bad luck; they pay a troupe of acrobats to carry mother and child away.
In the bustling trade center of Venice, merchant Paul Pindar is the subject of his colleagues' concern. Since his return from Constantinople, they have found him changed; raging over the loss of his beloved, Celia, he has gambled away his fortune at the gaming tables. But when a priceless blue diamond surfaces in the city, Pindar recognizes the opportunity to regain everything he has lost-including, perhaps, the woman he loves.
A celebrated writer of history and travel books, Katie Hickman has always been a master of evoking time and place. With The Pindar Diamond, her follow-up to The Aviary Gate, she brings early-seventeenth-century Italy vividly to life, and also demonstrates her maturity as a novelist. A tale of love and avarice, with a touch of the mystical, The Pindar Diamond is rich with historical detail, and unfolds with urgency and grace. It is accomplished, wholly satisfying historical fiction.
About the Author
Katie Hickman is the author of six previous books, including two bestselling history books, Courtesans and Daughters of Britannia. She has written two travel books: Travels with a Circus, about her experiences travelling with a Mexican circus, which was shortlisted for the 1993 Thomas Cook Travel Book Award, and Dreams of the Peaceful Dragon, about a journey on horseback through the forbidden Himalayan kingdom of Bhutan. She was shortlisted for the Sunday Times Young British Writer of the Year award for her novel The Quetzal Summer. Katie Hickman lives in London with her two children and her husband, the philosopher A.C. Grayling.
Praise For The Pindar Diamond: A Novel…
"Katie Hickman's vividly drawn historical confection transports us to 17th-century Venice, where an English merchant schemes to win the 322-carat gem of the novel's title at the gaming table while several storylines converge with page-turning satisfaction." —Barnes & Noble Review
"Hickman's well-researched, vivid portraits of seventeenth-century life—from the stinking Venetian canals to the threat of plague, in settings rangingfrom a sultan's harem to a cloistered convent—add... much vigor to this historical novel." —Booklist
"Masks, courtesans, nefarious plots, plague—Hickman's panorama of early-17th-century Venice has it all." —Kirkus
"A celebrated writer of history and travel books, Katie Hickman has always been a master of evoking time and place. With The Pindar Diamond , her follow-up to The Aviary Gate , she brings early-seventeenth-century Italy vividly to life, and also demonstrates her maturity as a novelist. A tale of love and avarice, with a touch of the mystical, The Pindar Diamond is rich with historical detail, and unfolds with urgency and grace. It is accomplished, wholly satisfying historical fiction." —Passages to the Past
or
Not Currently Available for Direct Purchase