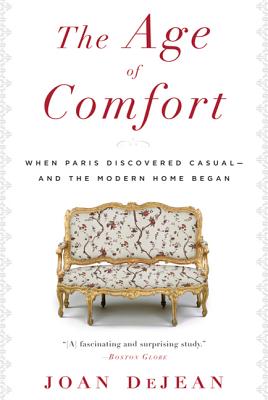 The Age of Comfort: When Paris Discovered Casual--And the Modern Home Began (Paperback)
When Paris Discovered Casual--And the Modern Home Began
Bloomsbury Publishing PLC, 9781608192304, 295pp.
Publication Date: September 6, 2010
Description
This remarkable history of late-seventeenth- and early-eighteenth-century France introduces the age when comfort became a new ideal. Home life, formerly characterized by stiff formality, was revolutionized by the simultaneous introduction of the sofa (a radical invitation to recline or converse), the original living rooms, and the very concept of private bedrooms and bathrooms, with far-reaching effects on the way people lived and related to one another. DeJean highlights the revolutionary ideas-and the bold personalities behind them-that fomented change in the home and beyond, providing new insight into the household habits and creature comforts we often take for granted.
About the Author
Joan DeJean is the author of nine books on French literature, history, and culture of the seventeenth and eighteenth centuries. She is Trustee Professor at the University of Pennsylvania, where she has taught for eighteen years. She divides her time between Philadelphia and Paris.
Praise For The Age of Comfort: When Paris Discovered Casual--And the Modern Home Began…
"Many histories that chronicle the life of an idea make it sound as if change, like the weather, happened as the result of mysterious forces, affecting everyone but brought on by no one. This one gives us the vivid personalities who broke with convention by following their own whims … You don't need to be a Francophile to read this book, but you will be one by the time you finish it."—Holly Brubach, T: The New York Times Style Magazine
"In this fascinating and carefully researched volume (reminiscent of Fernand Braudel's The Structures of Everyday Life) DeJean considers the evolution of each room in the modern home. She looks at the effects of new objects on body language, family configurations and the larger community. This way of looking at history, moving outward from the particulars of everyday life, is particularly thrilling."—Susan Salter Reynolds, Los Angeles Times
"In her fascinating, immensely readable new book…historian Joan DeJean describes how the French court of the late 17th and early 18th century—and the small army of architects, and designers who attended to its needs—transformed the way we think about personal space and furniture … One of these innovations, the fauteuils a coiffer, was an armchair with a heart-shaped back that allowed a woman to recline and place her hair in a basin for washing—and it was made specially for the Duchesse de Bourgogne, Louis XV's mother. No wonder a good haircut makes us feel just a little bit like royalty."—Elizabeth Angell, Allure.com
"An entertaining account of how home life was virtually reinvented in Paris from 1670 to 1765 … DeJean's latest is well researched and brimming with anecdotes and architectural and design details."—Publishers Weekly
"This lively and engaging volume … is a uniquely focused social history that will find broad appeal among scholars and casual historians alike."—Magazine Antiques online
"Sounds like it might be just the book for those of us who are craving a good francophile read."—My French Corner blog
Advertisement