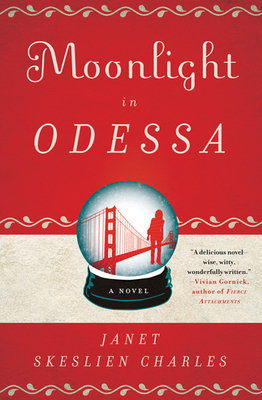 Moonlight in Odessa (Paperback)
Bloomsbury USA, 9781608192328, 352pp.
Publication Date: August 31, 2010
* Individual store prices may vary.
Description
In Odessa, Ukraine, Daria, a whip-smart engineer, spends her days underemployed as a secretary a job she was lucky to get in this rotten economy. She spends her evenings moonlighting as an interpreter at an agency that matches lonely American men with beautiful-but-broke Ukrainian women. She spends her nights wondering if there is more. When an American client offers marriage and a one-way ticket out of poverty, Daria jumps at the chance. She soon learns there's a reason that her husband couldn't find a wife in America, and that the grass isn't always greener on the other side of the world. The perfect book for anyone who's ever been stuck in a dead-end job or relationship, "Moonlight in Odessa" is an exploration of language, culture, and the difficult choices we make in the pursuit of love and stability.
About the Author
Originally from Montana, Janet Skeslien Charles lives in Paris, where she leads writing workshops at the Left Bank bookshop Shakespeare & Company. Moonlight in Odessa was inspired by her two years as a Soros Fellow in Odessa. This is her debut novel.
Praise For Moonlight in Odessa…
"[A] gutsy heroine…rising above its chick-lit trappings, Charles's novel probes her narrator's painful discoveries."—New York Times Book Review
"[A] darkly humorous debut…The endearing and forthright Daria is the perfect guide through the trickery and sincerity of chaotic courtships and short-order love…The teetering dance between humor and heartbreak burns through this tale that takes place at the intersection of love and money, East and West, male and female."—Publishers Weekly
"Charles's first novel vividly contrasts life in Odessa, a city whose citizens are impoverished and sometimes prejudiced but nevertheless proud, with the materialism and isolation of life in America."—Library Journal
"Charles paints a tender, bittersweet portrait of Ukraine and Odessa. Best of all, she doesn't oversimplify difficult choices and hard decisions or resort to cardboard villains…A lively, entertaining debut—chick lit with edge."—Kirkus
"[A] spirited debut… Charles' transatlantic saga explores the dichotomy between Eastern and Western cultures, as well as the assumptions and sacrifices people make in the hope of a better life."—Booklist
"In her debut novel, Janet Skeslien Charles pulls off a couple of feats. First, the Montana native manages to write convincingly like a Ukrainian who's tackling the English language. Perhaps more impressively, she crams fascinating cultural and historical information into what might otherwise be merely a diverting beach romance. It's like sneaking vitamins into a chocolate shake…this could be a gooey and overwrought story, but Daria's sharp humor and keen insights into human nature make her a winning narrator. In fact, all of the characters are well-drawn, complex and interesting, even the initially sleazy boss. It all goes to show that the romantic beach-read formula needn't be silly, or even formulaic; in the right hands, it can be instructive."—Bookpage
"Three places occupy the heart of Janet Skeslien Charles's effervescent debut novel, Moonlight in Odessa: Odessa, the cosmopolitan Ukrainian Black Sea port; the U.S.; and a place that has no geographical boundaries but is sought by virtually everyone—the metaphorical land of Love…Charles movingly evokes the hills, valleys, oceans, and forests of this elusive territory. By the end of her tale, I felt deeply drawn to an Odessa I've never known and a San Francisco I've known for decades—and that third place, whose boundless byways exert still an irrepressible allure."—National Geographic Traveler
"Daria, the whip-smart narrator, leads an engrossing tour of the collisions and collusions of money, sex, power, and romance she encounters… it is Charles' moving exploration of the intricate sacrifices of male-female relationships that resonates as the novel's emotional core…the richness of Charles' imagination and the breadth of her narrative ambition make up for much of the shaky ground. The forgiving reader will be rewarded in spades with a satisfying and original ending, an admirable fidelity to place, and a set of wholly realized, achingly human characters."—Bust
"In a comically touching travelogue through the international romantic wasteland, Janet Skeslien Charles brings you Daria, a part-time electronic matchmaker who is only one set of dentures short of gorgeous. A heroine for the twenty-first century Ukraine—or as close to the twenty-first century as you can get in the Ukraine—she's street-smart enough to outwit several flawed suitors but can't fend off the lure of the American dream as she fails to recognize the one unwavering global truism: Sometimes people aren't entirely honest on the Internet."—Dave Boling, author of Guernica
"This is a poignant and original first novel whose author already shows herself well able to handle an intriguing plot and create totally vivid characters. By the way you'll learn so much about Odessa that, even if you never have, you'll think you've been there. And someone ought to copyright the name Soviet Unions for a Russian matchmaking agency!"—Anton Gil, author of the Huy the Scribe mystery series and Art Lover: A Biography of Peggy Guggenheim
"Moonlight in Odessa reveals the mesmerizing world of post-Communist Ukraine, both its lawlessness and its old-fashioned allure, as the bright and beautiful Daria pursues her dream of finding husband, child, and house in America. Author Janet Skeslien Charles, with a masterful hand, leads the reader into the labyrinthine journey of her heroine Daria, through the sex and commerce of email-order brides to a land of rednecks in central California. Ms. Skeslien Charles is a keen observer of both worlds, the European and the American, Ukraine and the United States. The choices that Daria must make become the readers' choices. Moonlight in Odessa is a suspenseful page turner and an enlightening story about love and truth, corruption and deceit."—Susan M. Tiberghien, author of One Year to a Writing Life
"Moonlight in Odessa is a shimmering marvel of a novel. In this geopolitical romantic comedy, Janet Skeslien Charles deftly balances caustic wit with generosity of spirit, a breezy style with an incisive vision of East-West relations and the eternal Cold War between men and women. A sheer delight."—Jake Lamar, author of Rendezvous Eighteenth and Ghosts of Saint-Michel
"This is a delicious novel—wise, witty, wonderfully written—and its narrator—street-smart, tender-hearted Daria K—a pleasure to spend time with. If I ever get to Odessa, I hope Daria will be there to show me around."—Vivian Gornick, author of Fierce Attachments and The Men in My Life
or
Not Currently Available for Direct Purchase