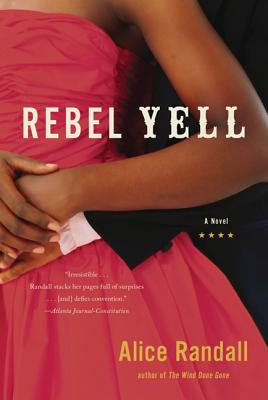 Rebel Yell
Paperback

* Individual store prices may vary.
Other Editions of This Title:
Hardcover (10/5/2009)
Description
In this gutsy novel from the bestselling author of The Wind Done Gone, a woman delves into her own past and her deceased ex-husband's private secrets to make sense of his unlikely transformation into a powerful black neo-con, and his even more unlikely end-at the Rebel Yell, a dinner theater of Confederate nostalgia. Rebel Yell is a novel of resilient love, political intrigue, and family secrets, steeped in our country's racial history and framing our unique political moment.
Praise For Rebel Yell…
"[Randall] successfully creates a family that's been torn apart and haphazardly put back together by forces sometimes terrifying, sometimes hopeful."—Publishers Weekly  "Randall moves masterfully between past and present and between Nashville, Washington, D.C., Manila, and Rome to present an intriguing portrait of a young black couple struggling with racial identity and expectations…Randall demonstrates, with delicious imagery and a sense of racial irony, a love for history's forgotten and overlooked."—Booklist (starred review)  "Alice Randall's Rebel Yell (Bloomsbury) addresses race, class, backroom politics, and family intrigue through the intellectual yet heart-smart lens of Harvard-educated African American Hope Jones Blackshear. Traveling between her native Nashville and Rome, Blackshear faces down facts and fictions of her own past that parallel the tumult of Americas first postmillenial decade."—Elle
"Rebel Yell offers a rich journey through the world of distinguished graduates of Southern black colleges, black fraternities and sororities, Jack and Jill societies, Ivy League institutions and summer vacations at Martha's Vineyard -- the world, in short, of a black elite whose lives are only dimly glimpsed by many Americans…Rebel Yell raises the intriguing possibility that something went badly awry with some of the children who came of age during the most terror-ridden years of the civil rights movement. Rebel Yell is chock-full of such possible lines of development…Part detective story, part love story, Rebel Yell is a novel deeply suffused with nostalgia and mourning."—Washington Post
"[Rebel Yell] will make you laugh, yell (a little), and think (a lot)."—
Essence
 "Captivating…the book is a veritable feast of black culture: Randall stacks her pages full of surprises---history lessons, choice bits about artists, poets and musicians, vignettes of the "black bougie" lives Hope and Abel led."—
Atlanta
Journal Constitution
"With Rebel Yell, we enter the world of a cosmopolitan black elite, halfway between the characters of Stephen Carter's old Gold Coast families of D.C. and Dorothy West's of Martha's Vineyard, anchored with stirrings of Toni Morrison's Love. Randall's characters hail from old Nashville with its rich civil rights history and social clubs. Weaved into this complicated world of politics, race and class, is a tale of love, hope, and redemption. Alice Randall is a southern writer with an international trajectory and this novel confirms her place at the forefront of African-American novelists."—T. Denean Sharpley-Whiting, author of Pimps Up, Ho's Down
"With Rebel Yell, Alice Randall proves herself to be one of the bravest and insightful writers of her generation. This is a novel of ideas—brimming with high concepts and complicated philosophical questions. At the same time, it is a novel full of heart. It's about love gone right, and love gone wrong. It's also a history of a family as well as a history of a people and the history of a nation. This novel itself if the yell of a rebel—Alice Randall—as she once again claws at the shell of our dearest-held myths and shows the world what's inside."—Tayari Jones, author of Leaving Atlanta and The Untelling
"This elegant monument to our national past bears a viaticum for our future: allusive and funny, tender and elegiac, celebratory and loving all at once, Rebel Yell performs a capable act of imagination that reconciles fathers and sons, mothers and daughters, black and white, region and world, the living and their dead in a grand harmonic register; it strikes a new lyric for the American novel."—Hortense Spillers, author of Black, White, and in Color: Essays on American Literature and Culture
"Absolutely fascinating! Alice Randall weaves history and family, race and love. Tracing the life and death of Abel Jones, a modern-day black Confederate, she shows the proudest of times could wound even the prince of the Negroes. Her tale could only be written right now."—Nell Irvin Painter, author of The History of White People
"Alice Randall has given us Hope. And Hope helps us understand that black and white, more than a definition of contrasting colors, and more than a means of identifying two races, is the sum of our dark past, our glowing present and our bright future."—John Seigenthaler, founder of the First Amendment Center
"Rebel Yell is a powerful and compelling novel about racial and regional identity, about marriage and about the ways in which the social and cultural upheavals of the sixties continue to reverberate through the American subconscious."—Jay McInerney, author of The Good Life
"Alice Randall has written a powerful twenty-first-century novel of mourning. Brimming with history from the tumultuous Kennedy era and Civil Rights Movement to the present global moment, Rebel Yell mourns extensive losses, not just of bodies—those who died or of those who survived and at what costs—but primarily of idealism and activism for love and justice whether in racial, marital, political, or social relations. Writing with razor-smart humor to puncture the sadness and mystery at the center, Randall delivers up an exquisite meditation on physical and psychological lives lived and lost in arenas often considered beyond black people, whether in emotional feeling or in material fact. Both a political novel of intrigue in the Foreign Service and its residue in Guantánamo and Abu Ghraib and a protest novel against the violence done from Little Rock to Birmingham and its legacy in America's black elite, Rebel Yell moves with conviction and courage through the complex world that was to the unresolved world that is still becoming."—Thadious M. Davis, author of Nella Larsen, Novelist of the Harlem Renaissance: A Women's Life Unveiled and Games of Property: Law, Race, Gender, and Faulkner's Go Down Moses
"In Rebel Yell Alice Randall helps us understand that black and white, more than a definition of contrasting colors, and more than a means of identifying two races, is the sum of our dark past, our glowing present and our bright future."—John Seigenthaler, journalist, writer, political figure
"Shunning readily available explanations for the post-Sixties civil rights-era emergence of such a man as Abel, Randall bypasses the published autobiographies and other public statements of prominent black men…Instead, the novelist utilizes the longterm relationship between Hope and Abel to present lives of such profound complexity that only a writer of Randall's skill and experience could succeed in revealing the psychological bases for the emergence of an apparently anomalous Abel Jones. Rebel Yell is at once a novel of restless movement and great psychological depth… Randall excels at humor and pathos and makes a most powerful and provocative social statement."—Women's Studies
"Author, novelist, professor, social critic and hit country music songwriter Alice Randall enjoys confronting, exposing and subverting the contradictions, ironies and delights of the Southern experience. Whether it's race, class, gender, or cuisine, the characters and plots in such past Randall novels as The Wind Done Gone or Pushkin and the Queen of Spades tweak, satirize and sometimes just straight-out blitz both conventional and unconventional ideas about authenticity, class and race, and their manifest forms in the 21st century. Still, as good as those books are, they've just paved the way for Randall's latest, an innovative, captivating work that blends mystery, politics, philosophy, comedy and pointed observational barbs as it punctures any illusions about a post-racial America...it's her sympathetic but acid-etched portrait of Jones, and his morphing into a Thomas Sowell or Armstrong Williams, that elevates Rebel Yell above a polemic along the lines of Michael Eric Dyson's heavy-handed takedown of Bill Cosby. Why didn't the specter of racial turmoil and conflict shape Abel Jones Jr.'s life in the manner of so many second-generation post-civil-rights leaders, who were nudged toward activism? That's among the many thorny questions Randall raises at a time when the afterglow of President Barack Obama's election has sparked the wishful thinking that our national dialogue on race is over, case closed."—Nashville Scene
"But the real importance of Rebel Yell is as a critique aimed somewhere between the personal and the collective. Randall isn't looking to tear down one man, nor is she content with sawing off a mere branch of the black political spectrum. What she delivers is nothing less than a report on a sentiment that most blacks of the post-civil rights era likely—though few as baldly as Jones—silently entertain: the urge, in the face of the residual power of white America and the open hand it offers to blacks, to turn one's back on his past, to decline the challenge of straddling one, two, many cultures. With Obama now offering a light out of that particular tunnel, Randall's book could not be better timed. Rebel Yell should be heatedly debated by both blacks and whites. If it is, Randall will have done more than write a good book—she will have contributed significantly to the next chapter in the saga of black America."—Chapter 16
"Anyone aware of the many contradictions that embody black life in these United States will find in Ms. Randall's latest work a compelling and insightful read…she has the knack for illuminating the "place" of African Americans in the world and how that is both propelled and hindered by the past…Ms. Randall, as she has before, tackles uncomfortable questions about race, gender, and sexuality in a way that is as uncommon as it is grittily real."—The Urban News
"Randall's book will open a vein in the consciences--if consciences have bodily systems and parts, and I believe they do--of Southerners in particular…Technically, Rebel Yell is so far beyond the diaristic structure of The Wind Done Gone that it will take away the breath of readers of that first novel. Randall has gone from being a songwriter to début novelist to a writer fully in control of the complexities of her craft."—Swampland
Bloomsbury Publishing PLC, 9781608192359, 375pp.
Publication Date: October 31, 2010
About the Author
Alice Randall was born in Detroit, grew up in Washington, D.C., and graduated from Harvard College. She is the author of The Wind Done Gone and Pushkin and the Queen of Spades, and her writing has appeared in the Los Angeles Times, Elle, and O, the Oprah Magazine. Also an accomplished songwriter, Randall is the only African-American woman ever to write a number-one country song. She lives in Nashville, Tennessee, where she is Writer-in-Residence at Vanderbilt University.
or
Not Currently Available for Direct Purchase