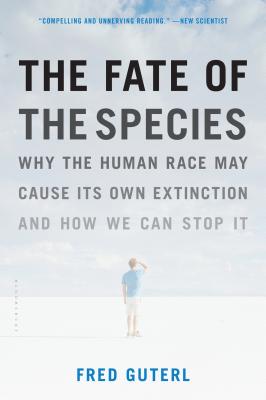 The Fate of the Species (Paperback)
Why the Human Race May Cause Its Own Extinction and How We Can Stop It
Bloomsbury USA, 9781608192601, 224pp.
Publication Date: May 21, 2013
Other Editions of This Title:
Hardcover (5/22/2012)
* Individual store prices may vary.
Description
For all the pessimistic talk about the apocalypse, we still really don't know what humanity's future will ultimately look like. Where will our sea levels be? Will avian flu wipe us off the planet? Will computer viruses throw us into darkness and chaos? In this imaginative, gripping book, Fred Guterl, the executive editor of Scientific American, explores six looming scenarios in vivid detail--the way they might really happen. And along the way produces a portrait of where we are today, where we can be with the right effort, and where we might wind up if we're not careful.We find ourselves in a trap: Technology got us into this mess, and it's also the only thing that can help us survive it. Guterl's riveting book is a grand and necessary thought experiment, not merely a scary story, but a fresh perspective on the world we're remaking, which rings a note of optimism about what we're capable of.
About the Author
Fred Guterl is an award-winning journalist and executive editor of Scientific American. He worked for ten years at Newsweek, most recently as deputy editor, covering the most important trends in science, technology, and international affairs. He has also appeared on CNN, Charlie Rose, the Today Show, and on other television programs to discuss popular issues in science. Guterl holds a bachelor's degree in electrical engineering from the University of Rochester, and has taught science writing at Princeton University. He lives in the New York City area with his wife and two children.
or
Not Currently Available for Direct Purchase