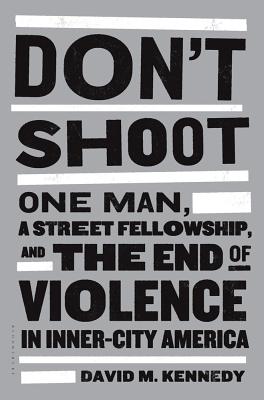 Don't Shoot (Hardcover)
One Man, A Street Fellowship, and the End of Violence in Inner-City America
Bloomsbury USA, 9781608192649, 320pp.
Publication Date: September 27, 2011
* Individual store prices may vary.
or
Not Currently Available for Direct Purchase
Description
Gang- and drug-related inner-city violence, with its attendant epidemic of incarceration, is the defining crime problem in our country. In some neighborhoods in America, one out of every two hundred young black men is shot to death every year, and few initiatives of government and law enforcement have made much difference. But when David Kennedy, a self-taught and then-unknown criminologist, engineered the "Boston Miracle" in the mid-1990s, he pointed the way toward what few had imagined: a solution.
Don't Shoot tells the story of Kennedy's long journey. Riding with beat cops, hanging with gang members, and stoop-sitting with grandmothers, Kennedy found that all parties misunderstood each other, caught in a spiral of racialized anger and distrust. He envisioned an approach in which everyone-gang members, cops, and community members-comes together in what is essentially a huge intervention. Offenders are told that the violence must stop, that even the cops want them to stay alive and out of prison, and that even their families support swift law enforcement if the violence continues. In city after city, the same miracle has followed: violence plummets, drug markets dry up, and the relationship between the police and the community is reset.
This is a landmark book, chronicling a paradigm shift in how we address one of America's most shameful social problems. A riveting, page-turning read, it combines the street vérité of The Wire, the social science of Gang Leader for a Day, and the moral urgency and personal journey of Fist Stick Knife Gun. But unlike anybody else, Kennedy shows that there could be an end in sight.
About the Author
David M. Kennedy has spent much of the last 25 years on the ground in the country's most dangerous neighborhoods, working with communities to find solutions to crime. The director of the Center for Crime Prevention and Control and a professor of criminal justice at John Jay College, Kennedy has received two Webber Seavey awards from the International Association of Chiefs of Police, two Innovations in American Government awards from the Kennedy School of Government, and a Herman Goldstein Problem-Oriented Policing Award. His work has been used as a model or source for safety and drug intervention initiatives by the Clinton and Bush administrations, and by the Bureau of Justice. He also tours regularly to speak to groups that have included U.S. Congress, Scotland Yard, the National District Attorneys' Association, and the National Conference of Mayors. Kennedy lives in Brooklyn, New York.
Praise For Don't Shoot: One Man, A Street Fellowship, and the End of Violence in Inner-City America…
"Don't Shoot will do for the fight against violence what Rachel Carson's Silent Spring did for the environmental movement a generation ago." —Malcolm Gladwell "Kennedy...argues for a crime-fighting program that makes a lot more sense than anything you're likely to hear about in Washington (or, for that matter, your local statehouse). The book reads like a thriller, but it's full of commonsense solutions to a few seemingly insurmountable problems. Reading it left us more hopeful for America's dangerous places and the millions of people who inhabit them." – Very Short List
"Fascinating…Kennedy's argument is solid, and he shows again and again that many of our approaches to crime are done to make an electorate feel good, without changing basic dynamics that drive the drug trade…Understanding and knowledge, more than guns and handcuffs, are weapons in the war on crime that last for generations." –
Seattle Times
 "For the last few years, from roughly the spot on the Venn diagram of intellectual culture where Malcolm Gladwell and David Simon overlap, some intriguing flares have been set off by a crime theorist named David M. Kennedy… Kennedy's work suggested that optimism was possible…What is brilliant about [it] is its specificity, its insistence that street violence has its own special contours and patterns that can be understood, and manipulated, and that crime is only about crime…. that maybe crime itself [can] be bargained with." –
New Republic
"Kennedy tells me that this work can cut the nation's homicide rate in half. Read his important book - part jeremiad, part gripping crime thriller - and you will believe him…The approach is simple, but not easy... It takes tremendous, continuous cooperation - reaching across political, organizational, and cultural divides... This is how we, as a nation, can and must finally back out of the rolling destruction, by death and mass incarceration, of our cities, our society, and our moral character." – Boston Globe
"An unlikely criminal-justice pioneer revisits his innovative, immensely successful crusade against youth homicide in America's worst neighborhoods… A valuable text—not just for the solution, but also for the refreshing philosophy behind it." —
Kirkus Reviews
 "In a matter-of-fact, street-smart style... Kennedy explains his remarkably effective strategies for combating violent crime… This heartfelt book shows what can happen when police, gangs, and communities come together to address some of America's most intractable social problems." —
Publishers Weekly, starred review
 "The good news about the drug- and gang-related violence epidemic is that it can be controlled and substantially reduced. As proof, you only have to read David Kennedy's wonderful new book Don't Shoot… Now being tried in over 70 communities, David's campaign is expanding to have the national and international impact it deserves." —
Bill Bratton, chairman of Kroll, former chief of police of the Los Angeles Police Department
 "
Don't Shoot
is a work of moral philosophy that reads like a crime novel—Immanuel Kant meets Joseph Wambaugh. It's a fascinating, inspiring, and wonderfully well written story of one man's quest to solve a problem no one thought could be solved: the scourge of inner city gang violence… This is a vitally important work that has the potential to usher in a new era in policing." —
John Seabrook, author of Flash of Genius
 "Represents one of a small number of 'big ideas' revolutionizing crime control, especially policing and prosecution.  Shame on any city, police department, or prosecutor's office that isn't learning from [Kennedy's] experience. What
Don't Shoot
documents really matters."
—George Kelling, senior fellow at the Manhattan Institute, professor of Criminal Justice at Rutgers University, and fellow in the Kennedy School of Government at Harvard University
 "Kennedy's ideas extend beyond community policing and serve to revolutionize the entire criminal justice system." —
Garry F. McCarthy, superintendant of Chicago police
 "Despite the recent and welcome decline in United States crime, gun crime remains a persistent concern in this country. Solutions to the 'gun problem,' fueled by ideological, constitutional, and moral debates, diverge considerably.  In
Don't Shoot
, David Kennedy elegantly and forcefully describes an approach to stopping gun violence that does not depend on policing gun crime with guns or solving crime's root causes.  Instead, his approach leans on the power of community trust in the law and officials – legitimacy.  Offenders can and do voluntarily comply with the law. When they do, neighborhoods are safer, fewer people go to prison, and policing is turned on its head." —
Tracey L. Meares, deputy dean and Walton Hale Hamilton Professor, Yale Law School
 "David Kennedy's work helped Cincinnati revolutionize the way that we think about policing our community.  His passion for solving the never-ending cycle of violence is evident in every conversation with him.  We have found that by engaging offenders with a strong, unified, community message telling them that the violence must stop and offering them an alternative life, we can have a meaningful and lasting impact in our community.  David's work is a must read for Mayors around the country confronted with the scourge of gun violence in their cities." —
Mark Mallory, mayor, Cincinnati, Ohio
 "The author brings more than two decades of practical, administrative, managerial, supervisory and academic experience to this work of art.  A unique and comprehensive view of the toxic impact of mass incarceration on our most vulnerable neighborhoods as seen through the eyes of this criminal justice professional. A must read."   
—Patrick R. Melvin, national president of the National Organization of Black Law Enforcement Executives (NOBLE)
 "The book provides a raw and unadulterated look at gang violence as well as Mr. Kennedy's approach to combating it on a national level…  His commitment over the years has helped to save and change the lives of many youth… This is a must read for all!" —
Tyrone C. Parker, executive director, Alliance of Concerned Men
 "The subheading for this book, 'The End of Violence in Inner-City America' would be pretentious if were it not for the indisputable evidence, compelling true stories, and common sense solutions detailed therein.  Bottom line: this works." —
Reverend Kenneth Edward Copeland, New Zion Baptist Church, Rockford, Illinois

Coverage from NPR
Advertisement