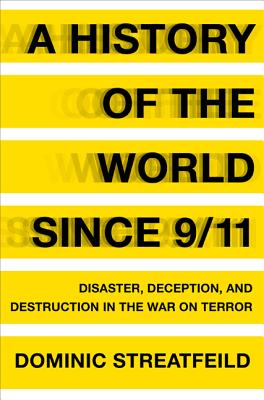 A History of the World Since 9/11: Disaster, Deception, and Destruction in the War on Terror (Hardcover)
Disaster, Deception, and Destruction in the War on Terror
Bloomsbury Publishing PLC, 9781608192700, 408pp.
Publication Date: August 23, 2011
* Individual store prices may vary.
or
Not Currently Available for Direct Purchase
Description
To understand why, you'll need to know how ...
- an Australian metals trader named Garry-with help from the CIA-inadvertently triggered the invasion of Iraq - coalition troops were killed by bombs made with explosives that, according to the White House, never existed - the United States Air Force bombed a wedding in Afghanistan by mistake - the U.S. gave material support to the president of Uzbekistan, who, as it happens, boils people aliveThese are not merely random disasters from an otherwise effective war. A History of the World Since 9/11shows us just why, a decade after the horrifying attacks on New York and Washington, we are no closer towinning the war on terror than we were on September 10, 2001. We failed to find Osama bin Laden or quellextremism. We sparked civil wars in Afghanistan and Iraq. Around the world, innocents were incarcerated, tortured, and murdered-all in the name of justice.
Acclaimed author and journalist Dominic Streatfeild traveled across the world for years in pursuit ofanswers for this stunning collapse of international law. The results of his search form the most fully realized study of the war on terror yet written. Piercing reportage blends with sobering human drama, woven into eight narratives of how our world went wrong after 9/11.
About the Author
Dominic Streatfeild is the author of Cocaine: An Unauthorized Biography and Brainwash: The Secret History of Mind Control, which was shortlisted forthe Samuel Johnson Prize. He lives in the UK with his family.
Praise For A History of the World Since 9/11: Disaster, Deception, and Destruction in the War on Terror…
"A History of the World Since 9/11 takes us on an eminently readable and conversational trip through the complicated world surrounding the 9/11 attacks. Dominic Streatfield reveals the tragedy and confusion of events before, during, and after that tragic day unlike any other author."
—John Kiriakou, author of The Reluctant Spy: My Secret Life in the CIA's War on Terror
"Bleak and gripping narrative…This excellent work will mesmerize readers of current history." –
Library Journal
(starred)  "History that's vivid and insightful."
—Publishers Weekly
 "A tenacious reporter, Streatfeild packs the narrative with telling detail, instructive interviews and dramatic events"
—Kirkus
 "But there was anger enough in Sept. 11, the event produced by anger and that itself produced even more anger.
A History of the World Since 9/11'
is a study through case studies - eight episodes setting out what followed, presented as a painter might present a series of miniatures."
—Boston Globe
 "Streatfeild describes a tragic level of cheerful American stupidity."
—Heather Mallick, Toronto Star
Advertisement