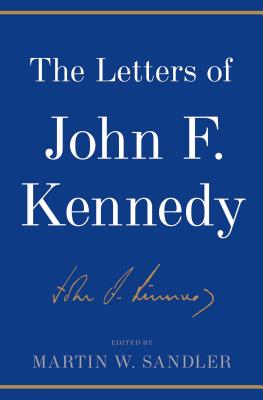 The Letters of John F. Kennedy (Hardcover)
Bloomsbury Publishing PLC, 9781608192717, 372pp.
Publication Date: October 29, 2013
Description
John Fitzgerald Kennedy led his nation for little more than a thousand days, yet his presidency is intensely remembered, not merely as a byproduct of his tragic fate. Kennedy steered the nation away from the brink of nuclear war, initiated the first nuclear test ban treaty, created the Peace Corps, and launched America on its mission to the moon and beyond. JFK inspired a nation, particularly the massive generation of baby boomers, injecting hope and revitalizing faith in the American project.
2013 will mark the fiftieth anniversary of Kennedy's untimely death, a milestone to be marked by an avalanche of new books on his life and importance. Martin Sandler's"The Letters of John F. Kennedy"will stand out among them, as the only book that draws on letters from and to Kennedy, as collected at the Kennedy Presidential Library and Museum. Drawn from more than two million letters on file at the library--many never before published--this project presents readers with a portrait of both Kennedy the politician and Kennedy the man, as well as the times he lived in.
Letters to and from the likes of Martin Luther King Jr, Clare Booth Luce, Pearl Buck, John Wayne, Albert Schweitzer, Linus Pauling, Willy Brandt, Eleanor Roosevelt, Nikita Khruschev, Harry Truman, Herbert Hoover, a young John Kerry, and Ngo Dinh Diem are complemented by letters from ordinary citizens, schoolchildren, and concerned Americans. Each letter will be accompanied by lively and informative contextualization. Facsimiles of many letters will appear, along with photographs and other visual ephemera from the Kennedy Library and Museum.
About the Author
Martin W. Sandler's many books on historical subjects include Kennedy Through the Lens and Lincoln Through the Lens; Resolute; and Lost to Time. He has taught American history at the University of Massachusetts at Amherst and at Smith College, and has won five Emmy Awards for his writing for television. He lives with his wife, Carol, in Cotuit, Massachusetts.
Praise For The Letters of John F. Kennedy…
"Sandler humanizes the near-mythical president through his own eloquent words in a way that both academics and casual readers will appreciate."—Publishers Weekly "The most interesting and substantial correspondence occurred during his administration, including his exchanges with Dr. Martin Luther King Jr., other civil rights leaders, and southern governors at critical moments in the fight against Jim Crow. This is an informative collection clearly designed to paint Kennedy in a positive light."—Booklist "Most striking to the modern ear is Kennedy's ability to set forth specific and carefully considered policies in crisp, clear sentences, a talent that has been in short supply at the upper levels of American politics for quite some time….remarkably comprehensive…"—Kirkus Reviews "Drawn from more than two million letters on file at the Kennedy Presidential Library --- many never before published--THE LETTERS OF JOHN F. KENNEDY presents readers with a portrait of both Kennedy the politician and Kennedy the man, as well as the times he lived in."—BookReporter.com "Revealing and moving."—American History  "From youthful Jack asking his father for a raise in his allowance to the president's letters to Khrushchev during the Cuban missile crisis. Letters to Kennedy from Nikita Khrushchev, Martin Luther King Jr., Eleanor Roosevelt and others also are included."—Washington Post
 "Here's a welcome volume of the man in his own words." –Town & Country"The Letters of John F. Kennedy shows us a man who may have been the most literate and learned occupants of the White House ever. The beauty of this volume is that the myths, hagiography, conspiracy theories and obsequiousness so prevalent in books about Kennedy have been stripped away, and we are left with the essence of the man and the impact he had on people from all walks of life. The Letters of John F. Kennedy is a fine and welcome addition to the material on the slain president. That no one thought to look at JFK's correspondence for fifty years is quite surprising." –Columbus Free Press
"The art of letter-writing, is it said, is disappearing. Read it here in its heyday, as Kennedy was an accomplished correspondent who showed tact when necessary, frankness when called for and humor often. When advised in 1961 that an autograph store in New York was selling his for $75, Kennedy replied, adding "in order not to depress the market any further, I will not sign this letter."
–Courier-Journal
Advertisement