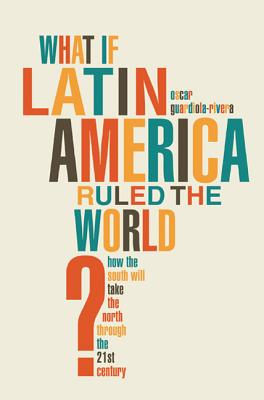 What If Latin America Ruled the World?: How the South Will Take the North Through the 21st Century (Hardcover)
How the South Will Take the North Through the 21st Century
Bloomsbury Publishing PLC, 9781608192724, 472pp.
Publication Date: September 21, 2010
* Individual store prices may vary.
or
Not Currently Available for Direct Purchase
Description
For too many of us, Latin America exists "below the fold," an echo barely heard beyond the roar of U.S. economics, politics, and culture; the source of little more than dance steps, mesmerizing soccer, spicy food, and questionable politics.
But Latin America has been a vital part of the global community since the seventeenth century, when the Spanish silver peso became the world's first global currency instrument. Today it is home to six hundred million people and some of the fastest-growing economies on the planet. Latin America may not outshine or outspend the United States on the world stage anytime soon, but its voices will be heard. Its consumers, resources, and emigrants are already affecting us; they will be even bigger factors in our future.
"What if Latin America Ruled the World?" deftly braids together the histories of North and South America from the exploits of Hernan Cortes to the political showmanship of Hugo Chavezand Evo Morales. Scholar Oscar Guardiola-Rivera is an ideal guide for a searching portrait of the Latin America that we rarely hear about.
About the Author
Oscar Guardiola-Rivera teaches international law and international affairs at Birkbeck College, University of London. He has served as an aide to the Colombian Congress and as a consultant to the United Nations in South America. He has lectured in law, philosphy, and politics on three continents.
Praise For What If Latin America Ruled the World?: How the South Will Take the North Through the 21st Century…
"Guardiola-Rivera's What if Latin America Ruled the World? is as broad in its historic sweep as Galeano's classic."—Washington Post
"As the Great Recession rolled across the globe in 2008, the economies of Latin America proved unexpectedly resilient--a happy occurrence that legal scholar Guardiola-Rivera credits to the majority of Latin American societies veering away from the neoliberal paradigm and the shadow of the empire to the north. Guardiola-Rivera puts this remarkable trend among Latin American countries--a category into which the U.S. is destined for inclusion, with its projected Latino majority by 2040--into the historical context of enduring pre-Columbian values and popular resistance to imperialism among the dispossessed of North and South America ."—Publishers Weekly (starred review)
"Remarkable, stimulating and illuminating, What if Latin America Ruled the World? is unlike anything I've ever read. It makes the reader feel as if they are spinning in a time capsule through a kaleidoscopic virtual reality from one seminal event to another, from one Latin American country to another, and from there to London, New York, Los Angeles and Miami.  This is the kind of book the world needs now, and Oscar Guardiola-Rivera is the perfect man to write it—a breathless rollercoaster ride that also offers a brilliantly creative approach to history and geography."—Gerald Martin, author of Gabriel García Márquez: A Life
"Oscar Guardiola-Rivera has written a smart, original, provocative, and timely book.  He analyzes and pushes beyond the recent leftward turn in Latin American politics and in so doing he offers a hopeful new genealogy of the globalized present."—Marcus Rediker, author of The Slave Ship: A Human History 
"Part historical reconstruction, part travelogue, part socio-political prognosis, this book is the single best work I have read on why the 21st century will be the "Century of the Americas," and why the United State is undergoing a quiet and non-violent revolution that is remaking its demographics, as well as its political and economic institutions. Here you will read the history that you were never taught, and why Latin American economies and societies are some of the most vibrant and promising, notwithstanding centuries of exploitation, and why Hispanics are slowly unifying the continent with their post-racial-transnational-cosmopolitan citizenship. This book should be placed next to those of Arciniegas, Galeano, Paz, Ureña, and Zea. Next time Obama, or for that matter any head of state, visits Latin America, this is the book they should be given as a gift. It is certainly one that Hispanics should read if they are interested in why they should not think themselves, or allow themselves to be portrayed, as a problem, but rather as a promise, as a solution, as indispensable forgers of the "America" that is being fashioned for a new century."—Eduardo Mendieta, Stony Brook University, author of Global Fragments: Latinamericanisms, Globalizations, and Critical Theory
Advertisement