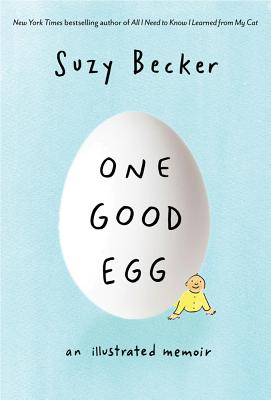 One Good Egg (Hardcover)
An Illustrated Memoir
Bloomsbury Publishing PLC, 9781608192762, 213pp.
Publication Date: May 7, 2013
* Individual store prices may vary.
Description
For the first twenty-three years of her life, Suzy Becker was sure she would have at least two babies. Then it took her fifteen years to resolve to go ahead and have just one. "One Good Egg "is a funny, warmhearted, twenty-first century tale of making a family, illustrated with hundreds of her witty cartoons, clippings, charts, and pseudographs.
When Suzy Becker finally decided she had everything she needed--the home, the savings, the friends, the family, and the gumption--to have a baby alone, she was thirty-nine, which catapulted her into the ranks of the six million other American women who need medical help to conceive. In "One Good Egg," she chronicles her travels through the maze of fertility treatments, considering and reconsidering how far she was willing to go and inwardly convinced none of it would ever work. Five months after she learned she was pregnant, Suzy got married.
While none of us can adequately plan or prepare for certain realities like giving birth or parenthood, Suzy Becker's "One Good Egg "reminds us we are not alone on our journeys.
About the Author
Author, artist, educator, and entrepreneur Suzy Becker began her career as an award-winning advertising copywriter, and then founded the Widget Factory, a greeting card company. She entered the world of books with what would become the internationally bestselling All I Need to Know I Learned from My Cat, and has since written and illustrated several award winning books for both children and adults including My Dog's the World's Best Dog; I Had Brain Surgery, What's Your Excuse?, Manny's Cows; Books Are for Reading; and Kids Make It Better. Her books, greeting cards, and works in print and TV advertising have earned her numerous design and writing awards. She lives with her family, a dog, and a formerly feral cat in central Massachusetts. Visit her Web site at www.suzybecker.com.
Praise For One Good Egg: An Illustrated Memoir…
"Suzy Becker is a wonderful writer, hilarious, touching, and sweet." —Anne Lamott, author of Help, Thanks, Wow and Operating Instructions "Talking ovaries, cranky uteruses, and Blinky the embryo—Suzy Becker brings mirth to birth."  —Hilary Price, author of Rhymes with Orange "Suzy Becker is a comic genius." —Alison Bechdel, author of Fun Home and Are You My Mother? "Following in the tradition of James Thurber and Jules Feiffer, best-selling author/illustrator Becker combines droll illustrations with a lively narrative style in this chronicle of the high expectations and shattering disappointments on her journey to motherhood… Her laugh-out-loud humor permeates this account of her experiences…Tender and funny, this appealing modern love story is greatly enhanced by the author's drawings." —Kirkus Reviews "[A] funny, happily-ever-after story…This smile-inducing first-person journey is a worthwhile investment for anyone going through infertility treatment and anyone else who just wants a good chuckle." —Booklist "The delightful images and unswerving humor of this lighthearted tale of the making of a modern family will provide a much-needed repose for readers on their own journey to parenthood." —Library Journal
 "Touching and very funny . . . This book is bordering on essential for both moms-to-be with flagging fertility and for lesbian couples hoping to become parents, but is an absolutely beautiful book about love and determination that will be enjoyed by a wide variety of readers. Becker's fantastic, on-point cartoon illustrations cover all manner of observations and worries, and every woman who has ever been pregnant will relate."—Publisher's Weekly (starred review) "A humorous memoir that chronicles [Becker's] sometimes difficult journey through fertility treatments and childbirth." —Worcester Telegram Gazette "A heart-warming and side-splitting memoir about trying to get pregnant...[One Good Egg] is one of the best new books out now. Incidentally, it might also be one of our favorite Mothers Day gift ideas...While we all know there are a myriad of ways to have a baby in an unconventional way (from sperm donors to egg freezing to in vitro fertilization to adoption), it's great to see an utterly personal, informative (but not scientific), and above all humorous tale about one woman figuring out her own road to becoming a mother. Becker's book is an exciting read, and her cartoons kill it. We're so glad the story has such a happy ending." —Elizabeth Street blog   
or
Not Currently Available for Direct Purchase