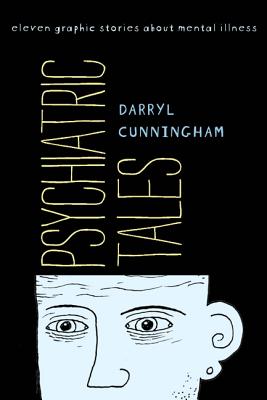 Psychiatric Tales: Eleven Graphic Stories about Mental Illness (Hardcover)
Eleven Graphic Stories about Mental Illness
Bloomsbury Publishing PLC, 9781608192786, 139pp.
Publication Date: February 19, 2011
Description
Psychiatric Tales draws on Darryl Cunningham's time working in a psychiatric ward to give a reasoned and sympathetic look into the world of mental illness. In each chapter, Cunningham explores a different mental health problem, using evocative imagery to describe the experience of mental illness, both from the point of view of those beset by illness and their friends and relatives. As Cunningham reveals this human experience, he also shows how society's perceptions of and reactions to mental illness perpetuate needless stigma, for example, the myth that schizophrenic people are more likely to commit crimes than non-schizophrenic people. Psychiatric Tales is a groundbreaking graphic work; it deftly demythologizes and destigmatizes the disorders that 26.2 percent of American adults live with every day.
Concluding with a reflection on how mental illness has affected his own life, Darryl Cunningham's Psychiatric Tales is a moving, engaging examination of what is, at its root, the human condition.
Darryl Cunningham is the creator of the Web comics Super-Sam and John-of-the-Night and The Streets of San Diablo. He is a prolific cartoonist, sculptor, and photographer, and lives in Leeds, England. This is his first book.
About the Author
Darryl Cunningham is the creator of the web comics "Super-Sam and John-of-the-Night" and "The Streets of San Diablo." A prolific cartoonist, sculptor and photographer, he lives in Leeds, England. This is his first book.
Praise For Psychiatric Tales: Eleven Graphic Stories about Mental Illness…
"Strikingly illustrates (and demystifies) disorders such as schizophrenia, dementia, and bipolarism."—Elle Magazine
"Straight-forward, engaging, and possessed with both great clarity and a world of sympathy for its subject matter, Cunningham's series of essays about those suffering from mental illness and the way they're treated by modern society should sit comfortably on shelves next to works like Marjane Satrapi's
Persepolis
in terms of its easy accessibility to a wide range of readers and the humane voice that emanates from its pages. Its final chapter, in which Cunningham details his personal troubles in the course of making the work, is as affecting as any comics short story in recent memory. One imagines
Psychiatric Tales
defining, at least in significant fashion, the Yorkshire, England-based artist's career for years to come."—
The Comics Reporter
"Heartfelt…With
Psychiatric Tales,
Cunningham has crafted his own effective way to help both himself and other sufferers of mental illness."—
NPR.org
"Psychiatric Tales
does a great job explaining this, and it would likely serve as an excellent tool for anyone who is coping with mental illness in their own family." —
GraphicNovelReporter.com
"This gem of a book examines a wide range of mental-health issues as well as Cunningham's personal experiences with mental illness…The concise and poignant tales, while self-contained, build upon each other and create a framework that allows Cunningham to effectively question the stigmas associated with mental illness. His inviting cartooning style mixes contrasting backgrounds with simple line drawings that leave a stark impression. The overall message—that mental illness is biochemical in origin and deserves the same kind of sympathy as other serious illnesses—is one that deserves to be heard."
—Booklist
"Speaking with compassion and clarity, Cunningham tells of his own struggles with severe anxiety and depression. creating a valuable tool for both those within the mental health profession and casual readers who may know someone with mental illness." —
Publishers Weekly
"An illustrated primer on mental illness that builds to personal revelation … The illustrations are compelling throughout."—
Kirkus Reviews
Advertisement