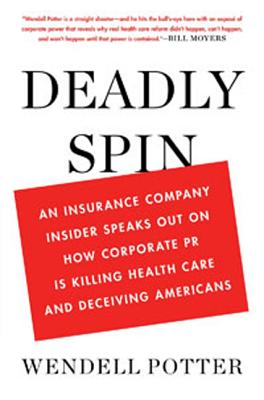 Deadly Spin
An Insurance Company Insider Speaks Out on How Corporate PR Is Killing Health Care and Deceiving Americans
Hardcover

* Individual store prices may vary.
Other Editions of This Title:
Digital Audiobook (11/16/2010)
Paperback (9/20/2011)
Compact Disc (11/17/2010)
MP3 CD (11/17/2010)
Compact Disc (11/17/2010)
Description
Wendell Potter is the insurance industry's worst nightmare.
In June 2009, Wendell Potter made national headlines with his scorching testimony before the Senate panel on health care reform. This former senior VP of CIGNA explained how health insurers make promises they have no intention of keeping, how they flout regulations designed to protect consumers, and how they skew political debate with multibillion-dollar PR campaigns designed to spread disinformation.
Potter had walked away from a six-figure salary and two decades as an insurance executive because he could no longer abide the routine practices of an industry where the needs of sick and suffering Americans take a backseat to the bottom line. The last straw: when he visited a rural health clinic and saw hundreds of people standing in line in the rain to receive treatment in stalls built for livestock.
In Deadly Spin, Potter takes readers behind the scenes to show how a huge chunk of our absurd healthcare spending actually bankrolls a propaganda campaign and lobbying effort focused on protecting one thing: profits. Whatever the fate of the current health care legislation, it makes no attempt to change that fundamental problem.
Potter shows how relentless PR assaults play an insidious role in our political process anywhere that corporate profits are at stake-from climate change to defense policy. Deadly Spin tells us why-and how-we must fight back.
Praise For Deadly Spin: An Insurance Company Insider Speaks Out on How Corporate PR Is Killing Health Care and Deceiving Americans…
"Potter engagingly weaves together industry secrets with his own moral struggle and transformation into a whistleblower who tried to beat back the spin that nearly killed Obamacare." —Emily Loftis, Mother Jones
"May be the ideal whistleblower." —Time
"As one former insurance executive testified before Congress, insurance companies are not only encouraged to find reasons to drop the seriously ill; they are rewarded for it. All of this is in service of meeting what [Potter] called 'Wall Street's relentless profit expectations.'" —President Barack Obama, quoting Potter before Congress in September 2009
"Wendell Potter is a straight shooter--and he hits the bulls-eye here with an expose of corporate power that reveals why real health care reform didn't happen, can't happen, and won't happen until that power is contained." —Bill Moyers
"The recently passed health care bill did many good things, including make health insurance available to more Americans and restrain some of the most egregious practices of the health insurance industry. It also forced more people to become customers of that industry. What the bill did not do is reform the health care system. Wendell Potter explains why not, and what went wrong." —Howard Dean
"Wendell Potter transformed the national debate over health care when he stood up and told the truth about the health insurance industry.By breaking the insurance industry's code of silence and explaining to his fellow Americans how health insurance companies put profits ahead of patient care, Wendell showed extraordinary courage. The compelling story of Wendell's conversion from a health care executive to an outspoken reform advocate is essential reading for anyone trying to understand the American health care system." —Senator Jay Rockefeller of West Virginia
"Deadly Spin makes clear what reporters were--and are--up against as they try, and often fail, to make the complex pros and cons of health care reform clear to citizens, as big-money players misdirect and obfuscate. More important, it illuminates what citizens are upagainst as they try to figure it out." —Mike Hoyt, Executive Editor, Columbia Journalism Review
"You're the Daniel Ellsberg of corporate America. I mean, what that man did during Vietnam helped to end that war . . . People should read this book. The whole book lays it right out there about how the health insurance companies had bamboozled this country and lied, just outright liedabout things." —Michael Moore to Wendell Potter on Countdown with Keith Olbermann
"To get the country back on track, Potter exhorts consumers to adopt a healthy dose of skepticism toward corporate doublespeak. That's a sound prescription, one which no American can afford not to have filled." —Joshua Kendall, The Boston Globe
"A gripping indictment." —Kate Pickert, Time
"DEADLY SPINis a must-read for all who want to learn more about what [the health reform law] is and what it is not. It is a handbook for social change." —John Presta,New York Journal of Books
"The book's as dramatic and suspenseful as a good novel." —Linda Greene, The Bloomington Alternative
"Potter's Deadly Spin is an eye-opening account of the backroom antics of industries that do harm. You won't look at issues the same way after you read this book. If you can understand how 'spin' works, you will be able to understand the money and tactics used to distort the truth. And we need to know the power propaganda has on us all." —Kari Burns, Chicago Life Magazine
"The health insurance industry's worst nightmare." —Portfolio.com
"Wendell Potter, former vice president of corporate communications with insurance giant CIGNA, now a fellow with the spin-busting Center for Media and Democracy, used media appearances and testimony before Congressional committees to expose the dark manipulations of fact that insurance firms use to preserve for-profit healthcare. Then he put it all on paper with a terrific book" —The Nation
"Eloquent . . . Despite the damning revelations throughout his book, Mr. Potter's indictments of the industry he once served are far from heavy-handed; instead, they are suffused with the kind of transcendent empathy one finds in those who have undergone profound personal transformations." —Dr. Pauline Chen, Well Blog, New York Times
"An illuminating, up-to-the-minute testimonial sure to garner widespread attention and controversy." —Kirkus Reviews
"[Potter] ridicules the notion that America's free-market system can provide actual health care within a for-profit structure . . . This whistle-blower perspective will heighten discussion and debate on the vital topic of health care in America." —Mary Whaley, Booklist
"Trenchantly critiques the failure of America's for-profit health-insurance system: the underhanded methods insurers use to 'dump the sick'; the skyrocketing premiums and deductibles that put health care beyond the reach of millions; the obscene salaries executives rake in while denying benefits to patients. These criticisms aren't new, but Potter's street cred and deep knowledge of the industry make his indictment unusually vivid and compelling." —Publishers Weekly
Bloomsbury Press, 9781608192816, 288pp.
Publication Date: November 16, 2010
About the Author
Wendell Potter is a Senior Fellow on Health Care for the Center for Media and Democracy. In 2009, he retired after a twenty-year career as a PR executive for health insurers to speak out on both the need for health care reform and the increasingly unchecked influence of corporate PR. He is a native of Tennessee.
or
Not Currently Available for Direct Purchase