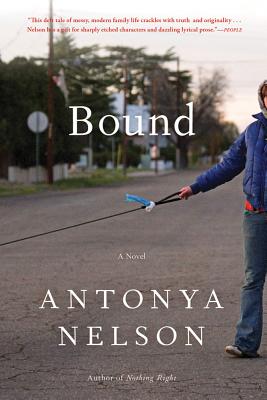 Bound (Paperback)
A Novel
Bloomsbury USA, 9781608192991, 240pp.
Publication Date: October 18, 2011
Other Editions of This Title:
Digital Audiobook (9/28/2010)
Compact Disc (9/29/2010)
MP3 CD (9/29/2010)
Hardcover (9/28/2010)
Compact Disc (9/29/2010)
Pre-Recorded Audio Player (10/1/2010)
* Individual store prices may vary.
Description
Even after nearly two decades together, the Desplaines have their secrets. Oliver, an aging Wichita entrepreneur, is on his third marriage, and has recently found an even younger mistress. Catherine, his seemingly content wife, has a more colorful past than her husband knows, and it's about to come rushing back when Catherine learns she's been named guardian of a teenage girl she's never met. Meanwhile, the Wichita media is buzzing with the reemergence of a serial killer who haunted Catherine's own adolescence; a murderer has been hiding in plain sight, raising questions of how little any of us can truly know of our neighbors, our loved ones, or ourselves.
Praise for Bound (A New York Times Notable Book):
"Antonya Nelson wields words with breathtaking precision in Bound...Turning tiny moments into revelations, she brilliantly exposes the fears and delusions that drive people to rationalize destructive choices...[A] wise exploration of the war between our worst impulses and our better selves."-O, the Oprah Magazine
"In her extraordinary fourth novel, Antonya Nelson captures the clamor and swirl of life in this new century ... She pulls the tension to a flawlessly calibrated conclusion."-NPR.org
"A short story writer of exhilarating wit and empathy, Nelson returns to the novel after a decade with heightened authority. Tightly coiled, edgy, and funny...[A] sleekly powerful turbine of a novel." -Booklist (starred review)
About the Author
Antonya Nelson is the author of eight books of fiction, including Female Trouble and the novels Talking in Bed, Nobody's Girl, and Living to Tell. Nelson's work has appeared in the New Yorker, Esquire, Harper's, Redbook, and many other magazines, as well as in anthologies such as Prize Stories: The O. Henry Awards and The Best American Short Stories. She is a recipient of a Guggenheim Fellowship, an NEA Grant, and, recently, the Rea Award for Short Fiction. She is married to writer Robert Boswell and lives in New Mexico, Colorado, and Texas, where she holds the Cullen Chair in Creative Writing at the University of Houston.
Praise For Bound: A Novel…
"Nelson's prose looks to be as sleekly tough-minded as ever … essential for those serious about contemporary literature." —Library Journal
"A small gem--more understated than Nelson's recent stories, but equally sharp and deeply moving." —Kirkus Reviews (starred review)
"A short story writer of exhilarating wit and empathy, Nelson returns to the novel after a decade with heightened authority. Tightly coiled, edgy, and funny … Nelson's sleekly powerful turbine of a novel riffs cannily on the many meanings of 'bound.'" —Booklist (starred review)
"Lyrical realism, troubled marriages, and sadistic serial murder? I don't see who wouldn't want to read this." —Gawker
"Antonya Nelson wields words with breathtaking precision in Bound … this is no heartwarming makeshift-family-bonding story; Nelson has something truer in mind. Turning tiny moments into revelations, she brilliantly exposes the fears and delusions that drive people to rationalize destructive choices … [a] wise exploration of the war between our worst impulses and our better selves." —O Magazine
"I have to agree with novelist Michael Chabon's book jacket blurb, which envies the reader new to Nelson's work. She's a treat … In Bound, Nelson teaches us that we may not always have to choose between naughty or nice, polished or rough, that perhaps we're most ourselves when we're a little of both." —Kansas City Star
"[Nelson] shines once again in her depiction of the many guises of marriage, and family ties both strengthening and coming undone." —Bookpage
"In her new novel Bound, set mostly in Wichita, KS, Antonya Nelson compels you to linger, makes you take in the shimmer of the long gray highway beside the strip malls, the promise and punishment of the steely blue sky. This America is her stage, and its characters are her people. Raised in Wichita, Nelson carries regional secrets in her internal map--the nameless back roads and hidden lakes a stranger wouldn't even know to look for…It's a liberation to read Nelson here in the long form. There is no question of her superlative gifts for the short story. Only last year she published an exceptional collection (her sixth), Nothing Right … In Bound, Nelson makes her story as big as it should be, and gives her characters room to run." —New York Times Book Review
"Bound is almost effortless to read--which is remarkable when one considers the number of complex relationships at work and the cutting truth with which each character is depicted…That a novel can accomplish so much in such tight space is otherworldly, and it speaks to Antonya Nelson's gift for writing great fiction." —The Rumpus
"Nelson makes good use of the various meanings of bound, exploring what it means to be tied to someone, compelled to act, obligated." —Time Out New York
"Gripping…An exploration of the delicate, painful connections among us… A veteran storyteller, Nelson nearly gets away with these devices, simultaneously dodging heavy-handedness, cliché, and preciosity… Nelson explores these connections and disconnects in understated, exact, and frequently witty prose." —Boston Globe
"Antonya Nelson is a brilliant storyteller. With whip-smart prose, she describes the just-another- day-ness of our lives – the bad weather, the annoying neighbor who pretends to talk so they can look around your house, a dog's adoration of its owner and, most often, human fallibility – with precise candor and pathos. Bound, Nelson's 10th book of fiction and first novel in a decade, is magnificently dense, a solidity created by the depth she gives each of her memorably complex characters, a depth that in turn intensifies the emotional weight of her narrative…. Bound is one of those rare books that can be hilarious and snarky and heart-bruisingly moving all at once. Nelson's work feels brazenly honest because her characters' relationships are as richly textured and complex as our own. This familiarity makes Nelson one of the best writers of contemporary desire we have." —Dallas Morning News
"Nelson is a remarkable writer…this is a wonderful collection of characters, deftly drawn and expertly unveiled." —Slate
"Suspenseful and emotionally resonant." —NY Daily News
"This deft tale of messy, modern family life crackles with truth and originality...Nelson has a gift for sharply etched characters and dazzling lyrical prose." —People
"In her stories and novels, Antonya Nelson peers into the lives of her characters so closely that the intimacy borders on uncomfortable. And she does it with her typically spare, piercing writing, creating full characters with a just a few well-chosen words. We don't know much about what these people look like (not that it matters), but we know their joys and longings and dark secrets. "Bound," her exquisite latest novel, focuses on the connections people have throughout their lives: long-ago connections that resurface, family connections in the present, connections to times and places. Nelson has crafted overlapping lives and stories that don't fit neatly into a box, but somehow pack perfectly into the novel… Even Nelson's seemingly simple characters have depth and complexity." —Wichita Eagle
"One pleasure of reading Antonya Nelson is that she brings the careful language and control of literary fiction to uncontrolled, rough-and-tumble lives. Mixing the admittedly bourgeois undertaking of meticulously crafted prose with working class grit is risky -- it can devolve into condescension or cartoonishness -- but Nelson, like Raymond Carver, strikes a remarkable balance." —Los Angeles Times
"Bound examines the powerful pull of family, the value of loyalty, and the surprisingly durable bonds of friendship. Told in nuanced prose, Bound has all the suspense of a mystery novel balanced by the soulful characterizations and piercing psychological insights of a literary work." —Critical Mob
"A quiet character study of the bonds of family and friendship, at times fragile and at others strong as steel. Nelson plumbs the interior lives of a small but intriguing collection of characters, probing for some understanding of these often inexplicable ties…Though some writers who concentrate on short stories suffer in the longer form, Nelson adapts the skills she's displayed in six collections to great effect here. Her characterizations are carefully etched, and her prose is precise and razor-sharp…Nelson has carved out some generous slices of a handful of lives and has served them up to us in all their messy complexity. There are no fireworks here, only the light shed by an accomplished writer's unblinking attentiveness." —Book Reporter
"In her extraordinary fourth novel, Antonya Nelson captures the clamor and swirl of life in this new century… she pulls the tension to a flawlessly calibrated conclusion." —NPR.org
"Good ingredients, quirky recipe." —Newsday
"Nelson illuminates the ugly questions that shadow our intimate relationships." —New Yorker
"Antonya Nelson considers the ties that bind in her canny --and aptly named--new novel 'Bound'… [Bound] seems, on the face of it, a simple, if improbable, story. But it is one that, in Nelson's deft hands, soon becomes a small study of humankind…'Bound' overall is so rich in characters, poetry and imagination… But it is at relationships -- close, domestic relationships -- that [Nelson] excels." —Buffalo News
"Her sentences are the kind you want to savor for their rhythms and insights… This is the stuff of great fictional domestic life in the right hands, and Nelson's definitely dead on…Nelson explores the things that bind us to one another and our pasts with astute observations and emotional honesty…[A] richly created and very rewarding story." —WOSU.org
"The web of entaglements could be sketched out in a schematic diagram, yet the events roll along so effortlessly, propelled by plainspoken, naturalistic prose, that the symbolism never grows overbearing or obvious… Nelson, it seems to me, should be praised for her adroitness with language, her ability to sketch out a scene or a moment or point of view with a few carefully-chosen words. In the old days, there was a name for that: it was called 'good writing.'" —Popmatters
or
Not Currently Available for Direct Purchase