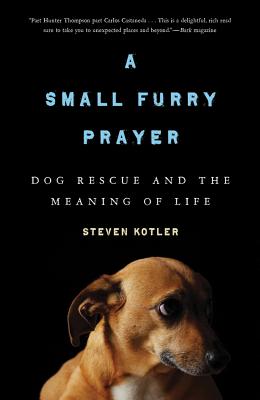 A Small Furry Prayer (Paperback)
Dog Rescue and the Meaning of Life
Bloomsbury USA, 9781608193035, 320pp.
Publication Date: October 18, 2011
Other Editions of This Title:
Hardcover (10/5/2010)
MP3 CD (11/9/2010)
Compact Disc (11/9/2010)
Compact Disc (11/9/2010)
Pre-Recorded Audio Player (3/1/2011)
* Individual store prices may vary.
Description
Dog rescue is one of the largest underground movements in America. It is also one of the least understood. This insider look at the culture of dog rescue begins with Kotler's personal experience working with an ever-peculiar pack of dogs and becomes a much deeper investigation into exactly what it means to devote one's life to the furry and the four-legged, in the end showing why living in a world of dogs may be the best way to uncover the truth about what it really means to be human.
Praise for A Small Furry Prayer:
"It's amazing and also very encouraging to find a book like this one, filled with original thought and plenty of new information. And if that's not enough, it's a great read, a real page-turner. I strongly recommend it to anyone." -Elizabeth Marshall Thomas, author of The Hidden Life of Dogs
"This gritty journey into ,'a world made of dog' is unlike any dog story you've ever read." -Christian Science Monitor
"Anyone who is interested in the human-animal connection, the bond that we feel with our dogs, will find this book fascinating. It's almost a guarantee that you will look at your dog in a totally different way." -San Francisco Examiner
"Joyous...Brimming with humor, gratitude, and grace, this is a remarkable story." -Publishers Weekly (starred review)
About the Author
STEVEN KOTLER is a New York Times bestselling author, award-winning journalist, and co-founder and director of research for the Flow Genome Project. His books include Stealing Fire, The Rise of Superman, West of Jesus, andA Small Furry Prayer. His work has been translated into over 40 languages and appeared in over 100 publications, including the New York Times Magazine, Wall Street Journal, TIME, Wired, Atlantic Monthly, andForbes.
Praise For A Small Furry Prayer: Dog Rescue and the Meaning of Life…
"A thought-provoking inquiry…Are dogs special? Are humans? Or are we just special to each other because we care for them and they for us? Read this book, slowly, and decide for yourself." —New Mexico Magazine
"[An] insightful mediation on the relationship between humans and animals that explores the realms of neuroscience, anthropology, and spirituality." —Chronogram
"This gritty journey into 'a world made of dog' is unlike any dog story you've ever read." —Christian Science Monitor
"Kotler's tale--part obsession, part inquiry, part adventure--serves up a well-rounded meal of soul-searching and psychology." —Psychology Today
"Reading A Small Furry Prayer is a pleasure. Kotler's creation of dogs in prose avoids the cute, bypasses the nature-boy crap, and goes straight for the heart and the soul of the creatures in his care. Here's a book that charms, speaks to the heart, involves the mind, and challenges your intellect without overwhelming you." —The Agony Column
"Science, history, and a smattering of politics is interspersed with the continuing story of the shelter, its humans, the dogs and the occasional wildcat and coyote. It's obvious that Steven Kotler is not only a very competent writer, he is quite an educated person. Dare I say brilliant? Anyone who is interested in the human-animal connection, the bond that we feel with our dogs, will find this book fascinating. It's almost a guarantee that you will look at your dog in a totally different way." —Examiner.com
"With nuggets of wisdom and insight, "A Small Furry Prayer" moves seamlessly across a challenging psychological and physiological landscape with passion and persistence." —Seattle Kennel Club
"Like most dog-related stories, Kotler's tale is sweet and oftentimes heartbreaking. But Kotler doesn't indulge in sentimental prose, and he's a frequently hilarious writer." —Seattle Weekly
"A beautiful, deep encounter with the world of animal rescue on both a grand and personal scale. A Small Furry Prayer is not only for dog lovers, but for everyone who cherishes life and enjoys a good adventure. It's delightful, funny, profound, sad, eye-opening and powerful. It's about discovering what it means to be human." —Guideposts.org
"Part Hunter Thompson part Carlos Castaneda but mostly so original that it's difficult to peg…This is a delightful, rich read sure to take you to unexpected places and beyond." —Bark magazine
"Kotler seamlessly blends a history of Chimayo, a well-articulated understanding of how humans and dogs coevolved, and background on animal welfare efforts in this country with his witty, sharp-edged, and rewarding reflections on life. Kotler defiantly proclaims his love of Chihuahuas (he's hilarious), then shatters our hearts and ends by laying down a real ethical challenge. Highly recommended not only for dog lovers but for readers of memoir, biology, and anthropology and seekers generally." —Library Journal (starred review)
"Reflecting on the writings of mystics, philosophers, and animal scientists as varied as St. Francis, René Descartes, Claude Levi-Strauss, and Elizabeth Hess, Kotler elevates this tale about saving dogs to a story about human stewardship of life. Full of well-told stories, Kotler's book will please many animal advocates." —Booklist
"Joyous… Brimming with humor, gratitude, and grace, this is a remarkable story." —Publishers Weekly (starred review)
"Kotler offers a touching account of Chihuahua adventures alongside interesting blurbs on the history of pet ownership, canine ethology, the semantics of the dog-adoption process, homosexuality in nature and the intricate science behind canine domestication. A heartfelt example of humanitarianism at work." —Kirkus Reviews
"A Small Furry Prayer is a wonderful read that'll take you all over the place, pondering life in general, dogs and other awesome animals, spirituality, religion, flow experiences, and who you are in the grand scheme of things." —Marc Bekoff, author of The Emotional Lives of Animals, Wild Justice, and The Animal Manifesto
"Thousands of books have been written about dogs, thus it's amazing and also very encouraging to find a book like this one, filled with original thought and plenty of new information. And if that's not enough, it's a great read, a real page turner. I strongly recommend it to anyone who has a dog, or has more than one dog, or who just likes to read a great book." —Elizabeth Marshall Thomas, author of The Hidden Life of Dogs
"I read this compelling book for hours and found myself completely hooked as I am sure any reader who loves dogs will be. Steven Kotler captures something essential about dogs and humans in a way I have not seen anyone else do. With a hip growling intensity, Small Furry Prayer is bound to inspire." —Jeffrey Moussaieff Masson, author of Dogs Never Lie about Love and When Elephants Weep
or
Not Currently Available for Direct Purchase