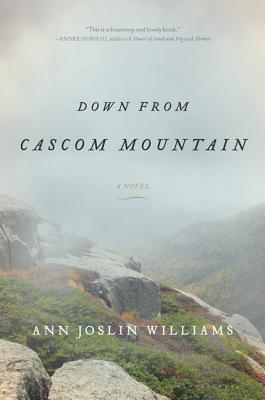 Down from Cascom Mountain
A Novel
Hardcover

* Individual store prices may vary.
Description
Ann Joslin Williams grew up observing the craft of writing: her father, Thomas Williams, was a National Book Award-winning novelist. Many of his stories were set in the fictional town of Leah, New Hampshire, and on nearby Cascom Mountain, locations that closely mirrored the landscape of the Williamses' real hometown. With Down from Cascom Mountain, Ann Joslin Williams proves herself a formidably talented novelist in her own right, while paying tribute to her father by setting her debut novel in the same fictional world-the New Hampshire he imagined and that she has always known.
In Down from Cascom Mountain, newlywed Mary Hall brings her husband to settle in the rural New Hampshire of her youth to fix up the house she grew up in and to reconnect to the land that defined her, with all its beauty and danger. But on a mountain day hike, she watches helplessly as her husband falls to his death. As she struggles with her sudden grief, in the days and months that follow, Mary finds new friendships-with Callie and Tobin, teenagers on the mountain club's crew, and with Ben, the gentle fire watchman. All are haunted by their own losses, but they find ways to restore hope in one another, holding firmly as they navigate the rugged terrain of the unknown and unknowable, and loves lost and found.
Praise for The Woman in the Woods :
"The Woman in the Woods marks the debut of a wise and beautiful voice in American fiction, one that will stand as a powerful new presence in our literary landscape." -Julie Orringer, author of How to Breathe Underwater and The Invisible Bridge
Praise For Down from Cascom Mountain: A Novel…
"Steeped in the New Hampshire landscape and sensibility... [Williams] follows her characters' moods...closely... The reader is deeply invested, caught up in Mary's grieving, or in Tobin's failure to forgive his mother. Their stories are made memorable." —Susan Salter Reynolds, Los Angeles Times
"In the wilds of New Hampshire one formative summer, a series of character-building--or breaking--events is visited upon a group of young men and women whose paths cross tragically ont he slopes of Cascom Mountain... [a] gratifying tale." —New York Times Book Review
"Here in are the qualities of enduring greatness, our turbulent natures, instructions for life. Inside these covers there's a woman's profound love, a terrible and beautiful world, the claw of grief. Her story is told with grace and dignity and the kind of writing we hunger for: straight and true, spare and generous." —Robert Olmstead, author of Coal Black Horse and A Trail of Heart's Blood Wherever We Go
"Sexy, following a rugged path from sorrow to salvation, Williams' new book is made from the serious materials of sudden grief--but it isn't sad in the least. On the contrary! There's a fierce, hard-won joy here, as sturdy as the mountains of New Hampshire, and as glorious." —Michael Byers, author of Percival's Planet and The Coast of Good Intentions
"There seems to be no element of these people and this landscape to which Williams is a stranger. She sees straight to the heart of her characters, and it is a pleasure to witness them yearning and grieving and loving their way through these pages, one living human presence after another, the mountain and the forest rising up around them in all their mystery and specificity." —Kevin Brockmeier, author of Illumination and The Brief History of the Dead
Bloomsbury USA, 9781608193066, 336pp.
Publication Date: June 14, 2011
About the Author
Ann Joslin Williams grew up in New Hampshire. She earned her MFA in fiction from the Iowa Writers' Workshop, and was a Wallace Stegner Fellow at Stanford University. She is the author of The Woman in the Woods, a collection of linked stories, which won the 2005 Spokane Prize for Short Fiction, and her work has appeared in Storyquarterly, The Iowa Review, The Missouri Review, Ploughshares, and elsewhere. She was the winner of an NEA grant for her work on Down from Cascom Mountain. Williams is an assistant professor at the University of New Hampshire.
Discuss the prologue of Down from Cascom Mountain. What was Mary Hall like as a teenager? What kinds of formative experiences did she have while working at the lodge? How do her first brushes with love and death influence her later in life?
Consider the landscape of Leah, New Hampshire and Cascom Mountain. What dangers lurk in the landscape's trails, forests, and cliffs? What solace do Mary, Callie, Ben, and Tobin find within this landscape?
Describe Tobin's complicated relationships with the women of the novel: his mother, Mary, and Callie. Why does Tobin appoint himself Mary's protector? Why doesn't his father protect him from his mother? Why does Callie, too, need Tobin's protection?
Discuss the brief marriage of Mary and Michael, who only knew each other for nine months before Michael's fatal accident. What attracted Mary and Michael to each other initially? How did they fall in love so quickly?
Discuss Mary's mourning process. What helps her cope during the painful first months of her life without Michael? How does her appearance and demeanor change during mourning, and when does she start to look and feel more like her former self?
After Callie loses her virginity to Spencer, a man she does not love, "she'd given all the demons in the world the right to chase her down the minute she'd dared to mock love" (51). Why does Callie decide to sleep with Spencer if she doesn't love him? What complications result from their affair?
When Mary and Callie realize all that they have in common, "They were like doppelgangers, or just girls on the same path, one older than the other. Mary ahead, Callie behind" (110). Name the similarities between Mary and Callie. What are some differences between their lives—where do their paths diverge?
Describe Callie's feeling of "dark-gloom." Why does Callie tell Mary about dark-gloom, and how is Mary able to relate to it? When is Callie overcome with dark-gloom, and when is she able to identify another feeling, "blue-kindness" (248)?
When Ben tells Mary about the accidental death of his girlfriend, he says, "Grief, side by side, diminishes each" (166). Discuss how Ben and Mary are able to help each other through periods of grief. Do they have mixed feelings about their physical relationship? Why or why not?
When Callie takes Clayton Walker up Cascom Mountain to view the site of Michael's death, there are two sets of eyes secretly watching them: Mary's and Tobin's. Discuss the interactions of these four characters—Callie, Clayton, Mary, and Tobin—on this afternoon. Who is watching whom, and for what reasons?
Clayton Walker reveals two things that Mary didn't know about Michael: He put a baby up for adoption in his teens, and he was caught in the middle of his father's extra-marital affair. How does Mary feel when she realizes Michael never told her these two things? Why might Michael have held back when talking about his past? Has Mary kept anything from Michael during their short marriage?
Compare how Mary and Callie react when each woman discovers she might be pregnant. Who does Mary turn to for help? Who does Callie turn to? How does each woman cope with the risks and disappointments of becoming pregnant?
When Mary thinks back to her childhood and her parents, she realizes, "The mountain had raised her as much as they had" (282). What kind of relationship did Mary have with her mother and father? Why did Mary feel excluded from their love, and how did her relationship with her parents change when she grew up?
Two search parties climb up Cascom Mountain in the novel: young Mary and the Lo-House crew search for Anna Kimball in the prologue, and Mary and Clayton ascend the mountain looking for Callie when she goes off trail. How are these two scenes similar and how are they different?
When Callie e-mails Mary a picture of an albino named Anna Kimball, Mary "hit delete. No need for resurrection, for going back. Whoever she was, she'd vanished" (324). Why does Mary decide not to look at Anna Kimball's picture?
Although Down from Cascom Mountain ends with Mary and Ben parting ways and Callie waiting for an appointment at an abortion clinic, the novel ends on a note of hope. What does the future seem to hold for Mary, Ben, Callie, and Tobin? Are these characters likely to meet again? Why or why not?
or
Not Currently Available for Direct Purchase