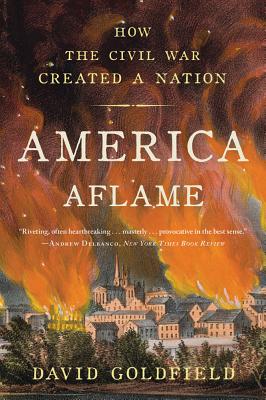 America Aflame: How the Civil War Created a Nation (Paperback)
How the Civil War Created a Nation
Bloomsbury Publishing PLC, 9781608193905, 632pp.
Publication Date: September 4, 2012
Description
In this spellbinding history, David Goldfield offers the first major new interpretation of the Civil War era since James M. McPherson's "Battle Cry of Freedom." Where other scholars have seen the conflict as a triumph of freedom, Goldfield paints it as America's greatest failure: a breakdown of society caused by the infusion of evangelical religion into the world of politics.
The price of that failure was horrific, but the carnage accomplished what statesmen could not: It made the United States one nation and eliminated the divisive force of slavery. The victorious North moved ahead, a land of innovation and industry. Religion was supplanted by a gospel of economic and scientific progress, and the South was left behind. The "fiery trial" of war transformed our country-a conflagration captured in vivid detail in "America Aflame.
About the Author
David Goldfield is the Robert Lee Bailey Professor of History at the University of North Carolina, Charlotte. He is the author of many works and textbooks on Southern history, including Still Fighting the Civil War, Southern Histories, Black, White and Southern, and Promised Land.
Praise For America Aflame: How the Civil War Created a Nation…
"This isn't simply a history of the Civil War: Goldfield considers all aspects of American life from 1834 to the centennial year of 1876…Goldfield's prose is graceful; I'd stop many times during the reading of the book just to appreciate the quality of his writing. And, like all the best histories, it made me carefully consider my own assumptions and beliefs about our country's past. I predict that it'll do the same for you."—Nancy Pearl, NPR Morning Edition
Advertisement