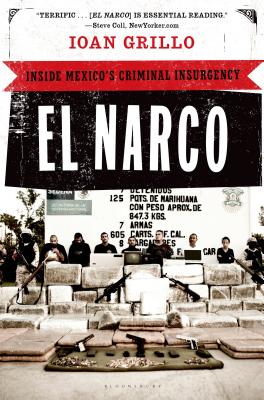 El Narco
Inside Mexico's Criminal Insurgency
Paperback

* Individual store prices may vary.
Other Editions of This Title:
MP3 CD (7/26/2016)
Compact Disc, Spanish (11/5/2019)
Description
A gripping, sobering account of how Mexican drug gangs have transformed into a criminal insurgency that threatens the nation's democracy and reaches across to the United States.

"Essential reading."-Steve Coll, NewYorker.com

The world has watched, stunned, the bloodshed in Mexico. Forty thousand murdered since 2006; police chiefs shot within hours of taking office; mass graves comparable to those of civil wars; car bombs shattering storefronts; headless corpses heaped in town squares. And it is all because a few Americans are getting high. Or is it part of a worldwide shadow economy that threatens Mexico's democracy? The United States throws Black Hawk helicopters, DEA assistance, and lots of money at the problem. But in secret, Washington is at a loss. Who are these mysterious figures who threaten Mexico's democracy? What is El Narco?

El Narco is not a gang; it is a movement and an industry drawing in hundreds of thousands, from bullet-riddled barrios to marijuana-covered mountains. The conflict spawned by El Narco has given rise to paramilitary death squads battling from Guatemala to the Texas border (and sometimes beyond).

In this "propulsive ... high-octane" book (Publishers Weekly), Ioan Grillo draws the first definitive portrait of Mexico's cartels and how they have radically transformed.
Praise For El Narco: Inside Mexico's Criminal Insurgency…
"Grillo's clear-eyed, sobering account has authority and a flair for colourful anecdotes, making for disturbing but riveting reading" - Metro

"A superb report form the front lines of narco-violence" - Independent

"[A] shining example of dogged, impassioned and courageous reporting ... compelling ... his pace is furious, like driving at top speed along a wild mountain track in a pickup and there is no doubting his expertise, his compassion or his grit" - Daily Express

"It is hard enough to report the facts of Mexico's crazy death spiral of drug violence. Ioan Grillo goes much, much deeper. He explains why El Narco threatens the soul of this beautiful country. He tells us how we got here" - William Booth, bureau chief for Mexico, Central America and the Caribbean, Washington Post

"A fascinating and terrifying account" - Sydney Morning Herald

"Heartbreaking ... El Narco is a fine work of journalism" - Irish Times

"Remarkable" - Houston Chronicle

"Puts a human face on the bloodshed" - Boston Globe
Bloomsbury Press, 9781608194018, 336pp.
Publication Date: November 13, 2012
About the Author
Ioan Grillo is a contributing writer at the New York Times specializing in crime and drugs. Based in Mexico City, he has also worked for Time magazine, the History Channel, CNN, Reuters, the Associated Press, and Esquire. He is the author of El Narco, a finalist for the Los Angeles Times Book Award, and Gangster Warlords, a New York Times Book Review Editor's Choice and a Guardian Book of the Year.