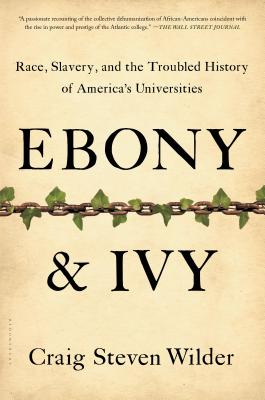 Ebony and Ivy
Race, Slavery, and the Troubled History of America's Universities
Paperback

* Individual store prices may vary.
Other Editions of This Title:
Hardcover (9/17/2013)
MP3 CD (9/2/2014)
Description
A groundbreaking exploration of the intertwined histories of slavery, racism, and higher education in America, from a leading African American historian.

A 2006 report commissioned by Brown University revealed that institution's complex and contested involvement in slavery--setting off a controversy that leapt from the ivory tower to make headlines across the country. But Brown's troubling past was far from unique. In Ebony and Ivy, Craig Steven Wilder, a rising star in the profession of history, lays bare uncomfortable truths about race, slavery, and the American academy.

Many of America's revered colleges and universities--from Harvard, Yale, and Princeton to Rutgers, Williams College, and UNC--were soaked in the sweat, the tears, and sometimes the blood of people of color. Slavery funded colleges, built campuses, and paid the wages of professors. Enslaved Americans waited on faculty and students; academic leaders aggressively courted the support of slave owners and slave traders. Significantly, as Wilder shows, our leading universities, dependent on human bondage, became breeding grounds for the racist ideas that sustained them.

Ebony and Ivy is a powerful and propulsive study and the first of its kind, revealing a history of oppression behind the institutions usually considered the cradle of liberal politics.
Praise For Ebony and Ivy: Race, Slavery, and the Troubled History of America's Universities…
"Wilder knows a great deal about his subject and does not flinch from facing it head-on . . . There is much to admire in Ebony & Ivy and much to learn from it." —The Washington Post

"A groundbreaking history that will no doubt contribute to a reappraisal of some deep-rooted founding myths." —Kirkus Reviews, starred review

"A well-researched and revealing look at the connection between American academia and American slavery." —Booklist, starred review

"Wilder's copiously documented argument exposes how deeply implicated American higher education has been in racial exploitation that has dispossessed and subjugated peoples of color so as to invest whites beyond measure. His is a study deserving of serious attention from anyone interested in America's history, institutions, or intellectual development." —Library Journal
Bloomsbury Publishing, 9781608194025, 432pp.
Publication Date: September 2, 2014
About the Author
Craig Steven Wilder is a professor of American history at the Massachusetts Institute of Technology and has taught at Williams College and Dartmouth College. The author of A Covenant with Color and In the Company of Black Men, he was recently featured in the news-making documentary The Central Park Five. He lives in Cambridge, Massachusetts.