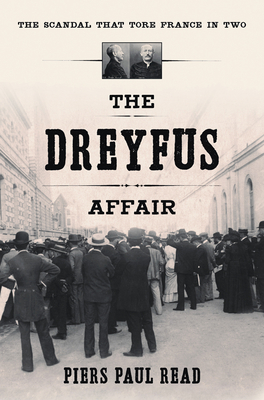 The Dreyfus Affair (Hardcover)
The Scandal That Tore France in Two
Bloomsbury Press, 9781608194322, 416pp.
Publication Date: March 13, 2012
* Individual store prices may vary.
Description
July 20, 1894. The German military attache in Paris receives a visit from a seedy-looking man who claims to be a French army officer in desperate need of money, offering to sell them military secrets.
Captain Alfred Dreyfus was a rising star in the French artillery command. Reserved yet intelligent and ambitious, Dreyfus had everything: a family, money, and a clear path to a prestigious post on the General Staff. However, Dreyfus had enemies as a result of his ambition. Many of them came from the impoverished Catholic aristocracy and disliked Dreyfus because he was rich, bourgeois, and, above all, a Jew.
On the basis of flimsy evidence, Dreyfus was placed under arrest for the crime of high treason. Not long afterward, he was sentenced to spend the rest of his life on the legendary, lethal Devil's Island. The saga of Dreyfus's many trials-he was not exonerated until 1906, twelve years after first being arrested-the fight to free him, and the intrigues on both sides, is a fast-moving mystery story rife with heroes and villains, loose women, loyal wives, bisexual men, tricksters, and charlatans. But this was no mere sideshow. The anti-Semitism and deceit on display in the Dreyfus case was an ominous prelude to the Holocaust and the long, bloody twentieth century to come.
In an era when religious conflict, fierce patriotism, and charged debates over national identity pervade the public sphere, the scandal of Captain Dreyfus still has much to teach us. In the hands of prizewinning novelist, biographer, and narrative historian Piers Paul Read, this real-life morality tale comes alive for a new generation. Using his storytelling skills and a nuanced, deep knowledge of French history, Read rediscovers l'affaire Dreyfus as a rich, riveting tale.
About the Author
Piers Paul Read is best known for his book Alive: The Story of the Andes Survivors, which documented the story of the 1972 crash of Uruguayan Air Force Flight 571. The book was adapted into the 1993 film Alive: The Miracle of the Andes. The novelist and historian has won the Hawthornden Prize, a Somerset Maugham Award, and a James Tait Black Memorial Prize. In 2003 his authorized biography of the actor Alec Guinness was published to great acclaim.
Praise For The Dreyfus Affair: The Scandal That Tore France in Two…
"Piers Paul Read's fresh and comprehensive take on the scandal sheds new light on Dreyfus's personal life, looks closely at the poor man's unjust exile, and tries to assess just what endowed this incident with its long-lasting fascination."—B&N Review
 "Read has done a masterful job of explaining both what happened and why it happened. [He] offers wonderful portraits of the key figures in the unfolding tragedy, and he strives successfully to explain the motivations, fears, and hatred of both sides. This is a great re-examination of one of the most dramatic and consequential episodes in French history."
—Booklist (starred)
"Enriched by glimpses into the captain's personal life as well as by descriptions of his ordeal in the French penal colony at Devil's Island, this book is highly recommended to general readers or undergraduates interested in French history, anti-Semitism, or church-state tensions in the modern period.
—Library Journal
"Absorbing and perceptive"
—Publishers Weekly
or
Not Currently Available for Direct Purchase