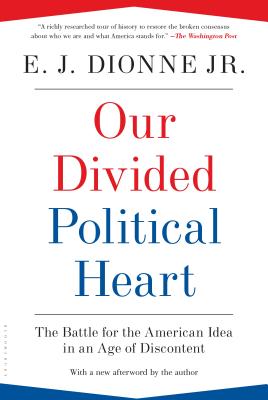 Our Divided Political Heart (Paperback)
The Battle for the American Idea in an Age of Discontent
Bloomsbury USA, 9781608194384, 352pp.
Publication Date: January 29, 2013
Other Editions of This Title:
Compact Disc (6/25/2012)
MP3 CD (6/25/2012)
Compact Disc (6/25/2012)
Hardcover (5/22/2012)
* Individual store prices may vary.
Description
Who are we as a nation? And what is it that's tearing us apart? In Our Divided Political Heart, E. J. Dionne Jr., one of our most respected political commentators, argues that Americans can't agree on who we are because we can't agree on who we've been. The American tradition, Dionne says, points not to radical self-reliance and self-interest, but to a balance between our love of individual freedom and our devotion to community.With a deep understanding of our nation's past, Dionne crafts an incisive analysis of how hyper-individualism is poisoning our current political atmosphere. He shares the Tea Party's engagement with the American past, but takes on its distortions of our history while rooting the Occupy Wall Street movement in America's civic and Populist traditions.
Dionne offers both a fascinating tour of American history-from the Founding Fathers to Clay and Lincoln, on to Populism, the Progressives, and the New Dealers-and an interpretation of our moment's politics that shatters conventional wisdom. He reclaims the American idea of the federal government as an active and constructive partner with the rest of society in promoting prosperity, opportunity, and American greatness. And he challenges progressives to embrace their country's story-to redefine progress and to put an end to our fears of decline.
Our Divided Political Heart
is indispensable for all who seek a path out of America's current impasse.
About the Author
E. J. Dionne Jr. is a senior fellow at the Brookings Institution, a columnist for the Washington Post, and University Professor in the Foundations of Democracy and Culture at Georgetown University. He appears weekly on NPR and regularly on MSNBC and NBC's Meet the Press. His twice-weekly op-ed column is now syndicated in 140 newspapers. His writing has been published in the Atlantic, the New Republic, the American Prospect, the Washington Post Magazine, the New York Times Magazine, Commonweal, New Statesman, and elsewhere. He is the author, editor, or coeditor of numerous books, including the classic bestseller Why Americans Hate Politics, which won the Los Angeles Times Book Prize and was nominated for the National Book Award. His most recent book is Souled Out. Dionne lives in Bethesda, Maryland, with wife, Mary Boyle, and their three children
or
Not Currently Available for Direct Purchase