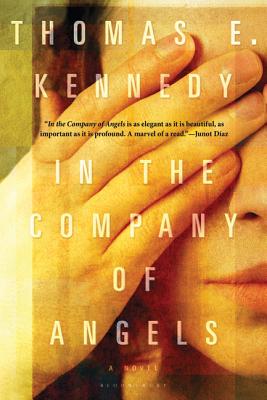 In the Company of Angels (Paperback)
A Novel (Copenhagen Quartet)
Bloomsbury USA, 9781608194674, 288pp.
Publication Date: January 11, 2011
* Individual store prices may vary.
Description
Imprisoned and tortured for months by Pinochet's henchmen for teaching political poetry to his students, Bernardo Greene is visited by two angels who promise him that he will survive to experience beauty and love once again. Months later, in Copenhagen, the Chilean exile befriends Michela Ibsen, herself a survivor of domestic abuse. In the long nights of summer, the two of them struggle to heal, to forgive those who have left them damaged, and to trust themselves to love. Dense with wisdom and humanity, In the Company of Angels is a powerful testament to the resilience and complexity of the human heart.
Praise for In the Company of Angels:
"Wide-ranging and assured."-New Yorker
"If its stellar quality is any indication, the entire [Copenhagen Quartet] promises to be an exceptional reading experience ... Kennedy [has a] fertile imagination and all-embracing empathy."-Booklist (starred review)
"As elegant as it is beautiful, as important as it is profound. A marvel of aread." -Junot Díaz, author of The Brief Wondrous Life of Oscar Wao
"In the Company of Angels is a novel about grown-ups, people battered and dinged by life, painfully aware of their own responsibility, whose understanding of their past never stops evolving. It's the dignity of their adulthood-the elusive prize at stake in any midlife crisis-that makes them so admirable and, above all, so moving."-Laura Miller, Salon
About the Author
Thomas E. Kennedy was born in New York City and has lived in Copenhagen for over two decades. He has written over twenty books, mostly published by small presses, including novels, short stories, and essays. He has won numerous awards, including the Eric Hoffer Award in 2007 for In the Company of Angels (Danish ed.), the Pushcart Prize and the O. Henry Prize for short stories, and the National Magazine Award in 2008. In the Company of Angels is one of four novels comprising the Copenhagen Quartet, which Duff Brenna called "a masterpiece." Kennedy wrote the Quartet in English and translated it himself for Danish publication. The Quartet was also published in a small Irish edition. Kennedy is a member of Fairleigh Dickinson University's Global Virtual Faculty. His Web site is www.thomasekennedy.com.
Praise For In the Company of Angels: A Novel (Copenhagen Quartet)…
"In the Company of Angels is powerful and of the moment … Kennedy writes clean, evocative prose, and an occasional note of humor leavens this dark novel. He is a writer to be reckoned with, and it's about time the reckoning got underway in the country of his birth." —Jonathan Yardley, Washington Post
"[A] wide-ranging and assured novel….The stories of torture that emerge…offer, in their horror and dignity, a quiet criticism of the characters with more prosaic problems." —New Yorker
"In the Company of Angels is a novel about grown-ups, people battered and dinged by life, painfully aware of their own responsibility, whose understanding of their past never stops evolving. It's the dignity of their adulthood -- the elusive prize at stake in any midlife crisis -- that makes them so admirable and, above all, so moving." —Laura Miller, Salon.com
"It probably doesn't reflect glowingly on American expat Kennedy's native country that this watershed novel is the first to be published in the U.S. after a decade of acclaim abroad. Why it's taken so long is anyone's guess, as there's plenty to admire in the serpentine unwinding of troubled protagonists adrift in contemporary Copenhagen." —Publishers Weekly (starred review)
"This is the first volume of the series to be published in the U.S. If its stellar quality is any indication, the entire quartet promises to be an exceptional reading experience … This novel offers much more than just a beautiful writing style. Each character's story is so undeniably interesting that the reader gains a sense of the wonder of disparate lives with unpredictable but intriguing connections." —Booklist (starred review)
"Kennedy writes with unusual insight and compassion, depicting the best and the worst of the human experience. His work may be new to U.S. readers, but it merits greater attention, and we should look forward to seeing the other three books in his quartet published here. A great choice for readers of literary fiction." —Library Journal
"Expatriate American author Kennedy finally gets the major U.S. release merited by his European reviews with this third volume of his Copenhagen Quartet … An artfully written story with a conscience." —Kirkus Reviews
"[This novel] lacks nothing … Kennedy is a master craftsman." —Books Ireland
"Tragic, wise, comic, profound … An epic of the human heart struggling for meaning and redemption." —Literary Review
"A glorious novel by a modern master." —Irish Edition
"Thomas E. Kennedy is an astonishment, and In the Company of Angels is as elegant as it is beautiful, as important as it is profound. A marvel of a read." —Junot Díaz, author of The Brief Wondrous Life of Oscar Wao
"With generous and elegant prose, Kennedy takes us from the darkest, most violent regions of our collective behavior to our most exalted...A deeply stirring novel, suffused with intelligence, grace, and that rarest of qualities--wisdom." —Andre Dubus III, author of House of Sand and Fog
"A terrible, wonderful, horrible, truthful, heartbreaking, and heart-mending book. The word masterpiece should never be used lightly, but [In the Company of Angels] is exactly that, a masterpiece written by a master. How can anyone know so much about the human heart?" —Duff Brenna, author of The Book of Mamie, The Willow Man, Too Cool, The Altar of the Body, and The Holy Book of the Beard
"In the Company of Angels is both a riveting examination of the violence we've come to take for granted, and an unsentimental, morally complex love story. Thomas Kennedy tackles the darkest of subjects, but with searing precision and grace, and with such feeling for ordinary humanity, that this book is full of light. It's the sort of novel that reminds me why novels are important." —Rene Steinke, author of Holy Skirts
"Thomas E. Kennedy's In the Company of Angels is a beautiful love story, a testimony to the human spirit, an important message to our world of darkness that the spark of light cannot be extinguished.... The setting, the descriptions, the complex relationship between Michela and Voss, Michela's love for her parents, the professional dedication of Thorkild Kristensen... All of this, the many brilliantly interwoven plot lines, the composition of the chapters, contribute to making the book truly difficult to put down. And the writing is stunning." —Susan Tiberghiehn, Founder and Director, Geneva Writers Conference; Author of One Year to a Writing Life and Looking for Gold
or
Not Currently Available for Direct Purchase