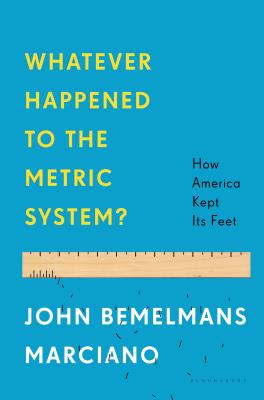 Whatever Happened to the Metric System?
How America Kept Its Feet
Hardcover

* Individual store prices may vary.
Other Editions of This Title:
Paperback (9/15/2015)
MP3 CD (5/31/2016)
Description
The system of measurement for most of the world is the metric system, and for a time in the 1970s the United States appeared ready to switch from American standard measurement. The reasons it never happened get to the root of who we think we are, just as American measurements are woven into the ways we think. John Marciano chronicles the origins of measurement systems, the kaleidoscopic array of standards throughout Europe and the thirteen American colonies, the combination of intellect and circumstance that resulted in the metric system's creation in France in the wake of the French Revolution, and America's stubborn adherence to the hybrid United States Customary System ever since. As much as Whatever Happened to the Metric System? is a tale of quarters and tenths, it is a human drama, replete with great inventors, visionary presidents, obsessive activists, and science-loving technocrats.

Anyone who reads this inquisitive, engaging story will never read Robert Frost's line "miles to go before I sleep" or eat a foot-long sub again without wondering, Whatever happened to the metric system?
Praise For Whatever Happened to the Metric System?: How America Kept Its Feet…
"Whatever Happened to the Metric System? is about much more than just the metric system. It's an indispensable guide for understanding our world's centuries-long process of inching toward standardization." —Wall Street Journal

"National and international politics, treaties, wars - all play a role in seeing the full picture of the development of a system of measurements used by the vast majority of the world's countries. Marciano knits these seemingly disparate threads into a rich narrative." —NY Journal of Books

"A lively perspective on globalism as it relates to currency and systems of measurement." —Kirkus Reviews

"Readers will se a different side of metric enthusiasts - including Napolean and Thomas Jefferson - as Marciano uncovers the relationship between metric system advocates and social reform movements. Marciano writes with humor and a keen eye, and his fascinating tales reveal how extensively mesaurement has affected history." —Publishers Weekly

"An intriguing look at why the system failed to take hold here...Marciano's narrative provides an overview of measurement in all its manifold forms, including currency, clock and calendar. Each chapter is broken up into easy-to-absorb sections that bring fluidity and logic to a complex tale. Weighty stuff, but the gifted Marciano makes light work of it." —Julie Hale, BookPage

"Marciano's often irreverent descriptions of many of the players in the effort to establish systems for distance, length, volume, weight, and temperature is both interesting and troubling." —Library Journal

"This book sounds like kilograms of fun!." —Brooklyn Paper
Bloomsbury USA, 9781608194759, 320pp.
Publication Date: August 5, 2014
About the Author
John Marciano is the author and illustrator of many books, including the distinctive reference titles Anonyponymous and Toponymity, as well as the children's books Madeline at the White House (a New York Times bestseller), Madeline and the Cats of Rome, and Harold's Tail. A word and math aficionado, he lives in Brooklyn with his wife, daughter, and two cats.
or
Not Currently Available for Direct Purchase