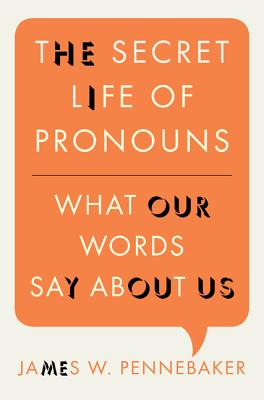 The Secret Life of Pronouns
What Our Words Say About Us
Hardcover

* Individual store prices may vary.
Other Editions of This Title:
Digital Audiobook (3/11/2012)
Paperback (1/15/2013)
MP3 CD (3/12/2012)
Compact Disc (3/12/2012)
MP3 CD (3/12/2012)
Compact Disc (3/12/2012)
Compact Disc (3/12/2012)
Description
We spend our lives communicating. In the last fifty years, we've zoomed through radically different forms of communication, from typewriters to tablet computers, text messages to tweets. We generate more and more words with each passing day. Hiding in that deluge of language are amazing insights into who we are, how we think, and what we feel.

In The Secret Life of Pronouns, social psychologist and language expert James W. Pennebaker uses his groundbreaking research in computational linguistics-in essence, counting the frequency of words we use-to show that our language carries secrets about our feelings, our self-concept, and our social intelligence. Our most forgettable words, such as pronouns and prepositions, can be the most revealing: their patterns are as distinctive as fingerprints.

Using innovative analytic techniques, Pennebaker X-rays everything from Craigslist advertisements to the Federalist Papers-or your own writing, in quizzes you can take yourself-to yield unexpected insights. Who would have predicted that the high school student who uses too many verbs in her college admissions essay is likely to make lower grades in college? Or that a world leader's use of pronouns could reliably presage whether he led his country into war? You'll learn why it's bad when politicians use "we" instead of "I," what Lady Gaga and William Butler Yeats have in common, and how Ebenezer Scrooge's syntax hints at his self-deception and repressed emotion. Barack Obama, Sylvia Plath, and King Lear are among the figures who make cameo appearances in this sprightly, surprising tour of what our words are saying-whether we mean them to or not.
Praise For The Secret Life of Pronouns: What Our Words Say About Us…
"Penetrating …lively and accessible …Paying closer attention to function words [Pennebaker] advises, can help us understand the social relations that those words reflect. Unfortunately, we might not be able to pay proper attention until we're all equipped with automatic word counters. Until that day, we have Pennebaker as an indefatigable guide to the little words that he boldly calls 'keys to the soul.'" —New York Times Book Review

"Anyone who reads his book will become much more conscious about how he or she uses words when talking to friends, when talking to the public, or when writing for the public … Pennebaker's new book is fascinating and fun." —Austin American-Statesman

"Provocative … eye-opening … The Secret Life of Pronouns is studded with muse-worthy examples of language's hidden power." —Dallas Morning News

"Ingenious" —Slate

"Interesting and provocative … A good nonfiction book often feels like a new lens prescription: You marvel at suddenly being able to see what was always there. On this count The Secret Life of Pronouns succeeds. You find yourself paying a greater degree of attention to even the least-regarded words of daily interaction … It is an apt reminder that we express ourselves in more ways than we know." —Wall Street Journal

"[An] intriguing treatise…accessible, entertaining…Pennebaker's take on the unexpected importance of throw-away words isthe kind of fun pop linguistics readers devour." —Publishers Weekly

"An extraordinary look at ordinary words." —Booklist

"The author successfully demonstrates that seemingly innocuous function words--I, me, you, he, can, for, it, of, this--play a crucial role in understanding identity, detecting emotions and realizing intention; they also provide important clues about social and cultural cohesion … Convincing and compelling…Essential reading for psychotherapists and readers interested in the connection between language and human behavior, emotion and perception." —Kirkus

"Is it possible for a psychologist to hear just a few words from you and immediately know what makes you tick? Could this psychologist use cutting-edge science to detect your inner desires from subtle patterns in your use of language--beyond anything you were conscious of saying? The answer to both questions is Yes. James Pennebaker is this psychologist and you really ought to read his remarkable book." —Daniel Wegner, Department of Psychology, Harvard University, author of The Illusion of Conscious Will

"In this entertaining and sharply illuminating book, James Pennebaker shows that the words you use in everyday talk reveal surprising insights into personality, social relationships, status, leadership, sex, and human nature. I suspect that Pennebaker could decode the pronouns and the functions of words I write now to describe him in such a way as to reveal deep secrets about me! But I will write them anyway, and here they are: He is one of the smartest, funniest, and most creative psychologists you will ever meet." —Dan P. McAdams, Department of Psychology, Northwestern University, author of George W. Bush and the Redemptive Dream: A Psychological Portrait
Bloomsbury Press, 9781608194803, 368pp.
Publication Date: August 31, 2011
About the Author
James W. Pennebaker is the chair of the Department of Psychology at the University of Texas at Austin. He is the author of Writing to Heal and Opening Up: The Healing Power of Expressing Emotions, which has been translated into a dozen languages. You can analyze your own language using his Web site, http://www.secretlifeofpronouns.com/
or
Not Currently Available for Direct Purchase