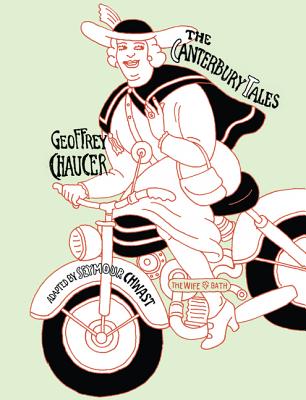 The Canterbury Tales (Hardcover)
Bloomsbury Publishing PLC, 9781608194872, 143pp.
Publication Date: September 6, 2011
Description
Accompany a band of merry medieval pilgrims as they make their way-on motorcycles, of course-to Canterbury. Meeting at the Tabard Inn, the travelers, including a battle-worn knight, a sweetly pretentious prioress, the bawdy Wife of Bath, and an emaciated scholar-clerk, come up with a plan to pass time on the journey to Thomas a Becket's shrine by telling stories. The twenty-four tales, which range from high romance set in ancient Greece to low comedy in contemporary England, are adapted into graphic novel form by Seymour Chwast-a pitch-perfect transposition of Chaucer's pointed satire. Chwast's illustrations relate tales of trust and treachery, of piety and bawdiness, in an engaging style that will appeal to those who have enjoyed "The Canterbury Tales" for years, and those for whom this is a first, delectable introduction.
About the Author
Seymour Chwast was born in New York City and is a graduate of The Cooper Union, where he studied illustration and graphic design. He is a founding partner of the celebrated Push Pin Studios, whose distinct style has had a worldwide influence on contemporary visual communications. In 1985 the studio's name was changed to the Pushpin Group, of which Mr. Chwast is the director. He is the author of the graphic adaptation Dante's Divine Comedy. His website is www.pushpininc.com.
Advertisement